Kokubu No. 2 Air Base Special Attack Corps Monument (Barrel Valley)
Kirishima City, Kagoshima Prefecture
Kokubu had two naval air bases during World War II that were used for kamikaze attacks in the spring of 1945 on American ships around Okinawa [1]. Construction for the second airfield started in 1943 at Jūsanzukabaru, a plateau next to Kokubu. This second airfield, known as Kokubu No. 2 Air Base or sometimes referred to as Jūsanzukabaru Airfield for its location, was used for kamikaze attacks in 1945 even though the airfield had not yet been completed. Between March 18 and 20, 67 Suisei (Judy) Carrier Dive Bombers took off from both Kokubu No. 1 and No. 2 Air Bases and did not return from their kamikaze missions. From April 6 to June 3, 104 Type 99 (Val) Carrier Dive Bombers, originally from Usa, Nagoya, and Hyakurihara Air Bases, made sorties from Kokubu No. 2 Air Base to make kamikaze attacks on American ships near Okinawa.
Part of Kokubu No. 2 Air Base's former runway is on land owned by Kagoshima Airport. There is a Czech Village called Barrel Valley Praha & Gen just a short walk from Kagoshima Airport Terminal. Barrel Valley has a store with Czech folk handicrafts and a restaurant with Czech beers and food such as sausage. The complex also includes Nishikinada Shōchū Distillery, Kirishima Highland Brewery, and even pens for a few black pigs and chickens raised on site. Visitors can see exhibits on the making of shōchū, a clear liquor made of sweet potatoes, rice, or barley.
Somewhat surprisingly, Barrel Valley Praha & Gen has a monument with two stone plaques dedicated to kamikaze pilots from Kokubu No. 2 Air Base. The right-hand stone plaque gives the history of the air base and monument. Below is a translation of the inscription:
Purpose in Erecting the Jūsanzukabaru Special Attack Corps Monument

The airport town of Mizobe [2] is the spiritual hometown of heroes, burning with true patriotism and sense of duty, who took off from the Navy's Kokubu No. 2 Air Base. Even now the remains of the runway lie silently at one corner of the airport. In order to protect the country of Japan, 217 young men from this airfield sacrificed their own lives. A monument was erected in Uwatoko Park, which overlooks this place, and each April a splendid memorial ceremony is held there.

Underneath Barrel Valley Praha, an underground shelter for this kamikaze base even now still exists. Each year up to now at our company on August 15, we have held a quiet memorial service to commemorate the end of World War II. This year we decided to erect at our company a monument of gratitude to these heroes. Without this base and these heroes, one cannot imagine the prosperity of Japan as a country, the prosperity of Kagoshima Airport, and also the prosperity of our company. Considering the so-called second national crisis with the grave condition of the current Japanese economy and the current moral confusion, we erect this monument in order to return to our foundations by making known our feelings of appreciation for these heroes who fell in battle to protect Japan and in order to confirm again who created our peace and who became the cornerstone of our prosperity.

August 15, 2002

Kirishima Highland Brewery
Masahiro Yamamoto, Representative Director
The left-hand stone plaque has a bas-relief portrait of a saluting kamikaze pilot and the following poem:
Flower petals of thanks
In the morning and evening
The bottom part of the plaque lists 180 names of men who took off from Kokubu No. 2 Air Base and died in kamikaze attacks. This number is less than the 217 stated on the right-hand plaque, since the 217 assumes that all Suisei bombers that took off from Kokubu No. 1 and No 2 Air Bases between March 18 and 20 were from Kokubu No. 2, since the records do not clearly state the sortie base for these dates (Iwamoto and Mukaida 1992, 8, 26-27). Hara (2004, 178-80), Osuo (2005, 204-6), and Tokkōtai Senbotsusha (1990, 149-52) divide the sorties from March 18 to 20 between Kokubu No. 1 and No 2 Air Bases, but they each have slightly different numbers of names for those who took off from Kokubu No. 2 Air Base from March 18 to 20 when compared to the numbers of names shown for these dates on the plaque at Barrel Valley. An exhibit at Kanoya Naval Air Base Museum states a third number (i.e., 186) for men who died in kamikaze missions from Kokubu No. 2 Air Base.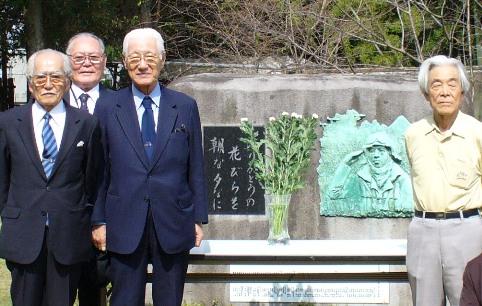 Former kamikaze pilots in front of
Kokubu No. 2 Air Base Special Attack Corps Monument
(October 14, 2006)
Kokubu No. 2 Air Base Special Attack Corps Monument (Uwatoko Park)
Notes
Fumiko Hattori provided the second photograph on this page.
1. The historical information in the first paragraph comes from Iwamoto and Mukaida (1992, 3-5, 10-2, 26-33, 162).
2. Mizobe Town became part of Kirishima City in November 2005.
Sources Cited
Hara, Katsuhiro. 2004. Shinsō kamikaze tokkō: Hisshi hitchū no 300 nichi (Kamikaze special attack facts: 300 days of certain-death, sure-hit attacks). Tōkyō: KK Bestsellers.

Iwamoto, Kiyoshi, and Tsutomu Mukaida, eds. 1992. Chinkon -- shirakumo ni norete kimi kaerimase: Tokkō kichi daini kokubu no ki (Repose of souls -- riding on the white clouds, come back to us: Record of Special Attack Corps Kokubu No. 2 Air Base). Mizobe Town, Kagoshima Prefecture: Jūsanzukabaru tokkōhi hozon iinkai (Committee to Preserve the Jūsanzukabaru Special Attack Corps Monument).

Osuo, Kazuhiko. 2005. Tokubetsu kōgekitai no kiroku (rikugun hen) (Record of special attack corps (Army)). Tōkyō: Kojinsha.

Tokkōtai Senbotsusha Irei Heiwa Kinen Kyōkai (Tokkotai Commemoration Peace Memorial Association). 1990. Tokubetsu Kōgekitai (Special Attack Corps). Tōkyō: Tokkōtai Senbotsusha Irei Heiwa Kinen Kyōkai.