Last Letter of Second Lieutenant Masashi Katsura to His Parents
On May 11, 1945, Second Lieutenant Masashi Katsura took off from Chiran Air Base and died in a special (suicide) attack west of Okinawa at the age of 21. He was the 65th Shinbu Squadron Leader. He piloted an Army Type 97 Fighter (Allied code name of Nate). After his death in a special attack, he received a two-rank promotion to Captain. He was from Ishikawa Prefecture and graduated from the Imperial Japanese Army Air Academy in the 57th Class.
He wrote the following final letter to his parents:
Dear Parents,

Finally the day to be useful has come. As commander of an honorable special attack squadron together with my squadron members, I cheerfully depart to die, believing in the Empire's eternity.

I am sorry that I was not able to show any filial piety to you in 22 years [1]. I live for great filial piety.

Please let both Tetsuo and Hideki follow after me.

Satsuko and Shizue, be exemplary Japanese women.

Long live the Emperor. Long live the Empire of Japan.

Mother, Father, farewell. I will be waiting for you in the other world. When I die, please give praise that I did well.

Masashi
Katsura also wrote the following tanka (31-syllable poem with a syllable pattern of 5-7-5-7-7):
Death poem, while looking at cherry blossoms

Both in the coming year
And again the next year
Eternally
Praying they will bloom
I also will bloom

Not sparing my life for a worthy cause
Squadron Commander Katsura, Second Lieutenant
---
Letter and poem translated by Bill Gordon
March 2018
The letter and biographical information on this page come from Chiran Tokkō Irei Kenshō Kai (2005, 126, 179) and Osuo (2005, 200).
This photo below shows from right to left: Masashi Katsura, 65th Shinbu Squadron Commander; Second Lieutenant Haruo Araki, 51st Shinbu Special Attack Squadron Commander; and Second Lieutenant Kunio Kuroki, 55th Shinbu Squadron Commander (Makino 1979, 219). Katsura, Araki, and Kuroki graduated together from the Imperial Japanese Army Academy in the 57th Class, and they each led a special attack squadron from Chiran Air Base on May 11, 1945. Haruo Araki wrote a last letter to his wife Shigeko.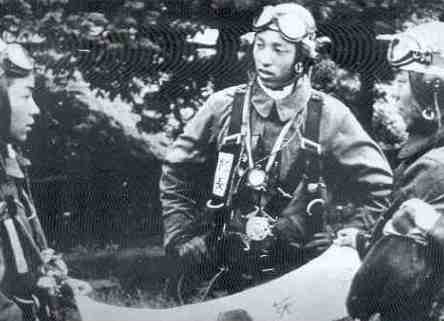 Masashi Katsura (at right) in photo at
Chiran Air Base (taken by Toshirō Takagi
on May 10, 1945, the day before Katsura's sortie)
Note
1. The traditional Japanese method of counting age, as in much of East Asia, regards a child as age one at birth and adds an additional year on each New Year's day thereafter. This most likely explains why the letter indicates his age as 22 whereas the background information in Chiran Tokkō Irei Kenshō Kai (2005, 126) indicates his age as 21.
Sources Cited
Chiran Tokkō Irei Kenshō Kai (Chiran Special Attack Memorial Society), ed. 2005. Konpaku no kiroku: Kyū rikugun tokubetsu kōgekitai chiran kichi (Record of departed spirits: Former Army Special Attack Corps Chiran Base). Revised edition, originally published in 2004. Chiran Town, Kagoshima Prefecture: Chiran Tokkō Irei Kenshō Kai.

Makino, Kikuo, ed. 1979. Ichioku nin no shōwa shi (Nihon no senshi 4): Tokubetsu kōgekitai (Shōwa history of 100 million people (Japan's war history, Volume 4): Special Attack Corps). Tōkyō: Mainichi Shinbunsha.

Osuo, Kazuhiko. 2005. Tokubetsu kōgekitai no kiroku (rikugun hen) (Record of special attack corps (Army)). Tōkyō: Kōjinsha.