Tsubasa no kakera: Tokkō ni chitta kaigun yobi gakusei no seishun (Wing fragment: Youth of Navy reserve students who died in special attack)
by Takako Hino
Kōdansha, 1997, 213 pages
The idea for this children's book came from a Japanese TV documentary shown in December 1995 in which a former crewman of the heavy cruiser USS Louisville (CA-28) displayed a wing fragment from the kamikaze plane that crashed into his ship in Lingayen Gulf in the Philippines. From this piece of the wing with the two Japanese characters for Suisei (a Navy dive bomber with American code name of Judy), it was determined that the dive bomber manned by Lieutenant Junior Grade Tadasu Fukino and Ensign Seisaku Miyake was the one that hit Louisville, since they were in the only Suisei dive bomber in that area at the time of the attack (1731 on January 6, 1945). This book written for upper elementary or lower junior high students has the most material about the pilot Tadasu Fukino and to a lesser extent the radio operator and gunner Seisaku Miyake, but it also includes detailed stories of several other persons, which divert attention from the main story. At times one gets the feeling that the author included stories of almost everyone with whom she talked in doing research about the histories of Fukino and Miyake even though they have little direct relevance to the principal characters.
The book begins with a meeting in Tōkyō between Takako Hino, author of several children's books, and Dr. Yasuhiro Kuroda, renowned rocket researcher. Hino had received various information from Dr. Kuroda for an earlier children's book on outer space, and at this meeting he showed her a video of the TV program about the wing fragment kept by John Duffy, former USS Louisville crewman, and the kamikaze aircraft that crashed into his ship on January 6, 1945. Dr. Kuroda explained that he played baseball at Sixth High School in Okayama City with Tadasu Fukino, who played catcher and was selected as player manager in his third year there. After hearing more about Fukino's story, Hino decided to start researching a book related to his life. Tsubasa no kakera (Wing fragment) has two parts, the first one that includes Fukino's history and his piloting the aircraft that crashed into the heavy cruiser USS Louisville and the second one that tells about the Battle of Okinawa including the kamikaze attacks that took place then.
After the introduction, the book starts with Fukino and Miyake as part of over two thousand Yobi Gakusei (Reserve Students) entering the Navy at Tsuchiura Air Base in Ibaraki Prefecture. The author describes the young men's basic training there in general terms with some dialogue between students most likely created by the author. Not only do the personal histories of Fukino and Miyake get introduced in the book's first part, detailed stories get told about Aruji Saitō, Masanori Kuwahara, and Jinnosuke Miyai, who all survived the war. Aruji Saitō had orders for two kamikaze squadron sorties from Kokubu No. 2 Air Base in Kagoshima Prefecture, but for the first on April 6, 1945, his plane had mechanical problems so he could not take off and for the second on May 11, 1945, a Zero escort fighter taking off crashed accidentally into the group of kamikaze squadron planes waiting to take off, heavily damaged them, and caused the mission to be cancelled. From early April through June 1945, Masanori Kuwahara flew a Suisei dive bomber from Kanoya Air Base in Kagoshima Prefecture on night attacks or enemy searches and never joined a special attack squadron. Jinnosuke Miyai met Fukino near Mabalacat Base in the Philippines just before he took off on his suicide mission. They had been students together at Sixth High School in Okayama City where Miyai had been in the kendō club when Fukino was playing baseball. Although the stories of these other three men who were Yobi Gakusei (Reserve Students) like Fukino and Miyake have some interesting parts, the inclusion of so many men's stories in one children's book makes them difficult to follow with the storyline jumping around unnecessarily.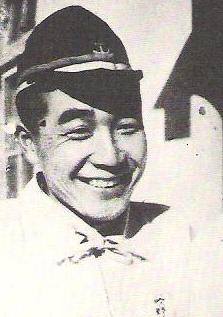 Lieutenant Junior Grade
Tadasu Fukino
The last letter of Tadasu Fukino to his mother, written less than one week prior to his final flight, is included in the book. In an earlier chapter, it is explained that Tadasu's real mother died soon after his birth in 1919. Then her younger sister married Tadasu's father and became Tadasu's mother (or stepmother). His father died of illness in 1931, and after that Tadasu was raised by his strict grandfather. The book also includes some of Seisaku Miyake's correspondence written to his mother after entering the Navy but long before his final mission. The chapter that gives background on the Shinpū (Kamikaze) Special Attack Corps formed in the Philippines in October 1944 includes a last letter written by Masahisa Uemura (died in a special (suicide) attack on October 26, 1944) to his young daughter Motoko. These letters by Fukino and Uemura give children some idea as to the last thoughts of the men before they went to die in a suicide mission.
The histories of Tadasu Fukino and Seisaku Miyake include a few personal incidents but none with many details. Right before joining the Navy, Fukino gave a wrapped present to his friend Ippei Murakami at Kyōto Imperial University where they both attended and asked him to pass it to a woman student named Chiyoko who lived near his boarding house and seemed to have captured his heart. However, Chiyoko does not get mentioned again in the book. Seisaku Miyake's parents got divorced soon after his birth in Tōkyō in 1923, so his mother started to make a living alone and returned to her home in Ichinomiya Town, Hyōgo Prefecture, where Seisaku attended elementary school. He studied architecture at Kōbe Technical School and started work as a design engineer before joining the Navy.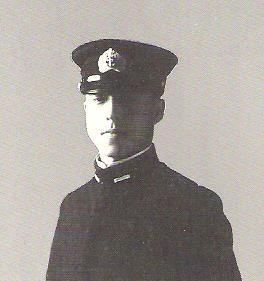 Ensign Seisaku Miyake
Tsubasa no kakera (Wing fragment) contains about 30 historical photographs, including at least one for each of the five Reserve Students whose personal histories are presented. Over ten blurry paintings, such as the one of the front cover shown at the top of this web page, depict various scenes. The front of the book has two useful maps of Japan and the Philippines that indicate locations of various air bases mentioned in the narrative.
It seems that most upper elementary and lower junior students would have a difficult time following the unfocused material presented by Hino in Tsubasa no kakera (Wing fragment). Rather than concentrate on the story of kamikaze pilot Tadasu Fukino, she presents many details about several Navy airmen in a rather disorganized fashion that could have used a thorough editing. She also inserts wartime and other stories from her own life and that of rocket researcher Dr. Yasuhiro Kuroda, but these tend to distract one from the main story.