Firipin shōnen ga mita kamikaze: osanai kokoro ni kizamareta yasashii nihonjintachi (Kamikaze seen by Philippine youth: Kind Japanese individuals engraved in my young heart)
by Daniel H. Dizon
Sakuranohana Shuppan, 2007, 353 pages
Daniel Dizon, born in 1930, met several kind Japanese soldiers and airmen during his youth when Japan occupied his home country, the Philippines, for just over three years starting soon after the initial attack on December 8, 1941. The first half of this Japanese book tells his childhood experiences during the war with his family in Pampanga Province, and the second half describes his postwar activities and his opinions on a variety of subjects such as the reasons why Japan instigated a war. This book written in Japanese provides no background information as to how Dizon, who does not know the Japanese language, came to be the author. When asked about this in an interview in October 2009, he explained that two persons came from Japan to his home in Angeles City to interview him each day for a couple of weeks in order to gather material to ghostwrite his autobiography.
The question arises as to the objectivity of this book, actually written by Japanese individuals, about the positive impressions that Dizon had of Japanese military men during WWII. However, the story seems to be honestly told without any blatant attempt to convert the book into a propaganda piece. Dizon clearly has strong positive opinions about Japanese people he met during the war, which differ from those of many of his countrymen. However, he does not try to hide negative acts by the Japanese military, such as a massacre of about 300 Filipinos including women and children, carried out by Japanese troops near Angeles early in the occupation. Dizon's father, a painter who graduated from Yale University and had many American friends, generally held a negative view of the Japanese occupying his country. In contrast, Dizon's independent positive opinions toward the Japanese seem to have been shaped by his own personal wartime experiences, regardless of beliefs of family members and fellow countrymen.
The title of Firipin shōnen ga mita kamikaze (Kamikaze seen by Philippine youth) does not accurately reflect Dizon's experiences. He met several friendly Japanese soldiers and airmen, especially early in the Japanese occupation period. However, he never met a kamikaze pilot during the war, since Vice Admiral Takijirō Ōnishi formed the first kamikaze unit in October 1944 as the Allies were invading Leyte, and the kamikaze pilots flew from Philippine airfields for less than three full months through January 1945. Dizon lived in an area with many Japanese airfields, including Mabalacat from where the first official kamikaze squadrons made sorties, but Japanese kamikaze airmen had little or no time to socialize with the local people during this period when they needed to prepare quickly for their missions against the invading Allies.
Dizon's deep interest in the Kamikaze Special Attack Corps began in 1965 when he read an English translation of The Divine Wind (1958) by Captain Rikihei Inoguchi and Commander Tadashi Nakajima. The American military personnel who came to his hometown of Angeles in 1945 talked about Japanese suicide squadrons, but Dizon did not know anything more about them despite living close to airfields from which many kamikaze pilots took off. The stories and last letters of kamikaze pilots included in The Divine Wind left a great impression on him, and he strongly felt that he had to do something so that Japanese kamikaze pilots could be remembered in the Philippines. Other Filipinos expressed little interest, but finally in 1974 he convinced local tourism officials to erect a monument to the Kamikaze Corps at the former site of Mabalacat East Airfield. The monument had a sign in English with the words "Kamikaze First Airfield Historical Marker" and had an inscription in Japanese with the following words, "Airfield where Kamikaze Special Attack Corps aircraft first took off in World War II."
After erection of the kamikaze monument in Mabalacat, several Japanese people came to visit Mabalacat and meet Dizon including the widow of Vice Admiral Takijirō Ōnishi and Saburō Sakai, one of Japan's greatest fighter pilots. During the 1970s and 1980s, Dizon gathered information about kamikaze pilots in the Philippines and collected Japanese military weapons and equipment that later became part of exhibits displayed in the Dizon Kamikaze Museum, located in a large room at his home in Angeles City. However, the 1991 eruption of Mount Pinatubo nearly buried the kamikaze monument in ash. Dizon explained the historical importance of a new memorial to officials at the Mabalacat Tourism Office, and a new monument with the Japanese and Philippines flags engraved on a wall was erected in 2000 at the same site as the original kamikaze monument. In 2004, a kamikaze pilot statue was erected in front of the wall.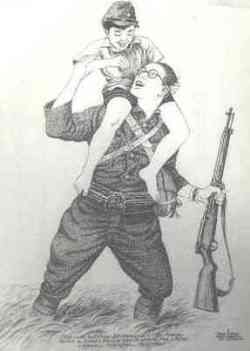 Dizon playing with Army Sergeant
Yamazaki, who taught Japanese
at school (illustration by Daniel Dizon)
Dizon also urged that a monument be erected at the site of Mabalacat West Airfield, since this was the actual location from where the first kamikaze squadron led by Lt. Yukio Seki took off on October 21, 1944, but had to return to base when no enemy ships could be located. In 2004, the Mabalacat West Airfield Monument was erected, and the Japanese words on the top of this monument are the same as those from the original buried monument at Mabalacat East, "Airfield where Kamikaze Special Attack Corps aircraft first took off in World War II." Dizon's many efforts to remember the Japanese kamikaze have attracted some controversy in the Philippines and other countries as certain people believe the Philippines should not have such monuments to remember the Japanese military, which brutally occupied the country for about three years. For many years Dizon has defended his fervent admiration of the Japanese kamikaze pilots' bravery and dedication in statements such as the following (p. 252), "If proof came out that even just one kamikaze pilot committed an atrocity against Filipino civilians, then I would immediately tear down the kamikaze monuments."
The first five chapters cover Dizon's life in roughly chronological order. Chapter 1 describes how he viewed the Americans, who occupied the Philippines prior to the Japanese occupation, as heroes especially through the influence of American comics. Chapter 2 covers the Japanese invasion of the Philippines from the first attack on December 8, 1941, to the surrender of the Americans at Bataan in April 1942. He met kind Japanese soldiers who taught Dizon and other children Japanese songs and who really wanted to learn English to communicate. He describes a soldier named Takemoto who stopped by his family's home for lunch with a truck carrying American and Filipino POWs from Bataan, and he allowed his family to give food and drink to the prisoners. The stories in Chapter 3 take place during the Japanese occupation of the Philippines. The Dizon family lived in the center of Angeles Town near a Japanese base, so Daniel Dizon had many opportunities to make friends with Japanese soldiers. Dizon, who displayed artistic talent even as a child, drew portraits of some soldiers stationed at Angeles.
The episodes in Chapter 4 describe the dismal state of affairs of the Japanese military during the last stage of the war in the Philippines. The book devotes quite a few pages to the story of a Philippine family that sheltered a Japanese soldier name Butcho. He deserted from the Army and became like a son to the Philippine family. Eventually the family was forced to hand him over to the Americans, and the family never heard from him again. Chapter 5 covers Dizon's postwar activities including his appeals to build kamikaze monuments in the Philippines. Dizon's wife Enriqueta tells her wartime stories in Chapter 6. As an eight-year-old girl, she worked pulling weeds at Porac Airfield near Angeles from April to September 1944. She knew many Japanese songs from school, so a Navy officer often asked her to sing and dance on the wings of a Zero fighter. The chapter includes a drawing by Dizon depicting this wartime scene (see below). In total, the book includes about a dozen of Dizon's historical illustrations of wartime scenes and persons during the Japanese occupation. The book's last two chapters contain sections on a variety of topics with Chapter 7 focusing on why Japan started the war and Chapter 8 explaining Dizon's desire for true friendship especially between Japan and the Philippines.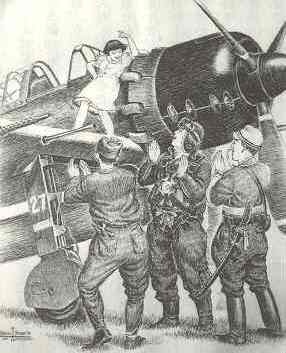 Enriqueta (Dizon's wife) singing and
dancing on wing of Zero fighter
(illustration by Daniel Dizon)
The many individuals in the Japanese military portrayed in this autobiography provide a distinctive depiction of the Japanese occupation of the Philippines. The book also includes about 20 pages of historical photos from both during and after the war. Daniel Dizon is sympathetic in his portrayal of Japanese military men and seems supportive of certain arguments supported by Japanese nationalists. However, he points out some atrocities committed by the Japanese military during the occupation, but he also calls attention to brutal acts by Americans and Filipinos. Despite years of opposition and ridicule by many countrymen, Dizon has remained deeply impressed by the kamikaze pilots' spirit and courage, and he has held firm in his strong independent beliefs concerning the historical importance of the Kamikaze Special Attack Corps to the Philippines.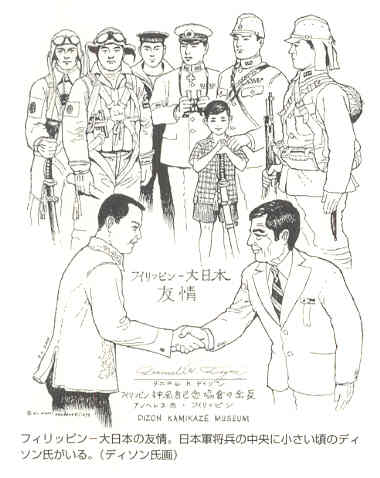 Friendship between Philippines and Greater Japan.
Dizon at young age is in center among Japanese
officers and men. (illustration by Daniel Dizon)