Tokkōtaiin no inochi no koe ga kikoeru (Hearing the voices of lives of special attack corps members)
by Jirō Kōsaka
Originally published in 1995
PHP Kenkyūsho, 2001, 201 pages
The author Jirō Kōsaka served during late World War II at the Japanese Army's air base in Chiran, from where over 400 kamikaze pilots made sorties during the Battle of Okinawa. He has authored two other books besides this one with stories about kamikaze pilots in Chiran and other Army air bases: Kyō ware ikite ari (Today I am alive) (1985) and Tokkō kaerazaru wakumonotachi e no rekuiemu (Requiem for young men of special attack corps who did not return) (2003). This book, Tokkōtaiin no inochi no koe ga kikoeru (Hearing the voices of lives of special attack corps members), contains numerous short essays and previously published newspaper and magazine articles. These many individual writings about kamikaze pilots and other aspects of World War II have little organization and only loosely connected topics.
Kōsaka, born in 1927, had his schooling cut short when he entered an Army flight school in April 1943. He attended the Army's communications school after completing flight training. He was stationed at several air bases, including Chiran, and he ended the war at Komaki Air Base in Aichi Prefecture. When news arrived of the end of the war, with tears in his eyes he burned confidential papers with telegraphic codes. The author never explains details of his time at Chiran Air Base, such as when he was stationed there, what was his role, and how he got to know personally the kamikaze pilots who made sorties. After the war Kōsaka became a novelist whose works have been recognized with several literary awards in Japan. His three books on kamikaze pilots and his other related activities make him one of the best-known authors about Japanese suicide attacks.
Each of the book's three chapters contains several sections on a wide variety of topics. Chapter 1 mainly includes a history of kamikaze operations. The chapter's last section has a number of letters giving reactions and opinions by readers of the 1995 edition of this book.
Chapter 2 contains several previously published newspaper and magazine articles. One section talks about a dramatization of Kōsaka's first book, Kyō ware ikite ari (Today I am alive). The Zenshinza theater company first performed the play in 1991, and there was a repeat performance in 1992. The theater company then did a nationwide tour of the play in 1995 for the fifty-year anniversary of the end of World War II. Kōsaka writes that he was uncertain about how the play would be received in Okinawa, where 230 thousand people lost their lives in the last year of the war. He was pleased by the positive reactions and sellout performances. One Okinawan woman who survived the war said after seeing the play, "We were saved due to the attacks by the kamikaze pilots. Even now I appreciate them" (pp. 97-8). Chapter 2 also talks about Kōsaka's involvement in the erection of two monuments in Chiran. In 1985, two memorial stone lanterns were erected at the site of the remains of the triangular barracks where kamikaze pilots spent their last night or two prior to their final missions. The lanterns have the inscription, "These tears stored in vain with no time to flow" (p. 63). In 1994, the Jirō Kōsaka "Kyō Ware Ikite Ari" Literary Monument was erected in the park next to the Chiran Peace Museum for Kamikaze Pilots.
Chapter 3 at times goes far astray from the book's main subject, as the chapter includes one section on the truth about dropping the atomic bomb and another section on how the topic of war is addressed in textbooks in Japan and other countries. One more relevant section in the chapter tells the story of Kōsaka's visiting Chiran in 1982 for the first time in 37 years. At that time he met with Tome Torihama, affectionately know as "kamikaze aunt" for her kind treatment of young pilots when they visited her restaurant in Chiran. However, Kōsaka does not mention how well he knew Torihama during the war. The book also includes a memorial essay written by Kōsaka for a newspaper upon the death of Torihama in 1992.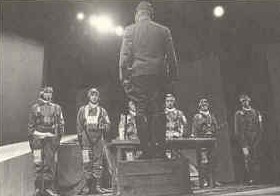 Dramatization of Kyō ware ikite ari
(Today I am alive)
The book's lack of focus and organization blurs the message the author may be trying to make. In addition, frequent references to his previous book (Kyō ware ikite ari) make some of his statements difficult to understand without having read that book. Throughout the book there are good historical photos of Chiran kamikaze pilots, but they usually have little relationship to the text.
Although Kōsaka's book has some interesting details, a more personal approach by relating more about his own war experiences would have been valuable. At times the book appears just to be an attempt to recycle previously published material with little consideration for relevance and organization.