Matsuru mono ga matsurareru 1: Shinjuwan kyū gunshin irei hiwa (Those who honor others will be honored 1: Secret stories of memorial to nine war gods of Pearl Harbor)
by Ōtarō Tanigawa with drawings by Masaki Yamato
Furusato Nihon Purojekuto (Homeland Japan Project), 2020, 40 pages
This manga book tells the story of the nine Navy midget submarine pilots who trained in secret at Mitsukue Bay in Ehime Prefecture and who lost their lives in the attack at Pearl Harbor on December 7, 1941. Two women and two men in their mid-20s, who work now (2019) for a small publishing company in Tōkyō, visit Ehime Prefecture for a four-day vacation. They visit Mitsukue Bay, now in Ikata Town, to stay two nights in order to visit a former coworker Takuya Kanda who left their company six months before to return to his hometown after he inherited his parent's tangerine farm.
The four arrive at Mitsukue Bay and come across the Nine War Gods Monument (shown on book's cover) when they visit the park, but they do not know anything about the monument's history. They then meet Takuya, whose demeanor has changed completely from when he left their company in Tōkyō to return to his hometown. He now seems energetic and happy in contrast to his somewhat downcast demeanor when he lived in Tōkyō. They go together to Iwamiya Ryokan, an inn close to Mitsukue Bay that was used in 1941 to have midget submarine pilots stay and eat there. The inn has a display case in the entrance area with information about the nine men who died as part of the midget submarine attack on Pearl Harbor.
As Takuya and his four former coworkers eat dinner at Iwamiya Ryokan, he explains to them that the Nine War Gods Monument was erected in 1966 to honor the nine midget submarine pilots who lost their lives during the Pearl Harbor attack. The inn's manager explains that the Navy midget submarine pilots sometimes stayed and ate there, and she tells the group what she heard from her grandparents about the personality and history of the nine men, each who excelled in both academic and physical activities. For example, Shigemi Furuno, who died at the age of 23, was the only Naval Academy cadet to defeat a top sumō wrestler when he visited the school for an exhibition.
On the day following the group's first night at Iwamiya Ryokan, they attend the 53rd annual memorial ceremony at the Nine War Gods Monument with about 60 people in attendance including representatives from Japan's Maritime Self-Defense Force. The date is December 8, which is the date when Japan attacked Pearl Harbor based on the time in Japan. That evening there is a dinner party for those who had attended the memorial ceremony, and the four get a chance to talk with members of he local youth association who are actively involved in volunteer support for the ceremony and dinner.
The next morning the four visit the Nine War Gods Monument once more, and one woman in the group, Ayaka Sakuma, explains to the others what she had learned from her grandmother about remembering and honoring the spirits of war dead who gave their lives for their families and country. She explains that those who honor them will be honored, or get benefits, in return. She thinks that this is a reason why their former workmate Kanda underwent such a change in his character after he returned home. Her grandmother always has an attitude of thankfulness, since she feels that it was a miracle just for her to be living after her father and older brother had died in the war. They are all happy when Kanda comes with a box of tangerines as a present for them before their return to Tōkyō. Upon their return home, they decide to form a club to honor those who died during the war. Sakuma goes with her grandmother to memorial ceremonies in various places and returns to Mitsukue Bay with her during the New Year's holidays. One of the men gets actively involved with a Tōkyō walking group to visit various historical sites. The second woman in the group returns to her hometown and participates in cleaning the family grave for her ancestors, and she starts to feel happier and gets a better understanding of the phrase "those who honor others will be honored," which is the book's title.
The story has some troubling aspects. Ten crewmen in five two-man midget submarines participated in the attack on Pearl Harbor. However, the book mentions nothing about the tenth crewman, Kazuo Sakamaki, who was captured as the first Japanese prisoner of war when his submarine ran aground on Oahu. You would think that someone in the group would be curious as to what happened to the tenth crewman. The Japanese Navy was silent about Sakamaki's fate when the nine crewmen were designated as "war gods" or heroes in 1942, and the monument's information plaque and the display case at Iwamiya Ryokan also do not mention Sakamaki. The following statement by one of the women who visits Mitsukue Bay does not have historical support: "It is really heartbreaking to think about those men who went and died in order to defend people who were important to them. I am thankful." Of course, the Pearl Harbor attack was a surprise offensive attack, not a defensive military operation, that killed many Americans.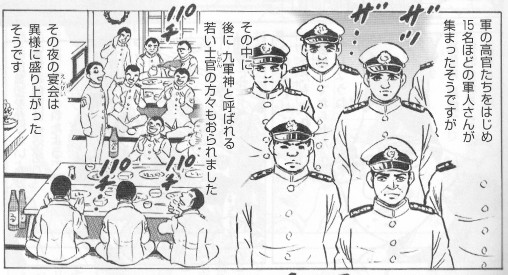 Midget submarine pilots training at Mitsukue Bay
visit Iwamiya Ryokan for dinner party
The publisher, Furusato Nihon Purojekuto (Homeland Japan Project), is an organization formed in 2002 to introduce Japan's heroes through manga. Both paper and electronic manga stories have been published, including the following two about Special Attack Corps members: Rikugun tokkōtai 1036 eirei to tomo ni (With 1,036 spirits of war dead in Army Special Attack Corps) and Ten megurishi ya: Oshige-san to kaiten tokubetsu kōgekitaiin (Turn heaven: Oshige and kaiten special attack corps members). Other manga books published by Furusato Nihon Purojekuto (Homeland Japan Project) include ones about Japanese marathon runner Shizō Kanakuri (1891-1983), Saigō Takamori (1828-1877) who led the Satsuma Rebellion against the Meiji government, and Kodama Gentarō (1852-1906) who was instrumental in establishing a modern Imperial Japanese military.