Jitsuroku: Kamikaze tokubetsu kōgekitai, kanzenban (Authentic accounts: Kamikaze Special Attack Corps, unabridged edition)
Written by Jitsuroku: Kamikaze tokubetsu kōgekitai, kanzenban seisaku iinkai (Production committee for Authentic accounts: Kamikaze Special Attack Corps, unabridged edition)
Take Shobō, 2010, 320 pages
Drawings for individual stories:
Prologue - Shojin Tanaka
1 ("Special Attack Number 1") - Setsuo Tanabe
2 ("Firefly, Come Back") - Yasuhiro Watanabe
3 ("My Love") - Hiromi Iwashita
4 ("Promise") - Toichirō Yanagida
5 ("Cheerful Unit Leaves") - Jun'ichi Wada
6 ("Last Special Attack") - Tetsuya Nemoto
Epilogue - Takurō Tada
The six stories in this comic book positively portray individual pilots in the Navy and Army Special Attack Corps (tokkōtai) who left on suicide missions to crash their planes into enemy ships. As the book's title indicates, the stories present authentic accounts. However, they have their own dramatic twists, and some dialogue and details have been created where the writers may not have known exactly what happened. The stories of the first four special attack (tokkō) pilots are famous, especially in Japan. The last two individual pilots are less well-known, but they are associated with well-recognized events in tokkōtai history. One pilot is a member of the Army's 72nd Shinbu Squadron and is in the famed photograph of five smiling squadron members gathered around a puppy. The last pilot presented in the book took part in Japan's final special attack when Vice Admiral Matome Ugaki led 11 planes in an unauthorized attack against the American fleet after hearing the Emperor's announcement of surrender.
The story writers focus on what the pilots thought and felt prior to their final sorties, but the stories also outline the pilots' personal histories. Each story except the last one presents final letters written by the pilots as part of the narratives. The comic's production committee used almost 20 books in researching the history for the stories, and the accounts primarily come from pilots' letters and from testimony of surviving comrades and other persons who knew the pilots. At the end of each comic story, a two-page section has a photograph and a biographical summary of the pilot featured in the comic story.
The comic book's title indicates that the stories will be about the Kamikaze Special Attack Corps, but the name Kamikaze (or Shinpū, as officially pronounced) only applied to Navy pilots. Four of the six pilots presented in this book served in the Army Special Attack Corps, so the term "kamikaze" pilot does not technically apply to them. Even though most special attack pilots were not married or engaged due to their young age and their full-time involvement in the military away from home, half of the pilots in this book were married and one was engaged. The book generally offers authentic accounts, but some stories have historical inaccuracies or dramatized events that most likely did not happen as portrayed. For example, the Epilogue tells the fictional story of a teenage girl named Kyōko who kept many of the last letters written by tokkō pilots who departed from Chiran Air Base, even though letters entrusted to her or another person would have surely been mailed. Four stories depict what the pilots called out just prior to hitting their targets, even though this could not be known with certainty. The engaged pilot calls out the name of his fiancé, and a married pilot calls out first to his mother and then his wife. The married pilot with two children calls out to his family members, and one unmarried pilot calls to his mother twice before crashing into an enemy ship.
Yukio Seki explains to
journalist that he will die
for those he loves
In the first comic entitled "Special Attack Number 1," Lieutenant Yukio Seki, a graduate of Etajima Naval Academy, reluctantly accepts the offer to become the leader of the first Kamikaze Special Attack Unit formed at Mabalacat Airfield in the Philippines in October 1944. He had trained to be a dive bomber pilot, so he personally felt that carrying out a suicide attack would be a waste of his ability, since he could bomb ships more than once if he came back alive. Seki reveals his personal feelings in the comic as he talks with journalist Masashi Onoda, who took Seki's photograph to be widely published in the news media when the battle successes of the Shikishima Squadron were announced. In this comic, Seki asks the officers for one night to think when asked whether he would became commander of the first kamikaze unit, but he actually took only a few seconds to respond according to the account written by Captain Rikihei Inoguchi, who was present when Commander Asaichi Tamai, executive officer of the 201st Air Group, asked Seki [1]. Another unsubstantiated scene in the comic is Tamai's hitting Seki in the face after he had returned three times to base without finding enemy ships, calling him a coward, and telling him to dive into the sea next time if he could not find the American fleet. The story includes the final letter to Seki's parents and the following final letter to his wife Mariko:
Dear Mariko,

I am truly sorry for going to die in battle without being able to do anything for you. Even without words, I know that you, as the wife of a military man, are well-prepared for this situation. Please keep in mind to take good care of your parents.

I write now before my departure while many memories come to me. I hope that playful Emi [Mariko's younger sister] also will be in good spirits.
"Firefly, Come Back" tells the story of Army Sergeant Saburō Miyagawa, who supposedly turned into a firefly after his death and returned to Tome Torihama's small restaurant in Chiran Town. Miyagawa, a member of the 104th Shinbu Squadron, feels depressed since the rest of his squadron except one other person had made successful sorties from Bansei Air Base in the middle part of April 1945. Afterward, he had proceeded to nearby Chiran Air Base, where he became friends with Tome Torihama, who ran Tomiya Restaurant in Chiran Town, and her two daughters Miako (20 years old) and Reiko (15 years old). In Chiran, he is happy to meet an elementary school friend, Corporal Yoshikatsu Matsuzaki, but he soon takes off from Chiran as part of the 50th Shinbu Squadron and does not return on May 20, 1945. The comic depicts Miyagawa as struggling with the purpose for his leaving to die in battle, but he seems to discover that purpose when viewing fireflies with Tome, Miako, and Reiko. He promises to return to them as a firefly. On June 6, 1945, Miyagawa takes off from Chiran and does not return to base. That evening his friend Enosuke Takimoto, another member of the 104th Shinbu Squadron who flew that day with Miyagawa but turned back to base, returns to Tomiya Restaurant to tell them that Miyagawa kept on flying toward Okinawa despite limited visibility due to heavy cloud cover. That same evening a firefly enters the restaurant, which they think is Miyagawa, returning as he promised them. They break out in song in memory of him.
The book's most romantic story, "My Love," tells of the love between Army Second Lieutenant Toshio Anazawa and his fiancée Chieko. They first met in 1941 while working together at a college library. Anazawa entered the Army's Special Cadet Pilots program in October 1943, and he took off from Chiran Air Base on his final mission as part of the 20th Shinbu Squadron on April 12, 1945. Anazawa appears in the famous photo of teenage girls who are waving cherry blossom branches to him as he salutes from his plane taxiing to take off. Anazawa and Chieko communicated together through letters to each other, and the comic features several excerpts from letters written by Anazawa to her. After Anazawa got permission from his parents to marry Chieko, he planned to meet together with Chieko in Tokyo on March 10, 1945, but the massive American firebombing that destroyed a third of Tokyo took place the prior night. They managed to find each other and talked briefly, but Anazawa had to return to base the same day. They never saw each other again. The comic has some obvious historical flaws, such as Army cadets' saluting a painting of the Navy's Fleet Admiral Yamamoto and an armband and a hachimaki (headband) with the name "kamikaze," even though during the war the Japanese Army never used this term for pilots who carried out suicide attacks. In the beginning of the story after Anazawa and Chieko knew each other for only a short time, their holding hands while sitting together reading at the library where they worked is quite implausible in a society at that time in which physical affection was not demonstrated in public.
Hajime Fujii's dead wife Fukuko
along with two young daughters
The fourth comic, "Promise," relates the tragic story of Army Captain Hajime Fujii's wife, who committed suicide by drowning along with her two young daughters, Kazuko and Chieko. At Kumagaya Aviation School, her husband taught many pilots who went to the frontlines in the Philippines to carry out suicide attacks. Fujii promised that he would go after them in the same manner, so he told his wife that he wanted to join the Special Attack Corps in order to carry out the promise to his men. The Army command rejected Fujii's petitions to join the Special Attack Corps, since he had a wife and family and had an important role as an instructor at Kumagaya. Moreover, Fujii never trained to be a pilot, since he could not tightly grip a plane's control stick due to the mortar shell wound to his left hand suffered while fighting in China. His wife Fukuko took her life and the lives of her two daughters in December 1944 so that her husband could freely join the Special Attack Corps to fulfill the promise to his men to go after them. After the deaths of his family members, the Army command made a special exception to let him join the Special Attack Corps after receiving his petition written in blood. At dawn on May 28, 1945, Fujii led the 45th Shinbu Squadron from Chiran Air Base as navigator in one of the planes and finally was able to meet his family again in the afterlife.
The next comic entitled "Cheerful Unit Leaves" relates the story of Takamasa Senda, one of the nine pilots in the Army's 72nd Shinbu Squadron who took off from Bansei Air Base on May 27, 1945, and did not return. His history is based mainly on the letter to his mother written by Corporal Seiya Miyamoto, who was an aircraft maintenance worker and Senda's comrade who knew what happened to him until he left Bansei. The 72nd Shinbu Squadron members, prior to proceeding to Bansei, stopped at Metabaru Airfield in Saga Prefecture, where they stayed about a week at a temple in nearby Yokota Village. Miyamoto describes the kindness of squadron leader Mutsuo Sato and how by his warmth he created a very friendly atmosphere for squadron members. The villagers brought gifts to express their deep gratitude to the young special attack squadron members, and they joined together in singing songs. The 72nd Shinbu Squadron left Metabaru the evening of May 24, 1945, and then departed Bansei to attack American ships the morning of May 27. The comic incorrectly states that the destroyer Drexler sank in less than 50 seconds after being hit by Senda's plane, since Drexler did not get hit until the following morning on May 28. Actually, two planes from the 45th Shinbu Squadron led by Captain Hajime Fujii hit and sank the destroyer Drexler [2]. The comic also includes Senda's final letter to his mother:
Tomorrow I will at last take off at 7:30 and plan to crash into a carrier. I will leave smiling. I have somehow arrived at this age of 20 years after being raised happily to the point of being truly overjoyed. For my posthumous Buddhist name, I ask that you not forget the kanji (Chinese character) of jun (meaning "pure"), and there is no need to say things like, "ah, how sad." I do not have any regrets. I am full of joy and do not need something like a cemetery. Rather than a cemetery, I would like applause. Since tomorrow will be my sortie, I apologize for tonight being early. Give my regards to my older brother. Mother, you also enjoy good health.
The final kamikaze pilot presented in this comic book accompanied Vice Admiral Ugaki on the war's last kamikaze mission from Ōita Air Base on August 15, 1945. Lieutenant Tatsuo Nakatsuru, a graduate of Etajima Naval Academy, led the tokkō squadron ordered by Ugaki. Although Ugaki asked for five Suisei dive bombers to be readied for takeoff toward Okinawa after hearing the Emperor's surrender message, Nakatsuru prepared eleven planes due to the enthusiasm of his men. Three planes made forced landings, and the other eight planes never returned with what happened to them remaining a mystery. This story gives a totally fictional account of Ugaki's spotting American troops on Iheyajima, a small island north of the main island of Okinawa where two months before a radar base had been established. The troops on the beach were having a beer party to celebrate the war's end, and Ugaki heartlessly ordered Nakatsuru to crash dive into the group. Nakatsuru thought of how the Americans would retaliate against Japan, possibly even with another atom bomb, for such a cold-blooded suicide attack after the Emperor had announced surrender, so he decided to disobey Ugaki's order and crashed the Suisei dive bomber into the sea next to the beach. Such an attack could never have been attempted as depicted in the comic, since Ugaki's squadron would have been flying in darkness by the time they reached Iheyajima [3]. The story provides few details about Nakatsuru's family, but it does mention that one day he kindly invited his men to visit his home in Ōita Prefecture to meet his wife and infant daughter.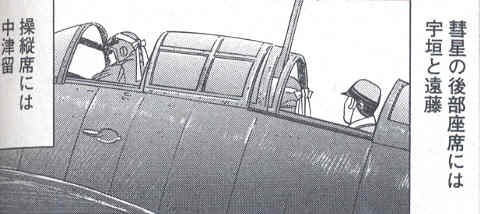 Vice Admiral Ugaki and Warrant Officer Endo in rear seat
of Suisei dive bomber with Lieutenant Nakatsuru in pilot's seat
The book's Prologue starts with the kamikaze attack on the aircraft carrier Bunker Hill on May 11, 1945, which represented one of the most significant successes of the Kamikaze Special Attack Corps in that the attack knocked the huge carrier out of the war. The Prologue then tells how Vice Admiral Takijiro Ohnishi formed the first Kamikaze Special Attack Unit in the Philippines in October 1944. The Epilogue describes how the dejected Army personnel remaining at Chiran Air Base destroyed warplanes and documents remaining there before the Americans arrived.
This comic book successfully presents authentic accounts of a variety of Army and Navy tokkō pilots who carried out suicide attacks, but some details in their comic stories cannot be considered to be historical.
Notes
1. Inoguchi and Nakajima 1958, 11-2.
2. See Who Sank the Destroyer Drexler? for additional details.
3. Yasunobu (1972, 165) indicates that at 8:25 p.m. the lead plane sent a message that it would attack. According to http://www.timeanddate.com/worldclock/astronomy.html?n=775&month=8&year=2010&obj=sun&afl=-11&day=1 <October 16, 2010>, sunset in Okinawa on August 15 is at 7:06 p.m.
Sources Cited
Inoguchi, Rikihei, and Tadashi Nakajima, with Roger Pineau. 1958. The Divine Wind: Japan's Kamikaze Force in World War II. Annapolis: Naval Institute Press.

Yasunobu, Takeo. 1972. Kamikaze tokkōtai (Kamikaze special attack corps). Edited by Kengo Tominaga. Tokyo: Akita Shoten.