Zero no hakutaka (Zero white hawks)
by Hiroshi Motomiya
3 volumes
Shūeisha, 2011, Volume 1 - 262 pages, Volume 2 - 224 pages, Volume 3 - 257 pages
The three volumes of Zero no hakutaka (Zero white hawks) published in 2011 originally appeared as a regular series in the popular manga magazine Shūkan Shōnen Janpu (shown also as WEEKLY JUMP on magazine cover) from Issue 42 in 1975 to Issue 25 in 1976. The books tell the stories of the five members of the Kamikaze Special Attack Corps Kizakura (Yellow Cherry Blossom) Squadron who took off from Kanoya Naval Air Base in southern Kyūshū on May 7, 1945. Flight Petty Officer 2nd Class Yoshitatsu Nakayama stars in over half of the episodes with the last half of Volume 1, all of Volume 2, and the first half of Volume 3 dedicated to his history from his training that began in 1936 in the 7th Otsu Class of the Navy's Yokaren (Preparatory Flight Training Program) until his assignment to a special (suicide) attack squadron in 1945 at the age of 25 years.
The fictional stories presented in Zero no hakutaka (Zero white hawks) have an historical background that is accurate, but the characters, action, and violence often are very exaggerated. For example, when five American Corsair fighters encounter the Kizakura Special Attack Squadron soon after take-off on the way to Okinawa, Nakayama single-handedly shoots down the five enemy aircraft with his Zero fighter in a display of airmanship and fighting spirit that reflects his battle experience at Peal Harbor, the Coral Sea, Midway, and other battles. In another instance, Nakayama shoots down five planes in his first battle in China making him an ace in just one day, and the Japanese Zero fighters engaged in this battle shoot down 27 or the 30 Chinese planes with no damage to Japanese aircraft. After their success in China, Nakayama's Bangai (Anomaly) Squadron, made up of misfits originally not expected to succeed although later praised by an officer for their teamwork, land their Zero fighters at Nakayama's hometown without any airfield for a visit to his parents. Although Nakayama has superior fighting skills in a Zero, his disregard for authority keeps him at the low rank of Flight Petty Officer 2nd Class while all other pilots in the Yokaren's 7th Otsu Class of 204 men either have been promoted to higher-level officers or have died in battle by 1945.
The first half of Volume 1 highlights the story of squadron leader 22-year-old Ensign Tateo Yamabuki, a former law student at Tōkyō Imperial University in the 14th Class of the Navy's Yobi Gakusei (Reserve Students). His parents continually are saying that they would like him to marry. When he returns home about two weeks before his final mission, his parents arrange his marriage with Tsuyako who is the daughter of a former Navy Lieutenant Commander. Yamabuki had earlier tried to explain that he had been assigned for a special (suicide) attack mission, but he could not seem to get out the words to explain why he could not marry. His mother asks him to return for Tsuyako's sake, but his father objects to this request since he does not feel it would be proper for Tateo who must have the resolve of a military man. Yamabuki does not consummate the marriage with Tsuyako when they are to sleep together for the first night together as he spends the entire night apart in the same room thinking about his upcoming mission when he will die. On the way to the train to return to base, he reveals to Tsuyako that he will go to Okinawa in a half month to make a special attack. Tsuyako explains that she had listened to his parents' many stories about him so she feels that she knows him well. She expresses her love to him and that she wants to be his wife as he is leaving to return to base. On May 1, 1945, he flies with the Kizakura Squadron to Kanoya Air Base for his impending mission to Okinawa. Somehow Tsuyako travels to Kanoya so that she can see Yamabuki. They consummate their marriage in Kanoya, and he tells her that he can die for her happiness and her life. He encourages her in the future to be happy by finding an excellent man and forgetting about him, much in the same way as Second Lieutenant Toshio Anazawa wrote to his fiancée Chieko in his final letter.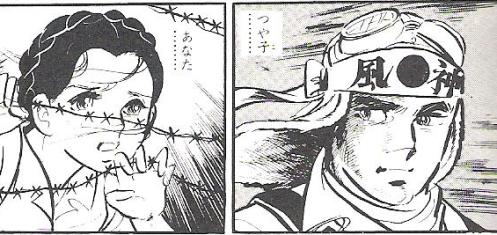 Ensign Tateo Yamabuki at takeoff and his wife Tsuyako
take their last look at each other
When the five Zero fighters of the Kizakura Squadron try to take off on May 7, 1945, Flight Petty Officer 2nd Class Gōsuke Shimazaki dies when his aircraft stalls and crashes. Flight Petty Officer 2nd Class Toshiaki Tsutsui tells other squadron members that he is returning to base since his plane has a bad engine even though they think that the engine sounds fine. He flies his aircraft carrying a bomb to his hometown as he thinks about his youth and what would happen if he returns to base and says that the engine was bad. After passing over his hometown in sight of his parents and townspeople, he dies when he crashes his Zero fighter into the side of a mountain in order to always be near his parents. Flight Petty Officer 2nd Class Tatsumi Wada, who is just 16 years old and participating in his first battle with only 150 hours, gets shot down by the guns of American ships as he aims at an aircraft carrier. On the previous night Nakayama had arranged for the virgin Wada to be with a woman for the night, but he only touched her hand. Ensign Yamabuki also gets shot down and crashes into the sea next to the carrier. Finally, Nakayama dashes in and performs skilled acrobatic maneuvers above the aircraft carrier before crashing into the ship. The two pages before the crash show Yamabuki's diving down with the following summary statistics about Japan's special attack operations: from October 1944 Navy and Army had 3,942 deaths; average age of 21 years; 1,298 Navy aircraft and 1,185 Army aircraft made sorties; results were 49 ships sunk and 270 ships damaged. Volume 3 ends with a happy Tsuyako who has given birth to a baby boy.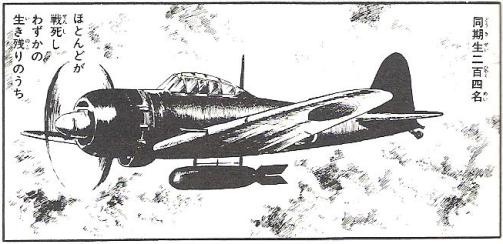 Bomb-laden Zero fighter flown by Yoshitatsu Nakayama. Nearly all
of his classmates (204 members of Yokaren 7th Otsu Class) had
died in battle by 1945. He was among the few who survived until then.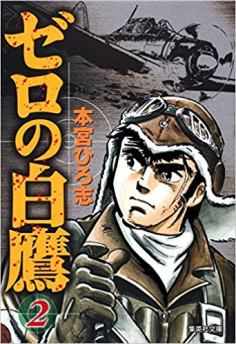 Volume 2 of Zero no hakutaka
(Zero white hawks)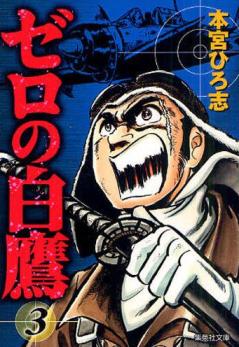 Volume 3 of Zero no hakutaka
(Zero white hawks)