"Tokkōbana" tte shitteru? (Do you know about "tokkō flowers"?)
by Chiho Nakata
Sinonome Shuppan, 2008, 204 pages
This unique inspirational book, written by a young professional photographer, shows photos of tokkō (special attack or kamikaze) flowers and presents the sad history behind these beautiful wildflowers. The flower's official name in Japanese is tenningiku, but inhabitants of Kikaijima, a small island about halfway between Kyūshū and Okinawa, also refer to them as tokkō flowers. During WWII the Japanese Navy had an air base on Kikaijima, which kamikaze pilots sometimes used. Tokkō flowers still flourish around the island's airport, the site of the former naval air base.
Chiho Nakata writes how she felt about the special significance of tokkō flowers when she first found them during a visit to Kikaijima (p. 26): "I considered that tokkō flowers are different than just normally blooming flowers. It is like they're flowers filled with spirits of kamikaze pilots my same age, with one person in each flower." This quote exemplifies her emotional ties to tokkō flowers and her heartfelt approach to both the historical material and the many people of all ages she meets through her photographs of tokkō flowers.
Nakata presents her story chronologically over seven years from when she first went to Kikaijima in 2001 to photograph tokkō flowers at age 19 while a junior college student in Kyōto. Every year she goes back to Kikaijima to continue taking photographs of tokkō flowers. She mentions briefly major events in her life as she starts work at a company of women photographers in Ōsaka and has opportunities to take a wide variety of advertising photos. However, the book keeps focused on tokkō flowers and the many individuals she meets in connection with her photographs of the flowers and her research into the history of kamikaze pilots.
After she returned from Kikaijima the first time, she began to investigate the history of kamikaze special attacks and met with Tadamasa Itatsu, former kamikaze pilot and first director of the Chiran Peace Museum for Kamikaze Pilots, who continued to assist her over the years. Her tokkō flower photographs were exhibited as part of her junior college's graduation photography exhibition, and there many people who had lived through WWII, including veterans, viewed her photos with great emotion. For example, one women stood crying in front of the photos for a long time, and Nakata found out by talking with her that when she was 17 years old during the war she fell in love with an airman when he visited her family's home near an airfield, but later she found out that he died over Kikaijima when shot down by an enemy plane.
Even after starting work in the photography firm after graduation from junior college, Nakata continued her activities related to tokkō flowers. In 2005, with the help of her firm, she organized a special exhibition of tokkō flower photographs over a six-month period in Ōsaka, Tōkyō, Kikaijima, Kanazawa, and Kyōto. Over 20 thousand people in total visited the exhibition, with about 40% being younger people and 60% being older people. The book includes about ten pages of selected comments from exhibition visitors, including the following one written by a 24-year-old woman (pp. 104-5):
I saw on TV when your photos were presented. I was very impressed by the beauty of tokkō flowers and by the beauty of the photos that you took, so I visited since I wanted to see them up close in person. It was very good that I tried to visit. Being about your same age, I did not know about the war other than the instruction I received in school. On a personal note, when I went to the Hiroshima Atomic Bomb Museum on an elementary school field trip, instead of considering the overwhelming tragedy, I remember a feeling of rejection toward learning about the war. Through the beautiful flowers that you took, memories of the known war came gently into my heart. Your photos are not only beautiful but also a new attempt, which could not be done by classroom instruction, to make the war known to a generation that does not know it.
The tokkō flower photographs taken by Nakata and this book about her life provide inspiration in various ways. Though her talks at schools, students have been inspired by her enthusiasm and dedication toward photographing in many different ways this same type of flower. After she spoke to high school students at Kikaijima, they had a new appreciation for the history of their small island and decided to create and perform a play about tokkō flowers. Two brothers about her age who live on Kikaijima composed and recorded the following song after meeting her (pp. 93-4):
Tokkō Flowers
by Doki Doki

Blown by the sea breeze, blossoming with smiles
Young flowers, gallant in full bloom
Fighting goes on, forgetting life, never-ending, sad flowers.
If our lives will perish, we want to die riding the wind.
Don't forget, young flowers
Blooming, we fall, blooming, we fall
Laughing, flowers of our souls.
Fighting tells us it's senseless
Here we'll keep on blooming
Tokkō flowers.
Her touching stories of conversations with elderly people about the war provide encouragement to the younger generation to find out more about the times in which the older generation lived. Her photographs awakened many sad wartime memories that provided her the opportunity to find out more about personal histories. Nakata's story also serves as a model to others of a young person who finds something fascinating, pursues her interest with her whole heart, humbly receives guidance from those who are older, gains confidence bit by bit as she gets positive feedback, and achieves success in her chosen field.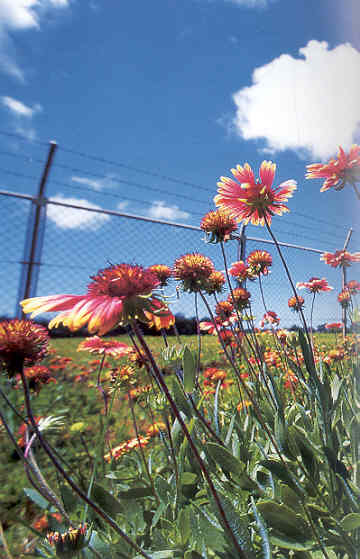 In 2005, Nakata met with Yasuto Ichikawa, a former naval transport plane pilot, to listen to his explanation for the many tokkō flowers around Kikaijima Airport. Ichikawa was at Kanoya Air Base with his fellow squadron member, Atsushi Ōshima, when they received separate assignments during the Battle of Okinawa. Ichikawa received orders to air drop medical supplies, dried bread, and other items at Oroku Air Base on Okinawa, and Ōshima had orders to go to Kikaijima to drop off supplies and to pick up stranded kamikaze pilots who had made forced landings on or near the island. While talking before they took off from Kanoya, Ōshima told Ishikawa that he was going to plant some tenningiku flowers at Kikaijima when he landed there since he liked them so much. Ōshima did land on Kikaijima, but he never made it back to Kanoya, because his transport plane that took off from Kikaijima one hour after landing was ambushed by two enemy fighters. His plane crashed into the sea only about 200 meters from the shore of Kikaijima. After the war, Ishikawa built a small monument near the airport in remembrance of his friend Ōshima.
Small black-and-white photos are spread throughout the book, but only seven pages in total in front and back have larger color photos of tokkō flowers. In addition, two pages in back show about 70 very small photos of tokkō flowers, people who the author met, and historical scenes. The book's photos lack captions, making it difficult at times to identify people in the photos, but often the text around a photo makes identification possible. Nakata does not give the reasons why she selected individual photos for this book, but she does describe how she took photos before dawn to draw closer to the feelings of kamikaze pilots, since these young men about her age would have seen the flowers at the same time when they got ready to fly toward enemy ships around Okinawa.
Although basic historical facts get presented, Nakata focuses on feelings, emotions, and memories evoked by her tokkō flower photographs. Ōshima's story provides a sentimental explanation of why so many tokkō flowers grow near Kikaijima Airport, but the book does not scientifically address where else the flowers grow or whether the flowers grew on Kikaijima even before the Navy had an air base there. The flower's scientific name is gaillardia pulchella, and this short-lived wildflower grows throughout the United States and especially in the central part of the country. The flower's most common names in English are firewheel or Indian blanket, and it is the state wildflower of Oklahoma. Nakata visits Kanoya Naval Air Base Museum and mentions that Kanoya also has tokkō flowers around the base. However, these flowers are yellow and completely different than the ones on Kikaijima. She does not give much explanation as to how two completely different flowers came to have the same name.
Some of the few specifics mentioned about wartime special attack operations are inaccurate. For example, the book states that 100 kamikaze pilots in 100 aircraft took off from Kikaijima Air Base (p. 70), but an exhibit at the Kanoya Naval Air Base Museum indicates only 19 Navy Kamikaze Special Attack Corps members died after sorties from Kikaijima, and the Army also had 23 kamikaze pilots who sortied from an air base on Kikaijima [1]. The section on her visit to Chiran incorrectly mentions that 1,036 kamikaze pilots took off from Chiran Air Base and died in special attacks. The actual number is 402, which does not include pilots who made sorties from Chiran's two forward bases at Kikaijima (23 pilots) and Tokunoshima (14 pilots) [2]. The number of 1,036 represents Army airmen who died in attacks around Okinawa, starting on March 26, 1945, from all Army air bases including Bansei, Miyakonojō, Kengun, and bases in Taiwan.
After the six-month photo exhibition in 2005, Nakata has continued her activities related to kamikaze pilots and tokkō flowers. In 2006, she joined a group of 25 veterans to travel to the Philippines to tour various war sites and memorials including Mabalacat, where the first kamikaze squadrons led by Lieutenant Yukio Seki were formed. In 2007, she joined Tadamasa Itatsu, former Chiran Museum Director, to go with Fumiko Satō to visit the museum at the Nara Air Self Defense Force Base. Satō's fiancÚ, Seizō Tatsumi, died at 24 years of age as part of a special attack squadron that took off from Bansei Army Air Base on June 11, 1945. Satō told her sad story to Nakata as she viewed with many tears Tatsumi's photo and writing at the museum. In 2008, along with publication of this book, a second tokkō flower photograph exhibition was held in two cities in July and August.
The tokkō flower photographs and Nakata herself have influenced many people from young to old, and this book will most likely do the same. Although not a detailed history of either tokkō flowers or special attack operations, the book contains many individual stories and histories to better understand the personal side of wartime experiences and memories.
Notes
Source Cited
Chiran Tokkō Irei Kenshō Kai (Chiran Special Attack Memorial Society), ed. 2005. Konpaku no kiroku: Kyū rikugun tokubetsu kōgekitai chiran kichi (Record of departed spirits: Former Army Special Attack Corps Chiran Base). Revised edition, originally published in 2004. Chiran Town, Kagoshima Prefecture: Chiran Tokkō Irei Kenshō Kai.