Umi no bohyō: Suijō tokkō "shin'yōtei" no kiroku (Grave markers at sea: Record of marine special attack shin'yō boats)
by Seifū Nikaidō
Chōeisha, 2004, 187 pages
In anticipation of an Allied invasion of Japan in 1945, the Japanese Navy established many bases around Japan with shin'yō motorboats. Shin'yō, which means "ocean shaker" in Japanese, were two-man motorboats with 250-kg explosive charges to be used in special attack (suicide) operations. The shin'yō squadron of Seifu Nikaidō, author of this memoir, was stationed with 25 motorboats for two months at the small fishing village of Tosashimizu at the southern tip of Kōchi Prefecture. During this time, he faced death as four orders were given to standby to sortie, but each time the order was cancelled when no enemy ships appeared. Umi no bohyō: Suijō tokkō "shin'yōtei" no kiroku (Grave markers at sea: Record of marine special attack shin'yō boats) focuses on Nikaidō's personal wartime experiences and also provides a brief general history of shin'yō motorboats and other special attack weapons deployed by the Japanese military.
Nikaidō provides his opinions and personal reflections throughout the book rather than just reciting the history of his wartime service. He researched several sources to explain the deployment of shin'yō motorboats in relation to the use of other types of special attack weapons. In a few places he admits that he does not remember what happened, but this seems natural since about sixty years passed before he wrote an account of his wartime experiences. The book has clear organization in three parts: his wartime service, his postwar feelings and activities related to the war, and his current opinions about Japan's use of suicide attacks in World War II.
Part 1's wartime experiences begin with Nikaidō's entry into the Japanese Navy's Preparatory Flight Training Program (called Yokaren in Japanese) at Tsuchiura Air Base in April 1944 at the age of 16. Although most of these entering students at Tsuchiura dreamed of becoming pilots, they did not get the opportunity to do so due to the worsening war situation in which Japan lacked planes and fuel. On March 15, 1945, about 50 Tsuchiura Yokaren graduates, including Nikaidō, were transferred to Kawatana Town in Nagasaki Prefecture to learn to pilot shin'yō motorboats on Ōmura Bay. On May 25, when they graduated from shin'yō training, they were assigned to Tosashimizu Base, still under construction, to be ready to sortie when enemy ships drew near the shore. Nikaidō's group, named the 132nd Shinyō Special Attack Squadron, arrived at Tosashimizu on June 26 after the base's completion and did not leave until August 24, nine days after the emperor's announcement of surrender.
The Japanese Navy's methods many times did not please Nikaidō, as he mentions in a couple of places the need to get certain things off his chest. The hanchō (group leaders) and other officers would frequently punch students in the mouth with their fists or beat them with a bat for the slightest infraction. Nikaidō considers this treatment to be worse than that given to beasts of burden. Later in the book he mentions that even now he, along with almost all of his classmates, would like to pay back the hanchōs for the prior violence inflicted upon them. In March 1945, students at Tsuchiura were asked to step forward one step if they wanted to volunteer for the special attack corps. Everyone in Nikaidō's group immediately stepped forward with the knowledge that they would be going to their death. However, this did not necessarily represent everyone's true feeling but rather the realization that they would incur the wrath and physical abuse of their hanchō if they did not do so.
After the end of the war, he returned to his home prefecture of Hokkaidō and lived like a hermit in a mountain village for about five years. He then entered the National Police Reserve and later the Ground Self-Defense Force, from which he retired in 1977 with the rank of commander. Part 2 describes the first annual reunions of the men who served in the 132nd Shinyō Special Attack Squadron based at Tosashimizu and the 14th Kō Yokaren Class at Tsuchiura. Typical of long-delayed reunions of men who had served in Japanese special attack forces, these first reunions occurred more than 30 years after the end of the war, but they then continued annually thereafter. Nikaidō visited Tosashimizu three times after the war's end (1973, 1991, and 1993), but he found the landscape had changed greatly since the war and only located one person who remembered the shin'yō squadron stationed there. On the first trip, he found the 14 caves where the shin'yō motorboats had been hidden. However, by the last trip only one remained in good condition, but it was being used for storage of hazardous material.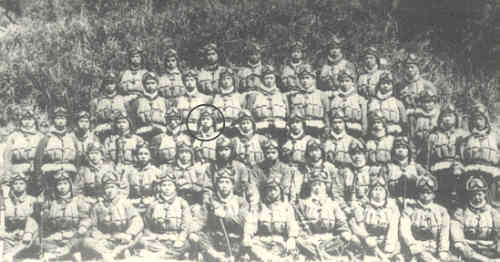 Graduation photograph at completion of
shin'yō training in Kawatana (May 25, 1945)
(Nikaidō identified with circle)

The book's last part contains the author's thoughts on certain topics related to Japan's special attack forces. Through the use of statistics from various sources, he shows that the great majority of special attack corps members were young men who had been students before entering the military. Relatively few higher-ranking officers, especially from the military academies, made special attacks. In several places in the book, Nikaidō states his belief that the Navy's leaders considered young Yokaren graduates as "spares" or "expendables." Part 3 of the book also has a discussion of two events after the emperor's announcement of surrender: the suicide of Vice Admiral Takijirō Ōnishi, considered to be the originator of the kamikaze corps, and the last kamikaze attack by Vice Admiral Matome Ugaki, who led kamikaze attacks from February 1945 until the end of the war. In June 1974, Ōnishi's widow received the highest honor from the emperor in recognition of her husband's war efforts. Even though Ōnishi's wife soon after contributed the award in recognition of the sacrifices of many Yokaren graduates, and it is now at the Yokaren Museum at the former Tsuchiura Air Base, Nikaidō expresses his doubts as to why such a high award would be bestowed 30 years later to the man who ordered so many to their deaths.
One fascinating feature of this book is the inclusion of war song lyrics in several places. These include both songs composed during and after the war. The book has lyrics to the following songs: "Honoring Our Comrades" (shin'yō memorial song), "Riding a Shinyō," "Young Eagles Song" (theme song of 1943 movie about Yokaren students), "14th Kō Class Song" (Yokaren song), "Kaiten Memorial Song," and "Ah, Kamikaze Special Attack Corps."
This memoir provides many insights into one shin'yō pilot's wartime experiences, especially facts related to the four orders received to stand by to attack approaching enemy ships, but his descriptions of personal wartime activities often lack details, probably due to the long time that passed before putting them in writing. For example, he gives few particulars regarding his daily activities and his other squadron members during his shin'yō training at Kawatana and his two months stationed at Tosashimizu.
Related Web Page