Eiko Shirakawa
Mother Who Passed Away One Year After Her Older Brother's Death (Ani no shigo ichi nen de nakunatta haha)
Researched and written by Shūji Fukano and Fusako Kadota
Pages 90-1 from Tokkō kono chi yori: Kagoshima shutsugeki no kiroku (Special attacks from this land: Record of Kagoshima sorties)
Minaminippon Shinbunsha, 2016, 438 pages
This story is based on an interview with Eiko Shirakawa (83 years old), resident of Ōsaka City. She is the younger sister of 144th Shinbu Squadron Commander Hidehiko Nakajima.
---
There are many people who have put together books for bereaved families of Special Attack Corps members about the short lives of Corps members. Eiko Shirakawa (83 years old) who lives in Suminoe-ku in Ōsaka City is also one of these persons. In 2002, she put together Sara no hana: "Tokkō" Okinawa no umi ni chiru, Nakajima Hidehiko no kiroku (Sal flower: Dying in special attack in Sea of Okinawa, record of Hidehiko Nakajima) (Bungeisha) based on about 100 letters to the family of Captain [1] Hidehiko Nakajima, her older brother who died in battle at the age of 22 when he took off from Bansei Army Airfield on June 8, 1945, as Commander of the 144th Shinbu Squadron.
Shirakawa speaks of her memory of him, "He was a person who cared greatly about his parents and siblings, and he was a pillar of strength for the family." She serves as spokesperson for the thoughts of his bereaved family, "This Special Attack Corps member who died young was not able to make his own family. I had to leave behind his writings because there was concern that this important person would soon be forgotten."
The death of her older brother with such a great character caused a huge shock to her bereaved family. She cannot forget the expression on her mother Katako when she found out about the loss. Shirakawa explains, "She was pure white rather than ghostly pale."
Katako's discouragement was great, and in the spring of 1946 she became bedridden due to a cold and died at the age of 41 on June 7 in the same year. It was exactly one year after Captain Nakajima's death.
Shirakawa says, "It was not limited to Special Attack Corps members. There were many families who felt the same way in Japan during those days. I think that we must not forget that."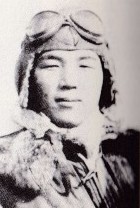 Captain Hidehiko Nakajima
---
Translated by Bill Gordon
June 2022
Note
1. This was the rank when he received a promotion of two ranks after his death by special (suicide) attack. He was a Second Lieutenant prior to his death.