Chiran inochi no monogatari: "Tokkō no haha" to yobareta Torihama Tome no shōgai (Chiran life story: Life of Tome Torihama, called "tokkō mother")
by Akihisa Torihama
Kizuna Shuppansha, 2015, 234 pages
Tome Torihama became like a mother to many Army tokkō (special attack) pilots [1] before they took off on their suicide missions to crash into American ships around Okinawa between March and June 1945. She ran Tomiya Restaurant where many pilots from Chiran Army Air Base went to eat and drink. Several books have been published about Tome Torihama's life including Hana no toki wa kanashimi no toki: Chiran tokkō obasan Torihama Tome monogatari (Flower season, a sad season: Story of Tome Torihama, aunt of Chiran's kamikaze pilots) (1992) by Masako Aihoshi, Hotaru kaeru (The firefly returns) (2001) by Tome's daughter Reiko Akabane and Hiroshi Ishii, and Naze wakamonotachi wa egao de tobitatte itta no ka (Why did the young men take off with smiling faces?) (2014) by Hatsuyo Torihama, wife of Tome's grandson. Akihisa Torihama, another grandson of Tome and son of Tome's daughter Miako, adds to this collection of biographies with one entitled Chiran inochi no monogatari: "Tokkō no haha" to yobareta Torihama Tome no shōgai (Chiran life story: Life of Tome Torihama, called "tokkō mother"). He covers much of the same basic history and many of the same stories about tokkō pilots as the other books, but he adds personal details based on his close relationship with his grandmother while growing up. He serves as director of Chiran's Hotaru Museum, located in the restored building of Tomiya Restaurant, which has exhibits that tell the stories of some of the tokkō pilots who Tome knew.
In conversations with Akihisa, Tome Torihama maintained that the tokkō pilots did not want to die. Instead, they wanted to protect their families and loved ones and were willing to sacrifice their lives in order to accomplish this. Tome loved the pilots to such an extent that she even sold off some household goods in order to buy food and drink to provide them when they visited her restaurant. She wrote letters to parents of pilots who took off from Chiran Air Base toward Okinawa and never returned, and the book contains extensive quotes from two of these. After the war's end, she became like a mother also for American soldiers stationed in Chiran. The Introduction by Shigehisa Nagamatsu, representative director of Hotaru Museum, mentions that Tome is called "Japan's Mother Teresa" for all of her kind deeds.
Akihisa Torihama describes Tome's life as "turbulent." Born in the small fishing village of Bōnotsu (now part of Minamisatsuma City) in Kagoshima Prefecture, Tome struggled in her early life to make a livelihood as she served as a housemaid for three years starting at age 15 while living in the house of the police chief of Kagoshima City. Afterward she worked in Kaseda City (now also part of Minamisatsuma City) at an inn, where she met Yoshitoshi [2], who would soon become her husband despite opposition from his parents in Shibushi City due to her background. They decided to move to the small town of Chiran, and Yoshitoshi commuted by train each day to Kaseda City where he worked at the bus company. The couple had two daughters, Miako and Reiko. At the age of 27 in 1929, Tome opened a restaurant in Chiran called Tomiya. According to Akihisa Torihama, Tome did not like her name so she often used the name of Tomi or Tomiko in writing, and she included the name of Tomi in her restaurant's name.
The book's eight chapters roughly follow Tome's life chronologically after an initial chapter that introduces Tome and stories of three tokkō pilots: Saburō Miyagawa who promised to return as a firefly (hotaru in Japanese), Korean Fumihiro Mitsuyama who sang the Korean song Arirang in Tomiya Restaurant during the evening before his final mission, and Hajime Fujii whose wife had committed suicide several months before he took off from Chiran. The book's contents can be divided into three types of material, which total about the same number of pages but are mixed throughout the book: (1) Tome Torihama's biography, (2) stories related to tokkō pilots who took off from Chiran Air Base, and (3) Akihisa Torihama's personal stories and interactions with his grandmother. There are 37 historical photographs, both of Tome throughout her life and pilots who Tome met.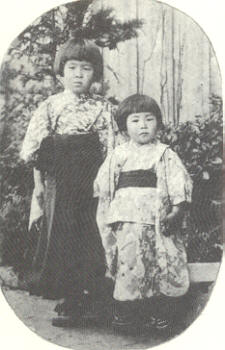 Tome's daughters
Miako (left) and Reiko (right)
Akihisa Torihama writes that he heard when he was growing up directly from his grandmother Tome many times the stories about various tokkō pilots she met. There are a few places in the book where he seems to be speculating about how Tome may have felt or what may have happened when he does not have direct knowledge of the details. He provides a personal perspective in his stories about Tome that others outside the family cannot, especially in her later years until her death in 1992 at age 89.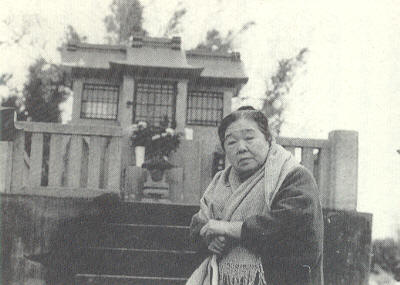 Tome Torihama in front of Chiran's
Kannon (Buddhist goddess of mercy) Temple when first built
Notes
1. The Japanese Army's tokkō pilots are often called kamikaze pilots by English speakers. However, the Kamikaze Special Attack Corps included only Navy, not Army, airmen.
2. Hatsuyo Torihama, in her book Naze wakamonotachi wa egao de tobitatte itta no ka (Why did the young men take off with smiling faces?) (2014), gives the pronunciation of Tome Torihama's husband as Yoshikiyo. It is uncertain whether the pronunciation of his name is Yoshitoshi or Yoshikiyo.