Good Night Officially: The Pacific War Letters of a Destroyer Sailor
Edited by William M. McBride
Letters written by Yeoman James Orvill Raines
Texas A&M University Press, 2000, 306 pages
Originally published in 1994 by Westview Press
The destroyer USS Howorth (DD-592), commissioned in April 1944, participated in battles in the Philippines, Iwo Jima, and Okinawa. On April 6 , 1945, during Japan's first and largest mass kamikaze attack during the Battle of Okinawa, five kamikaze aircraft attacked the ship in less than eight minutes. Howorth's gunners shot down the first three, but the fourth plane, a Japanese Zero fighter, crashed into the main gun battery director on top of the bridge. The attack killed seven and wounded sixteen Howorth crewmen. As the bridge burned, the fifth and final kamikaze was shot down [1]. James Orvill Raines was one of the crewman who ended up in the sea after the explosion when the kamikaze plane hit. Raines was badly burned in the blast and passed away in the arms of another crewman, who was rescued from the water a couple of hours later. Orvill and Ray Ellen had been married in June 1940, and this book contains a selection of Orvill's personal letters to his wife from Howorth's commissioning to the day that he lost his life. These detailed letters provide insights to Orvill's personal feelings and opinions, Howorth's history, and everyday life of an ordinary seaman aboard an American destroyer during the Pacific War.
Orvill Raines worked as a reporter for the Dallas Morning News newspaper before he entered the Naval Reserve in November 1942. Aboard the destroyer Howorth he served as yeoman, which included various administrative duties such as preparing, typing, and routing reports and correspondence. His battle station duty was bridge telephone talker, when he wore a telephone headset as he stayed close to the captain and other officers on the bridge to relay information between them and other parts of the ship. Orvill consistently wrote long letters to his wife Ray Ellen during his years in the Navy. Even though the military censored letters to home, Orvill's letters must have passed through a very lenient censor during his time aboard Howorth, since only of couple of items in his long letters ever got deleted even though he described many details of battles including geographic locations. He told his wife about several Japanese aerial suicide attacks against American ships including his own. As Howorth proceeded toward Okinawa for the impending battle, Raines expressed his worries about possible kamikaze attacks (p. 262):
Okinawa spells Kamikaze Corps to us. Hope I don't burden you with all this worry of mine. Of course we worry a little. Somebody's gotta get it and we may be lucky or unlucky. You see the Navy loses a lot of men but you don't particularly hear about it. A few days ago while a task force was working over Okinawa, suicides came down from Honshu (the island of Japan) and seven of them hit one of our big carriers. Fifteen hundred men were killed as a result of the crashes and the subsequent fires.
Every letter from Orvill expresses his deep love for his wife such as the following paragraph in a letter dated December 29, 1944 (p. 191):
Well Precious Baby Girl, I want to get a night's sleep tonight. It's 9:30 now and I arise at 5:45 so if I hurry, I can get 8 hours. Be a sweet kid Baby and try to realize how hard this mug loves you. I'm just one guy in 11 million in this war but I love you as much as the other 10,999,999 guys love their wives and sweethearts put together. I love you passionately and with every atom in me. I want the war to end soon. I pray often that God will do something about it. I don't necessarily want to kill ALL the Japs, just enough to make them see that they can't win. So we can all go home. Damit, darling, we are losing a lot of good time and I want to get started again. Well, so much of that. It isn't necessary to load you down with that as you already know how I feel. Be sweet darling and remember that I worship and adore you like mad. God bless you Darling Baby. Keep your chin up and "stand by."

Your devoted husband,
Orvill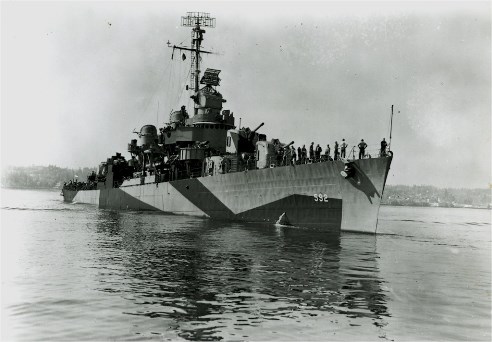 USS Howorth (DD-592) one month after commissioning
In a letter dated November 30, 1944, Orvill writes about a Jap pilot who suicide dived on the bridge of another destroyer. In his letter of December 10, 1944, he describes a destroyer returning from a terrible fight when bombs and a suicide Jap plane had plowed into her. Her entire superstructure was a mangled mess of melted steel except for the bridge and radio shack. In a letter from December 16, 1944, he describes in vivid detail the previous day's attack on the destroyer Howorth by three Japanese Zero suicide fighters. The first one barely missed the after smoke stack and landed in the water. The second one hit the ship and glanced off the port side of the forecastle into the water without causing any casualties or serious damage other than wreckage scattered all over the ship. The third Zero got hit by Howorth's gunners but veered off and crashed into a smaller ship. In the next day's letter he refers to Japanese attacks as "fanatical suicides." On January 10, 1945, he writes that the Japs will need to suicide even more to compensate for the Americans' very latest type fighter plane. On February 22, 1945, he describes the previous night's suicide attacks that sank a carrier escort off Iwo Jima. Ray Ellen had read these and several other references to suicide attacks in Orvill's letters, so she probably understood well what must have happened when Howorth's captain sent her a letter dated a day after the kamikaze attack with the following words: "After the ship shot down five dive bombers which fell flaming into the sea nearby, the sixth crashed out of control onto the ship in the vicinity of Orvill's battle station. Several men, including Orvill, were observed to jump or were blown overboard and were seen in the water. It is possible that one of the several ships close by picked him up. We have no information as to whether he was injured or has been recovered as yet." On June 1, 1945, her fifth wedding anniversary, she received confirmation of Orvill's death when she read a letter from fellow crewman Russell Bramble, who wrote that Orvill had been badly burned and had died in his arms in the water.
Ray Ellen stored Orvill's typed letters for several decades after the end of the war, and she provided a portion of them to the Howorth Veterans Association for a publication distributed in 1991 to association members. William M. McBride contacted Ray Ellen, who gave him full access to Orvill's complete correspondence for the selection of letters to be included in this book originally published in 1994. He omitted some letters not relevant to Howorth, and he excluded some digressions and personal comments to Ray Ellen from those letters that were selected. McBride wrote an Introduction, plus each chapter has introductory comments about Howorth's history and the letters, which are arranged in chronological order. There are also notes, a glossary, and a bibliographic note that reflect McBride's thorough research. The book ends with a long touching letter from Orvill to his wife dated July 30, 1944, to be delivered by his father only in the event of his death.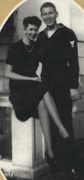 Orvill and Ray Ellen Raines outside
apartment building in New Orleans,
where he was stationed initially
Note
1. The account of the kamikaze attack on Howorth comes from p. 13 of the book. Other sources have conflicting numbers of kamikaze aircraft that attacked Howorth and that were shot down by the destroyer's gunners on April 6, 1945.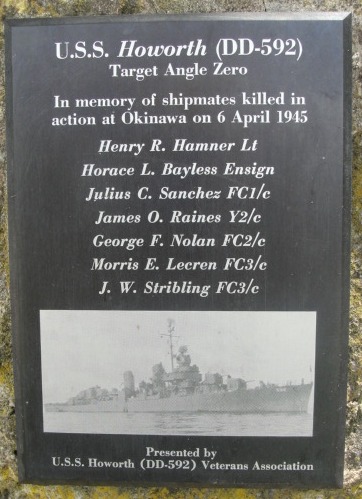 Howorth Memorial Plaque at
National Museum of the Pacific War
(Fredericksburg, Texas)