Tin Can 367
by Richard Phelan
AuthorHouse, 2008, 211 pages
Richard Phelan served from February 1944 to December 1945 as Engineering Officer for the Mahan-class destroyer Lamson (DD-367). Primarily through crewmen diaries written during the Pacific War, he has compiled the story of Lamson from her commissioning in October 1936 in Bath, Maine, to her end in July 1946 at the Bikini Atoll as one of the target ships for an atomic bomb test. Tin Can 367 includes almost 30 pages on the kamikaze attack of December 7, 1944, during the Battle of Ormoc Bay and what happened to survivors after the attack.
The wartime diary kept by Edward Adams, Lamson's Gunnery Officer, provides the most descriptive and personal passages found in the book. His battle station was on the director platform at the highest point of the ship, so he could view numerous kamikaze attacks in the vicinity of Lamson from November 1 to December 7, 1944, in the Philippines. His detailed diary entries begin on October 29, 1944, when Lamson entered Leyte Gulf, and they continue until the destroyer, heavily damaged from the kamikaze attack, reached Puget Sound Navy Yard in January 1945 to begin repairs. Adams' diary has a straightforwardness that gives readers his unvarnished opinions and emotions, such as the following excerpt from his entry on November 3, 1944 (p. 61):
There were a couple hours of darkness before moonrise that night, and I asked Joe, the executive officer, if I could secure all but two of the lookouts, he said OK, so I secured them. At about 0200 the Captain came up to the director and really raised hell. He blamed Judah and Hixenbaugh and I. The next day I spoke casually with Joe about it. "The Captain raised quite a stink about the lookouts, didn't he?" Joe replied innocently, "Yes. I'm sure glad I didn't give you permission." "I thought you did." "Did I?" Joe replied. I turned on my heel and left. The depths a small man will drop to because of fear for his superior.
Phelan used several other sources, including his own diary, in putting together this ship history. The book starts with a three-page story called the "The Lady" written by Travis Satterwhite, Radioman. He covers Lamson's entire history from 1936 to 1946 in a creative way by depicting the destroyer as a lady and all of her parts and activities in human terms. Electrician Mate Gene Lichlyter's extended reminiscences about the Marshall Islands, the kamikaze attack, and Lamson's September and October 1945 Japan visit to Nagasaki and Sasebo also make the crewmen's experiences come alive. Phelan effectively utilizes other sources such as the Lamson Log Book and War Diary, conversations with surviving crewmembers, and personal letters to home in order to complete this chronological history that focuses on the destroyer's most important events. However, even though he uses the cover page to list his sources for the history, he never describes the story behind how he came to compile this book over 60 years after WWII's end.
This ship history has many extras, such as numerous large photos, most which are quite clear. The 12 photos taken in Nagasaki and Sasebo during their visit in September and October 1945 provide fascinating glimpses into Japan and its people right after the war's end. Two large color maps track Lamson's movements during the Pacific War, and another large map tracks Lamson's route during the unsuccessful search for Amelia Earhart's lost plane in the South Pacific between July 11 and 19, 1937. Two paintings by Dwight Shepler, watercolorist aboard USS Flusser (DD-368) as a US Navy Combat Artist, depict Lamson's hit by a Japanese kamikaze aircraft and Lamson casualties being treated in Flusser's wardroom. The book lacks an index to find specific topics, but its chronological order allows an event to be easily found if the date is known.
The kamikaze attack on Lamson took place on December 7, 1944, during the Battle of Ormoc Bay off the coast of Leyte Island. In the morning, kamikaze aircraft hit and heavily damaged the destroyer Mahan (DD-364) and the high-speed transport Ward (APD-16), both of which were intentionally sunk by US ships when fires could not be brought under control. Lamson replaced Mahan as fighter director ship and made five intercepts of Japanese aircraft. At about 1400, Lamson's gunners shot down a Dinah that had released a bomb, which had exploded about 50 feet astern and covered the fantail with shrapnel. Gunnery Officer Edward Adams' diary entry describes the kamikaze aircraft that hit just after the Dinah had been shot down (pp. 77-8):
But the cheer had hardly died out when three planes came in low and fast between the island and Leyte. By the time I could get the director around to starboard, two had been shot down by some beautiful firing of the EDWARDS in the channel. The other was coming at us, it looked like a Tony, dipping his wings and weaving, only about 30 feet off the water. Somehow he got on our stern and stayed there. It was hopeless with only guns three and four to bear and the range-finder blanked off, but we set minimum range and fired. I was screaming at the bridge to unmask the battery. The last I hear from them was "Coming Left." There was no doubt he had us, for the plane was in perfect control.

I saw him come right a hair and pull his nose down a little, just as if he were setting his sights. When his guns started flashing everyone in the director ducked. On my pigeons roost I leaned over as best I could and waited. There was a crash and a momentary hot blast which stung my face.
The plane crashed into Lamson's superstructure just below the bridge killing 21 crewmen and wounding 82. The rescue tug ATR-31 came alongside the burning ship and finally managed to bring fires under control, even though at one point the destroyer squadron commander had decided to sink Lamson since the fires appeared to be out of control near the explosive storage magazines. Lamson's sister ship Flusser (DD-368) picked up many survivors from the water and escorted the heavily damaged ship back to Leyte Gulf as they came under heavy air attack.
Gunnery Officer Edward Adams' account of the kamikaze attack, its immediate aftermath, and his experiences aboard a hospital ship with other wounded Flusser crewmen makes up about half of this section of the book. Several others also describe what happened to them on that fateful Pearl Harbor Day of December 7, 1944. The most memorable story is the one told by Frederick Houser, Chief Pharmacist Mate from the USS McKinley who went on board Flusser the night before the planned Allied landings at Ormoc Bay. He sensitively describes the many seriously wounded men picked up by Flusser and the medical team's actions to treat burns, broken bones, and shrapnel wounds.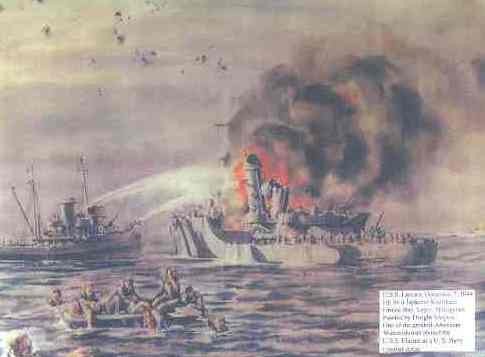 USS Lamson December 7, 1944
Hit by a Japanese Kamikaze
Ormoc Bay, Leyte, Philippines
Painted by Dwight Shepler
The facts concerning the kamikaze attack on Lamson have quite a few inconsistencies when examining Tin Can 367's accounts and other sources. The author does not discuss these differences when presenting the various accounts of the kamikaze attack. The Dictionary of American Naval Fighting Ships (DANFS) entry for Lamson states, "While screening a convoy off Ormoc Bay, Lamson splashed two 'Dinahs' before a third crashed into her superstructure, killing 25 of the destroyer's crew and injuring 54 others." The aircraft type differs from Adams' diary entry that refers to the kamikaze plane that hit Lamson as a Tony, and the numbers of casualties differs from the casualty numbers of 21 dead and 82 wounded provided by the book. Lamson's War Diary (Dennis 1998, 119) mentions only one Dinah shot down by the ship's gunners and describes the plane that hit as a "single engine fighter," which could not have been the twin-engine Dinah reconnaissance aircraft. The War Diary states 21 men were killed instantly and 50 were wounded, and the difference between the 25 dead mentioned in the DANFS entry may be related to men who died later of wounds suffered in the attack.
Lamson crewman Bob Gusberti identifies the kamikaze plane that hit as a Zeke (Zero) fighter (pp. 84-5). A Japanese source (Hara 2004, 152-4) indicates that no Dinah (Type 100 Command Reconnaissance Aircraft) or Tony (Army Type 3 Hien Fighter) aircraft flew suicide missions on December 7, 1944. The Dinah aircraft mentioned in some accounts most likely were twin-engine Nicks (Ki-45 Army Type 2 Toryū Fighters), since a squadron of 11 took off from Bacolod Airfield on Negros Island on the same date (Osuo 2005, 191) and since the Nick and Dinah had a similar shape and size. Hara (2004, 153-4) states that a Nick hit Lamson. The Lamson War Diary and two Lamson crewmen (Adams and Gusberti) identify the plane that hit as a single-engine fighter, which could have been a Zero fighter since 15 made sorties that date on special attacks and did not return to base or an Oscar (Army Type 1 Hayabusa Fighter) since 11 made sorties that date on special attacks and did not return to base (Hara 2004, 152-3).

USS Lamson (DD-367) (left) on fire
in Ormoc Bay after hit by kamikaze plane.
Rescue tug ATR-31 (right) is fighting fire.
Tin Can 367 effectively presents the highlights of Lamson's history without getting bogged down in a recitation of dry facts from the destroyer's Log Book or War Diary. The extended diary excerpts and reminiscences from Gunnery Officer Edward Adams and other Lamson crewmen bring the ship's history to life. These accounts depict the fear and apprehension brought on by numerous kamikaze attacks in the Philippines and the bravery and suffering of crewmen seriously wounded by the kamikaze aircraft that crashed into Lamson.
Sources Cited
Dennis, E. B. 1998. U.S.S. Frustrate: "The Luckiest Ship in the Navy." Privately published.

Dictionary of American Naval Fighting Ships. Department of the Navy, Naval Historical Center. Web site: <http://www.history.navy.mil/danfs/> Other web site: <http://www.hazegray.org/danfs/> (July 4, 2010).

Hara, Katsuhiro. 2004. Shinsō kamikaze tokkō: Hisshi hitchū no 300 nichi (Kamikaze special attack facts: 300 days of certain-death, sure-hit attacks). Tōkyō: KK Bestsellers.

Osuo, Kazuhiko. 2005. Tokubetsu kōgekitai no kiroku (rikugun hen) (Record of special attack corps (Army)). Tōkyō: Kōjinsha.