41st Shin'yō Special Attack Squadron Monument
Miyakojima City, Okinawa Prefecture
The 41st Shin'yō Special Attack Squadron hid Model 1 shin'yō explosive motorboats in tunnels at Karimata Inlet on Miyakojima (Miyako Island), which is located about halfway between the main island of Okinawa and Taiwan. These one-man motorboats, loaded with 250 kg of explosives in the front, were to be used for nighttime suicide attacks to crash into enemy ships, but the squadron never engaged in battle.
The 41st Shin'yō Special Attack Squadron Monument, erected in 2006, has plaques explaining the squadron's history in Japanese, English, Chinese, and German. A tunnel entrance possibly may be behind the monument, but this cannot be easily verified due to the thick underbrush.
The monument has the following information in English:
Japanese Naval Special Assault Force Facility
Designated a Municipal Historic Site on April 25th, 2004

The remains of this facility are located on a hill along the southwest coast of Karimata. The total length of the structure is 300m and consists of one main area with several branches. The building, with its five entrances, was constructed by the Japanese Imperial Navy 313 Construction Unit and was used as a top secret facility for the 41st Shin'yō Special Assault Force, Yagi Division. It was utilized by the Japanese Navy from March 1st, 1945 until the end of the war. The Shin'yō Special Assault Force was a unit of the Japanese Navy specializing in manned torpedoes. The troops of the Yagi Division were stationed at the base in Karimata in case Allied forces attempted to invade Miyako; however, since this never took place, the manned torpedoes of Karimata were never used in battle. In addition to this facility, others were constructed at Upudumara in Nikadori as well as Upama and Turiba in Kugai. These ruins are valuable in understanding various strategies employed during the war and also the conditions in Miyako at the end of the war.
The above explanation inaccurately uses the phrase "manned torpedoes" to refer to shin'yō special attack boats designed to carry out suicide attacks against enemy ships. The Japanese Navy did use kaiten manned torpedoes in suicide attacks during WWII, but shin'yō motorboats could not be considered torpedoes since they could be steered as a normal boat.
The monument stands next to the road in Kenkō Fureai Land Park. A wooden walkway leads to a two-story observation tower, where Karimata Inlet and the East China Sea can be viewed. There are plans to open Miyakojima Kaichū Park at Karimata in about April 2011. This park will feature an 20-meter long underwater glass tunnel.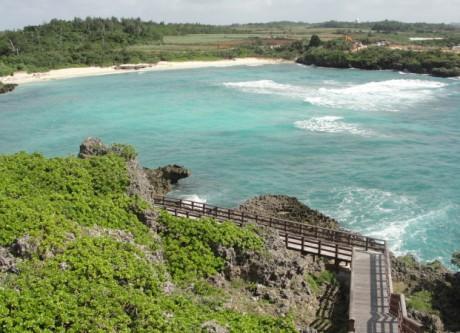 View of inlet at Karimata
from two-story observation tower