Aichi Gokoku Jinja Battleship Yamato Monument
Nagoya City, Aichi Prefecture
The Battleship Yamato Monument at Aichi Gokoku Jinja has a replica of one of Yamato's huge artillery shells mounted atop the monument's base. Aichi Gokoku Jinja is a shrine in Nagoya City dedicated to those from Aichi Prefecture who died to protect the country. The shrine includes several other monuments, including one to remember the Navy's Flight Reserve Students who died in battle including 651 Kamikaze Special Attack Corps members. Most other prefectures also have a Gokoku Jinja to honor those from the prefecture who died in wars in order to protect Japan.
The front of the monument has a bronze bas-relief plaque of Battleship Yamato (see photo at bottom of page). A plaque on the left side of the monument base provides the following history:
Battleship Yamato, built by Japan, was the largest and strongest battleship ever in history and was the country's boast to the world.

During World War II, Yamato actively participated in the center of sea battles. At the beginning of 1945, the war situation became critical. When finally the Allied Forces in full force advanced to Okinawa, Yamato became flagship of the Surface Special Attack Force and made a sortie from Tokuyama together with the cruiser Yahagi and eight destroyers. They carried out this brave but tragic strike against the enemy fleet as a special attack from which they would not return.

As they advanced, they suffered continuous fierce attacks by superior enemy aircraft. They fought bravely, but without even one escort fighter, the damage grew worse and worse, and Yamato finally sank.

Over 2,700 crewmen under Commander Ito and Captain Ariga shared their fate with the battleship 480 kilometers north of Okinawa on April 7, 1945.

The determination of our countrymen who built the huge battleship this century and the noble spirit of those who met their death with resignation as they faced a critical situation for their country will pulse through our people forever.

As we place here one of Yamato's main artillery shells, along with remembering the glorious Navy, we offer our sincere appreciation to the many spirits of those who gave their lives for our country including those aboard Yamato, and we pray for our country's prosperity and world peace.

April 7, 1977
Battleship Yamato Association
Tokai Region [1]
A plaque on the right side of the monument base lists the following principal facts about Battleship Yamato:
Length: 263 meters
Width: 39 meters
Draught: 10 meters
Displacement: 72,000 tons
Engine horsepower: 150,000 horsepower
Speed: 27 knots (50 kilometers per hour)
Cruising distance: 7,200 nautical miles

Main guns: 3 turrets with 3 46 cm guns each
Secondary guns: 2 turrets with 3 15.5 cm guns each
Anti-aircraft guns: 12 mounts with 2 12.7 cm guns each
Machine guns: triple mount 25 mm guns and others totaling 150 guns
Aircraft: 6
Crew: 3,000 men

Main Artillery Shell Details
Diameter: 46 centimeters
Length: 195 centimeters
Weight: 1,460 kilograms
Range: 42 kilometers

History
November 4, 1937 - keel laid down (Kure Naval Arsenal)
August 8, 1940 - launched
December 16, 1941 - commissioned
April 7, 1945 - sunk (Okinawa Surface Special Attack Force)

Composition of Okinawa Surface Special Attack Unit
Battleship Yamato
Light cruiser Yahagi
Destroyer Squadron:
Destroyer Division 41 (Fuyutsuki, Suzutsuki)
Destroyer Division 17 (Isokaze, Hamakaze, Yukikaze)
Destroyer Division 21 (Asashimo, Kasumi, Hatsushimo)
A plaque at the back of the monument base lists the names of the almost 70 monument donors.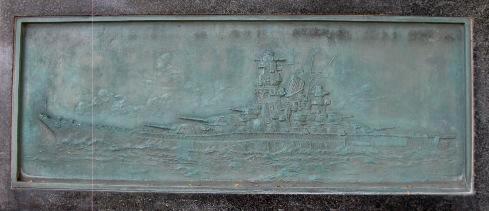 Bronze bas-relief plaque at front of
Battleship Yamato Monument
Note
1. Japan's Tokai Region includes Aichi, Mie, and Gifu Prefectures.