Bōnotsu Shin'yō Corps Monument
Minamisatsuma City, Kagoshima Prefecture
The Chiran Peace Museum for Kamikaze Pilots displays a restored Model 5 shin'yō explosive motorboat, which was built in WWII to carry out nighttime suicide attacks against enemy ships. In 1979, the Kyoto Arashiyama Museum salvaged the remains of this shin'yō motorboat that had been scuttled after the end of WWII by the 123rd Shin'yō Special Attack Squadron stationed at Bōnotsu, located at the southwestern end of the Satsuma Peninsula. The Model 5 shin'yō boat had a crew of two and carried 250 kg of explosives in the bow.
The Bōnotsu Shin'yō Corps Monument, erected in 1979, stands alongside a path through the woods alongside the inlet at Bōnotsu. The path starts from the parking lot of Kishinkan, a museum dedicated to Bōnotsu's history. The Shin'yō Monument is located on the path's right-hand side about 10 meters from the entrance to the woods. Further along the path is a monument to author Haruo Umezaki, who was in Bōnotsu in July 1945 as a member of the Navy's Communications Unit and who used Bōnotsu as a setting for a couple of his postwar novels including Genka (Illusion).
The front of the monument has inscribed "Shin'yō Corps Monument," and the back of the monument has the following inscription:
During the final stage of the Pacific War, there was a Surface Special Attack Squadron located in this place. The squadron made preparations for an enemy naval task force invasion and carried out constant training for taiatari (body-crashing) suicide attacks to achieve certain victory.

Now thanks to the kindness of Bōnotsu Town, we received the donation of a site near the former base gate. Squadron members from those days and other persons connected to the squadron gathered together to erect this monument and pray for eternal peace.

August 15, 1979

123rd Shin'yō Squadron Monument Erection Committee
In 2005, Bōnotsu Town merged with nearby municipalities to form Minamisatsuma City.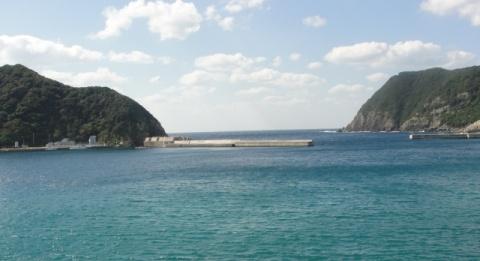 Bōnotsu Inlet