Hakkō Sekichō Squadron Monument
Chōshi City, Chiba Prefecture
On November 6, 1944, the Army's 6th Hakkō Special Attack Squadron, also known as the Sekichō Squadron, was formed with 18 young pilots in Chōshi City at the branch of the Shimoshizu Army Flight School. All except one died in special (suicide) attacks in the Philippines.
On November 8, the 6th Hakkō Squadron departed Chōshi for the Philippines in 11 Army Type 99 assault planes (Mitsubishi K-51s) with a large sendoff by school instructors, ground workers, and women's volunteer corps members. They proceeded to the Philippines by way of Army air bases at Hamamatsu (Shizuoka Prefecture), Kakogawa (Hyōgo Prefecture), Miyakonojō (Miyazaki Prefecture), Chiran (Kagoshima Prefecture), Ie Shima, Ishigakijima, and Karen Port (Haulien, Taiwan).
On November 16, the 6th Hakkō Squadron arrived in the Philippines. On November 19 at Del Carmen Airfield in Luzon, 4th Air Army Commander Tominaga gave the name of Sekichō Squadron to the 6th Hakkō Squadron. Hakkō means "eight directions" or "whole world," and this name was used by twelve different Army special attack squadrons that carried out attacks in the Philippines from November 1944 to January 1945. An additional name was given to each of the twelve squadrons. Sekichō literally means "stone guts" to indicate strength. The word sekichō is usually used as part of the term tesshin sekichō, which means "iron will" or "strong determination."
On December 5, seven men from the 6th Hakkō Squadron took off from Bacolod Airfield toward Surigao Strait and died in special attacks. The number of other squadron members who died in special attacks in the Philippines are summarized below by date:
1 - December 8, 1944 (from Bacolod Airfield)
1 - December 12 (from Bacolod)
1 - December 22 (from Bacolod)
3 - January 5, 1945 (from Clark Airfield)
1 - January 6 (from Clark)
3 - January 8 (from Clark)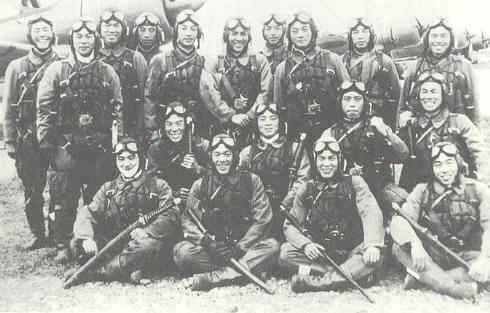 Eighteen men of 6th Hakkō Squadron,
also known as Sekichō Squadron
A monument in remembrance of the 6th Hakkō Squadron was erected in 1993 at the site of the former airfield in Chōshi City. The front of the monument has the following inscription:
Soaring in Sky Monument
At this location was an airfield
Shimoshizu Army Flight School Chōshi Branch Site


Departure ceremony for 6th Hakkō Squadron
at Shimoshizu Army Flight School Branch's
airfield at Chōshi City (November 8, 1944)
A plaque to the right of the monument has the following history:
The Shimoshizu Army Flight School Branch was formerly at this location. The branch school had a small scale of about 400 thousand square meters concentrated here at Kasugadai.

In the latter stage of the Pacific War, the Hakkō Sekichō Squadron was formed and departed from here never to return.

With these historical facts not fading, we recall that Japan's current peace and prosperity are based on many noble sacrifices. We pray that our heartfelt desire for peace, so that such an error never be repeated again, will soar to heaven. We erect this Soaring in Sky Monument with our wish that this desire reach throughout the country from this place.

November 8, 1993
Soaring in Sky Monument Erection Committee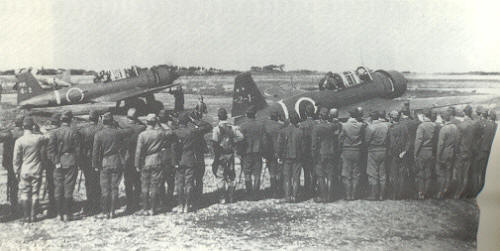 Sendoff at Chōshi on November 8, 1944. Each Army Type 99
assault plane (Mitsubishi K-51) carried a 500-kg bomb.

---
The historical photographs and information on this web page about the 6th Hakkō Squadron are from pages 24-8 and 191 of the following book:
Osuo, Kazuhiko. 2005. Tokubetsu kōgekitai no kiroku (rikugun hen) (Record of special attack corps (Army)). Tokyo: Kojinsha.
The information on air bases where 6th Hakkō Squadron members made sorties is from pages 152-68 of the following book:
Hara, Katsuhiro. 2004. Shinsō kamikaze tokkō: Hisshi hitchū no 300 nichi (Kamikaze special attack facts: 300 days of certain-death, sure-hit attacks). Tokyo: KK Bestsellers.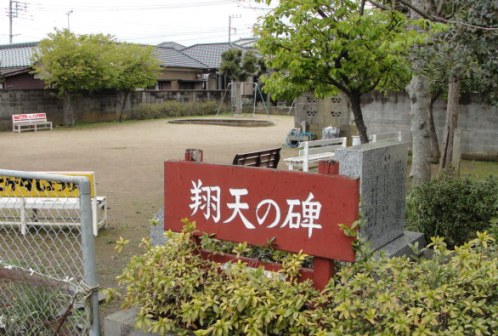 Sign in front of Soaring in Sky Monument
(Hakkō Sekichō Squadron Monument).
Background shows small park in Kasugadai residential area.