Kagawa Gokoku Jinja Yokaren Monument
Zentsūji City, Kagawa Prefecture
Kagawa Gokoku Jinja is a Shintō shrine founded in 1898 to remember more than 35,700 persons from Kagawa Prefecture who died to defend Japan. The shrine has several monuments in memory of those who died in wars, including the Navy Yokaren (Preparatory Flight Training Program) Monument.
The Navy established the Yokaren's Kō program of study in 1937 for graduates of junior high school. Many Navy Yokaren graduates died as members of the Special Attack Corps (tokkōtai), which made suicide attacks against enemy ships toward the end of WWII. In 1995, the Kagawa Prefecture Kō Class Yokaren Association erected a monument at Kagawa Gokoku Jinja with the following inscription:
The Japanese Navy, which was the aspiration of young men burning ardently with patriotism, founded the Tsuchiura Naval Air Group on the shore of Lake Kasumigaura for the purpose of early training of first-class aircraft crewmen. When the war situation became critical, naval air groups were established throughout the country.

From the founding of the Yokaren (Preparatory Flight Training Program) to the end of the Pacific War, it was a short history of eight years. Rosy-cheeked, endearing youths around 16 years old, filled with longing for the skies and deep-felt sentiments of patriotism, volunteered to join the air groups. They cultivated their minds and hardened their bodies. They left their nests for the skies after they went through the flight training program during which they honed their skills.

They triumphed in their first battle at the China Incident and became the core of the Navy's air power both in name and substance during the Pacific War. They took off from aircraft carriers or land bases and commanded the skies throughout the Pacific Ocean at the beginning of the war.

As war clouds moved closer and closer to our homeland, they carried out taiatari (body-crashing) attacks from the skies and seas as members of the Special Attack Corps (Tokubetsu Kōgekitai).

Eighty percent of Yokaren graduates, including more than 120 from Kagawa Prefecture, died in battle for their country's security, their people's survival, and their family's wellbeing. Not waiting until reaching full maturity, they became spirits of our country.

The Shōwa Era (which ended in 1989) has already passed. Giving thanks that this time now has peace, we can now take pride in the world of the Heisei Era. Our country has developed into a major economic power, and we celebrate our prosperity and peace. As we pray for eternal peace and for repose of the souls of Yokaren trainees from Kagawa Prefecture who became a cornerstone for today's Japan, we Yokaren trainees who survived and other volunteers erect this monument fifty years after the end of the war.

May 27, 1995
Kagawa Prefecture Kō Class Yokaren Association survivors and other volunteers
A plaque to the right of the Yokaren Monument lists the names of about 175 persons who made donations for the monument's erection.
The following last letters were written by Yokaren graduates in the Kamikaze Special Attack Corps from Kagawa Prefecture who died in special attacks: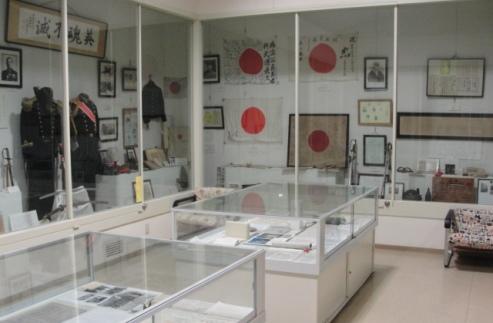 Small museum at Kagawa Gokoku Jinja
The shrine grounds have a small museum with many exhibits such as wartime photographs, uniforms, flags, and letters. The items on display include several related to Special Attack Corps members from Kagawa Prefecture who died in suicide attacks. There are photos on the wall of Flight Chief Petty Officer Sueo Takeyasu. On June 28, 1945, he piloted a Type Zero Observation Seaplane (Allied code name of "Pete") in a special attack from Koniya Air Base on the island of Amami Ōshima after he had flown there from Ibusuki Air Base at the southern end of Kyūshū. He was 21 years old when he died as a member of the Kamikaze Special Attack Corps Kotohira Suitei Squadron from Fukuyama Air Group. A display case has the story and photographs of Army First Lieutenant Mitsuru Ogawa, who was from Zentsūji City in Kagawa Prefecture. He flew a Type 99 Assault Plane on a special attack from Kuroiso in Tochigi Prefecture on August 13, 1945. He was a member of the 201st Kamiwashi (Divine Eagle) Squadron formed at Nasuno Airfield in Tochigi Prefecture. A display case also contains photos and the story of Army Second Lieutenant Kazuhiko Ishikawa, who was named leader of the 62nd Shinbu Special Attack Squadron. However, on April 3, 1945, he died at the age of 30 years old before his squadron could carry out its special attack when his plane crashed in heavy fog on a flight from Ozuki Air Base in Yamaguchi Prefecture to Tachiarai Air Base in Fukuoka Prefecture. His widow, Fusae Ishikawa, after the war's end wrote a couple of books about her husband that are on display at the museum.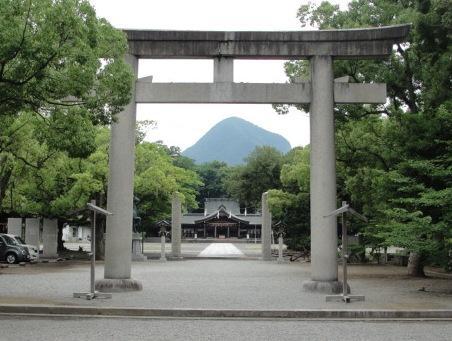 Torii gate of Kagawa Gokoku Jinja