Kashiwajima Special Attack Shin'yō Base Monument
Ōtsuki Town, Kōchi Prefecture
The 134th Shin'yō Special Attack Squadron arrived at the small island of Kashiwajima at the southern tip of Kōchi Prefecture on June 26, 1945. Near the end of World War II, shin'yō explosive motorboats to be used in suicide attacks were deployed at many places along the coast of the main Japanese islands in preparation for an expected enemy invasion.
This monument to remember the 134th Shin'yō Special Attack Squadron was erected in October 1988 through contributions from former squadron members and residents of the island. The monument inscription reads:
In June 1945, near the end of the Pacific War, preparations were made for the final battle for the mainland. There were 48 members [1] of the Special Attack Shin'yō Corps who were stationed here. They kept 24 shin'yō motorboats in six horizontal tunnels at the bottom of this hill, and they waited for an opportunity to attack. Words cannot express the pure hearts of the young men in the squadron who made a commitment to die for their country as they faced a time of emergency and the compassion of the islanders who kindly looked after them. The prosperity of today's Japan, which recovered from the terrible devastation from 43 years ago, is in large part due to the strength of young men from that time who survived. Filled with boundless thanks for the spirits of the many men who died in special attacks everywhere, we erect this monument here as one light praying for the repose of their souls and hoping for eternal world peace.
The commander of the 134th Shin'yō Special Attack Squadron composed the following song, which is engraved on the back of the monument:
Kashiwajima Shin'yō Squadron Song
By Tatsuya Nakatani

Forty-eight men in a sure-death squadron
Of two-seat shin'yō motorboats [2]
Handsome and dashing
In boarding, uniforms with white silk on the collars

Nights of waiting to sortie wear on
In brief dreams, Father, Mother,
Forgive me for dying before you
Our lives, we go for our country

Sorrow of the tracks of our tears
Marks in Nankoku's summer shore
Where the Kuroshio Current draws near
Memories of our youthful vows
The 134th Shin'yō Special Attack Squadron at Kashiwajima Base along with the 21st Totsugeki Unit headquarters in Sukumo in Kōchi Prefecture did not clearly understand the Emperor's message of surrender on August 15, 1945, so they remained ready to sortie in a suicide attack against the American fleet if it approached. During the early evening of August 16, an accident occurred at Kashiwajima in which gasoline apparently caught fire and led to a huge explosion in one of the tunnels. This accident destroyed only three shin'yō boats and slightly injured one person [3]. However, a similar accident that occurred with the 128th Shin'yō Squadron at Tei Base, also in Kochi Prefecture, had tragic results with 111 men killed, many others injured, and 23 boats destroyed [4].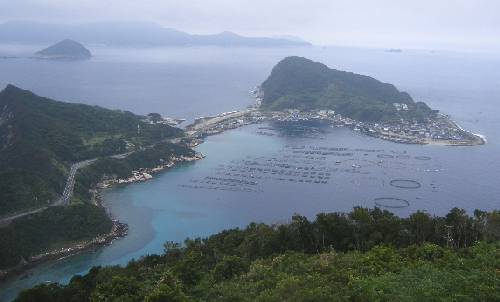 Kashiwajima as seen from road leading to island.
Monument stands near the bridge
from Kashiwajima to the mainland.
Notes
1. There were 168 total members of the 134th Shin'yō Special Attack Squadron including boat crewmen, maintenance workers, headquarters personnel, and other base workers (Shin'yō Association 1990, 208). The 48 members mentioned here were boat crewmen.
2. The 134th Shin'yō Squadron had 24 two-man Model 5 shin'yō motorboats (Shin'yō Association 1990, 208). Shin'yō squadrons had either one-man Model 1 shin'yō motorboats or two-man Model 5 shin'yō motorboats.
3. Hayashi 2009, 187-94.
4. Hayashi 2009, 121-4.
Sources Cited
Hayashi, Eidai. 2009. Kuroshio no natsu: Saigo no shin'yō tokkō (Kuroshio summer: Last shin'yō special attack). Tokyo: Kojinsha.

Shin'yō Association (Shin'yōkai), ed. 1990. Ningen heiki: Shin'yō tokubetsu kōgekitai (Human weapon: Shin'yō Special Attack Corps). Shiro Arai, general editor. Volume 2 of 2. Tōkyō: Kokushokankōkai.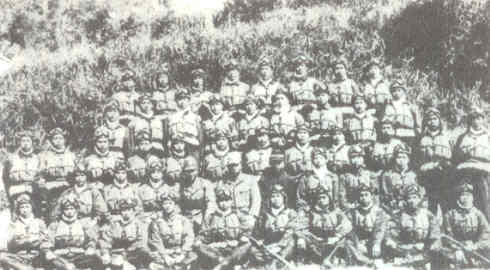 Crewmen of 134th Shin'yō Special Attack Squadron