Kitaura Naval Air Group Monument
Itako City, Ibaraki Prefecture
The Japanese Navy established Kitaura Air Group on the western side of Kitaura Lake at Oouhara Shore. Kitaura became an independent air group in April 1942, and its purpose was to provide seaplane flight training to aspiring airmen.
The Kamikaze Special Attack Corps 1st Sakigake Squadron came from Kitaura Naval Air Group. Sakigake is a Japanese word meaning a leader in an attack on the enemy. A total of 18 men in eight seaplanes from the 1st Sakigake Squadron lost their lives in special (suicide) attacks on May 4, 1945. Two three-man Type 0 Reconnaissance Seaplanes (Allied code name of Jake) each carrying an 800-kg bomb and six two-man Type 94 Reconnaissance Seaplanes (Allied code name of Alf) each carrying a 500-kg bomb of the 1st Sakigake Squadron took off toward Okinawa from Ibusuki Air Base at the southern tip of Kyūshū and never returned [1].
The Kitaura Naval Air Group Monument, erected in March 1988, is located next to the Itako Marina on the former site of Kitaura Air Base. The monument has the following poem inscribed on the front:
You and I, cherry blossoms of the same class
Bloomed in the garden of the same air group
Ready to fall when our flowers bloomed
You died nobly in battle for your country
At the left side of the entrance to Ibaraki University's Center for Water Environment Studies near Kitaura Lake, there is a monument to commemorate the May 1944 visit by Crown Prince (now Emperor) Akihito, who at the time was ten years old. The monument has the following inscription:
In October 1941, the Kitaura Detachment of the Kasumigaura Naval Air Group purchased 50 hectares (123.6 acres) of rice paddies in both Ōu and Kamaya, moved seven farm houses, and completed construction for the air group. In April 1942, the Kitaura Naval Air Group was established as a training facility for seaplanes and started to carry out an important role in training young eagles of the Yokaren (Navy's Preparatory Flight Training Program). On May 3 and 4, 1944, the Crown Prince visited the Naval Air Group together with 55 schoolmates in the 5th year at the Peers' School, observed flight training, and stayed the night. We, who at that time were students at the Ōuhara National School (Kokumin Gakkō), were able to participate in the events related to his welcome, visit, and send-off. We erect here this monument with thoughts of this truly meaningful happening in order to pass down to future generations a record of the place of the Crown Prince's visit and the site of the Kitaura Naval Air Group.

December 23, 1991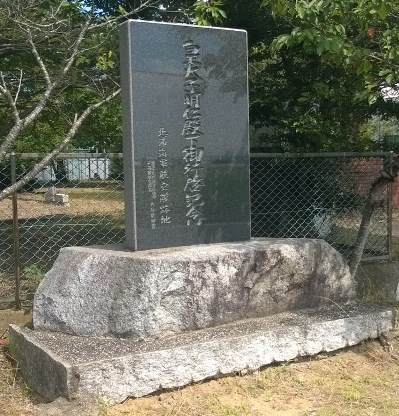 Monument to commemorate May 1944 visit
by Crown Prince Akihito
Notes
1. Osuo 2005, 237-8.
2. Osuo 1995, 125.
Sources Cited
Osuo, Kazuhiko. 1995. Kamikaze tokubetsu kōgeki tai (Kamikaze special attack corps). Illustrated by Shigeru Nohara. July special edition No. 451 of Moderu Aato (Model Art). Tokyo: Model Art Co.

________. 2005. Tokubetsu kōgekitai no kiroku (kaigun hen) (Record of special attack corps (Navy)). Tokyo: Kojinsha.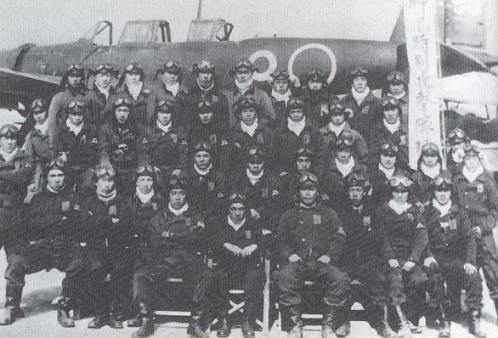 Commemorative photograph of formation of
Kamikaze Special Attack Corps Sakigake Unit [2]


View of Kitaura Lake from
former site of Kitaura Naval Air Base