Kōchi Naval Air Group Monument
Nankoku City, Kōchi Prefecture
Shiragiku (meaning "white chrysanthemum") training aircraft made kamikaze attacks at night during May and June 1945, since American fighters would have easily shot down the slow planes if they tried to make daytime attacks. The Shiragiku trainers, each with a two-man crew of pilot and navigator, flew under 100 meters to avoid enemy radar. Training for kamikaze attacks with Shiragiku trainers took place at Tokushima, Kōchi, Suzuka, and Ōi Air Bases. The Tokushima Air Group lost 56 men in sorties from Kushira Air Base, and the Kōchi Air Group lost 52 men in sorties from Kanoya Air Base.
The Kōchi Naval Air Group Monument, located next to the Kōchi Ryōma Airport runway, was unveiled on May 24, 1987, 42 years after the first Shiragiku sorties from Kanoya. The monument inscription tells the history of the Kōchi Naval Air Group:
In March 1944, when the Pacific War became more intense, the Japanese Navy had a pressing need for navigator crewmen training and established the Kōchi Naval Air Group in this place as a navigator training air group. In response to the unprecedented national crisis, over 2,000 members of the air group worked hard day and night with intense training, and the young eagles who finished their training took off to the skies of decisive battles that took place one after another. During this time, many men fell victim to fighting against attacking enemy aircraft and to training accidents, and they had to face terrible situations in which they had to hold back their tears of grief. However, with no signs of a turn for the better in the war situation, finally as a last resort, special attacks, where one plane was to crash into one ship, ended up being carried out. In March 1945, the Kamikaze Special Attack Corps Kikusui Unit Shiragiku Squadrons were newly formed. Training planes called Shiragiku, which had been used for training crewmen, took off from this runway one after another and participated in the Okinawan military operations from Kanoya Air Base in southern Kyūshū. In four waves of attacks from May to June 1945, 52 men in 26 planes carried out heroic body-crashing attacks against enemy ships. Even though they achieved considerable battle results, it is regrettable that their young precious lives, including young crewmen of only 17 and 18 years of age, were lost in the Okinawan skies. In August 1945, along with the end of the Pacific War, the Kōchi Naval Air Group with only one year and six months of existence was disbanded. It closed that short but tragic history with its many untold sad stories. Now, we former comrades meet together at this place and remember the past. As we vow to never repeat this tragedy and to support eternal peace, we engrave these words of remembrance on this monument and pray for the repose of the souls of our friends who died for their country.
The airport grounds still have some wartime concrete hangars covered with grass that were used to hide and protect planes from attacks.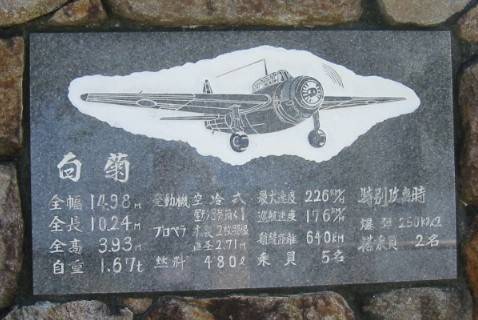 Drawing of Shiragiku along with data about this training plane
(on back of monument base)
The following last letters were written by Kamikaze Special Attack Corps members from Kōchi Naval Air Group who died in special attacks in Shiragiku trainers: