Koniya Naval Air Group Monument
Setouchi Town, Kagoshima Prefecture
Koniya, located about 180 kilometers northeast of Okinawa on the island of Amami Ōshima, served during World War II as the southernmost seaplane base for Japan's Navy. It played an important role when the American Navy invaded Okinawa in the spring of 1945.
Seven seaplane crewmen died in battle during special (suicide) attacks from Koniya Air Base. The seaplanes originally came from Ibusuki Air Base at the southern tip of mainland Kyūshū, and then they took off from Koniya to carry out their special attacks.
The Koniya Naval Air Group Monument is located in the area of Sude, a short walk west from the center of the former Koniya Town, which combined in 1956 with neighboring villages to become Setouchi Town. The monument is in a roadside park next to the beach with two pine trees that are planted behind the monument.
The monument's front has the inscription: "Site of Koniya Naval Air Group Base." The plaque on the monument's base gives only limited information below about Koniya Air Base:
There was a former Japanese Navy air group in this area of Sude during the Greater East Asia War. This is the location where Koniya carried out its role in the forefront of battle as the only southward transfer base.

September 1991
The explanation that Koniya was the "only southward transfer base" is incorrect, but it was the only southward transfer base for seaplanes. The Navy also had a large air base on the nearby island of Kikaijima for aircraft other than seaplanes. Kikaijima is located only about 25 kilometers east of Amami Ōshima.
Summary information about the four seaplanes that made special attacks from Koniya is shown below:
Sortie Date
Sortie
Time
Number of
Crewmen
Air Group
June 25, 1945
2330
2
Amakusa Air Group
June 27, 1945
0200
1
Fukuyama Air Group
June 28, 1945
0530
2
Fukuyama Air Group
July 3, 1945
0200
2
Amakusa Air Group
Each of the four planes listed above carried a 250-kg bomb.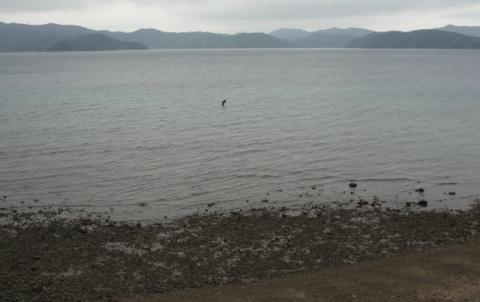 View from near Koniya Naval Air Group Monument
toward sea where Navy seaplanes used to take off and
land during WWII (Kakeroma Island in background)
The following last letter was written by a Kamikaze Special Attack Corps member who took off from Koniya Air Base and died in a special attack:
---
The information on special attacks made from Koniya Air Base is from pages 239-40 of the following book:
Osuo, Kazuhiko. 2005. Tokubetsu kōgekitai no kiroku (kaigun hen) (Record of special attack corps (Navy)). Tōkyō: Kōjinsha.