Kuroshima Special Attack Peace Kannon
Mishima Town, Kagoshima Prefecture
Six young men on their way toward Okinawa to make special (suicide) attacks on American ships were stranded on the small mountainous island of Kuroshima, 50 kilometers from the southern coast of the Japanese mainland, when their planes made forced landings due to engine problems. One Army pilot managed to leave the island in a couple of days and to get back to the mainland in a small boat with the help of one islander, but the others remained stranded for several weeks without any way to contact the mainland.
Shin'ya Shibata, a member of the Army's 29th Shinbu Special Attack Squadron, made a sortie from Chiran Air Base and crash landed on a rocky shore of Kuroshima on April 8, 1945 [1]. He was severely burned when his plane burst into flames upon hitting the ground, and the islanders did not find him until three days later. He was brought to a home in Ōsato Village at the eastern end of the island, where he spent more than three months under the constant care of village women who treated his burns.
Masaya Abe made a sortie from Chiran on April 29, 1945, as a member of the 24th Shinbu Special Attack Squadron, but he had to make a forced landing near Kuroshima when his plane developed engine problems. He returned to the mainland a couple of days later in a small boat. The three-man Type 97 Carrier Attack Bomber (Allied code name of Kate) crew of Mitsuru Umemoto, Takehiko Ena, and Nagaaki Maeda made a sortie from Kushira Naval Air Base on May 11, 1945, as part of the Shinpū (Kamikaze) Special Attack Corps 3rd Seiki Squadron. When their aircraft had engine problems, they dropped the plane's 800-kg bomb, made a forced landing in the sea about one kilometer from Kuroshima, and swam to shore. The last pilot to get stranded on Kuroshima was Kentarō Nakamura after his plane made a sortie from Bansei Air Base as part of the 66th Shinbu Special Attack Squadron on May 28, 1945 [2]. He stayed at Katadomari Village on the opposite end of the island from Ōsato Village where the other men stayed.
The five stranded men did not return to the mainland until a small Army transport submarine picked them up on July 30, 1945 [3]. After leaving the island, Shibata received treatment for his burns at an Army hospital in Ōita where he recovered. After the war's end, Shibata and Ena became close friends and returned to Kuroshima several times. Shibata and Ena discussed erecting a kannon (Buddhist goddess of mercy) statue as a way in which they could tangibly express their appreciation to the islanders who took care of them during the war. Shibata passed away in 1988 before he could see the realization of this idea, but his family joined together with Ena to erect the Special Attack Peace Kannon in the mountains near Ōsato Village. About 150 people, including the mayors of Chiran and Kushira, attended the unveiling of the kannon on May 11, 2004, the anniversary of Ena's forced landing at Kuroshima. The left side of the base of the kannon statue has an engraved plaque with the following history:
In 1945 in the last part of the Greater East Asia War during the three months from the invasion of Okinawa by American forces in April to the downfall of Okinawa in June, as many as 3,000 young Special Attack Corps members of about twenty years of age took off from bases in Kagoshima Prefecture such as Chiran and Bansei for the Army and Kanoya and Kushira for the Navy. They died in battle as they made taiatari (body-crashing) attacks carrying bombs against enemy ships around Okinawa.

Many special attack planes attacked by sea from the western side of Okinawa by taking a route from land in southern Satsuma heading south at 215 degrees by way of Kuroshima in order to avoid enemy fighters waiting for them at the Tokara Archipelago. Along the way in the skies above Kanmuri Peak here on Kuroshima, they looked back and saw beautifully shaped Mount Kaimon above the horizon receding into the distance. Departing from the mainland full of emotions, they prayed for peace and security for their homeland and wished for the happiness of their parents and other family members. They went bravely to faraway floating clouds above the vast expanse of the seas and died for their country in a time of national crisis.

We erect here this Special Attack Peace Kannon with the desire to convey to future generations the precious significance of peace and the history of the deaths of these Special Attack Corps members that became the foundation for today's peace. We pray for eternal rest for their souls.
The kannon faces toward Mount Kaimon, which was the last sight of the Japanese mainland for most kamikaze pilots who made attacks during the Battle of Okinawa.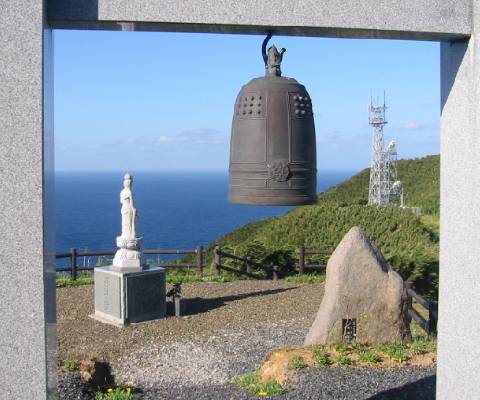 East China Sea seen from back of Peace Bell (erected in 2006).
Left - Special Attack Peace Kannon (erected in 2004).
Right - monument with Buddhist hymn for peace (erected in 2007).
Kuroshima Peace Park, where the Special Attack Peace Kannon is located, has several other monuments. In May 2006, Ena contributed funds to put up the Peace Bell, which can be heard in Ōsato Village when it is rung. In May 2007, Ena and a couple of islanders contributed funds for the erection of a third monument with the inscription of a Buddhist hymn for peace. In 2013, Ena and Shigeyoshi Hidaka, Assembly Chairman for Ōsato Ward of Mishima Town, made contributions to erect the Kuroshima Battleship Yamato Monument.




Masaya Abe Monument
Another monument stands in Ōsato Village apart from the three monuments in Kuroshima Peace Park. Katsumi Yasunaga, who went with Masaya Abe on a small boat from Kuroshima to the mainland, erected this separate monument in 2004 in remembrance of Masaya Abe. Soon after Abe returned to the mainland, a plane flew over Ōsato Village and dropped burn ointment for Shibata and other supplies, who was still recovering from his serious burns. The front of the monument, which shows a propeller and Abe's name, faces toward Okinawa, where Abe is said to have proceeded and died in a special attack on May 5, 1945, after dropping off the package for Shibata at Kuroshima [4]. The back of the monument has the following inscription written by Yasunaga:
Anxious about his homeland
Concerned for his seriously injured comrade
With help from others
And heaven and the gods
He flew again to the South Seas
May his spirit
Forever rest in peace
The left side of the monument has engraved the last poem written by Abe before he made his first sortie from Chiran on April 29, 1945:
Now that my life will be gone, if I offer myself
My homeland will prosper forever
Masaya Abe wrote several last letters after his assignment to the 24th Shinbu Special Attack Squadron.
Kuroshima can only be reached by a ferry that takes six hours from Kagoshima Harbor. The ferry runs three times a week to Mishima Town's three islands of Takeshima, Iōjima, and Kuroshima.
Acknowledgments
I appreciate very much that Yasuo Hidaka, a lifetime resident of Ōsato Village, kindly served as a guide during my visit to Kuroshima. He was 11 years old in 1945 and still vividly remembers the events of that time. He was one of the people who pushed off the small boat of Yasunaga and Abe when they returned to the mainland. I also want to thank Fumiko Hattori and Takehiko Ena for valuable information and assistance provided prior to my visit.
Notes
Some information on this page comes from Tokkō: Saigo no shōgen seisaku iinkai (2006, 189-220).
1. This date comes from Sakurai 2007b. Satō (2003, 60) and Tokkō: Saigo no shōgen seisaku iinkai (2006, 210) give a different sortie date of April 13, 1945.
2. This date comes from Sakurai 2007c. Satō (2003, 82) states that the sortie date of Nakamura was about two weeks after May 11, 1945, which is consistent with the sortie date of May 28, 1945, in Sakurai's information. Tokkō: Saigo no shōgen seisaku iinkai (2006, 216) gives a different sortie date of June 12, 1945.
3. This date comes from the published interview with Ena in Tokkō: Saigo no shōgen seisaku iinkai (2006, 215). Satō indicates that the date they went on the submarine from Kuroshima was the following day, July 31, 1945 (Satō 2003, 71).
4. See Abe Masaya shōi: Nido senshi shita tokkōhei (Second Lieutenant Masaya Abe: Special attack soldier who died in battle twice) (2012) by Takashi Fukushima for details on how Abe's date of death was determined to be May 5, 1945. Official Army records show Abe's date of death as April 29, 1945, which cannot be correct since this is the date that he survived a forced landing at Kuroshima. Many published records prior to the publication of Fukushima's book in 2012 show Abe's date of death as May 4, 1945, which may have been determined based on the memory of Second Lieutenant Shin'ya Shibata, who had crash landed on Kuroshima and been badly burned on April 8, 1945. Sakurai (2007a) provides evidence that Masaya Abe did not sortie again from Chiran Air Base in a special attack on May 4, 1945. He speculates that perhaps an Army reconnaissance plane or a Navy seaplane dropped the package at Kuroshima for Shibata after Abe provided his report when he returned to the mainland. Based on available evidence, Sakurai cannot conclude on what happened to Abe, but he believes based on evidence at the time that he wrote his article that there is a high likelihood that Abe did not die in battle even though his name is recorded at the time on the list of men who died in special attacks on May 4, 1945.
Sources Cited
Sakurai, Takashi. 2007a. Abe Masaya shōi no nazo (Mystery of 2nd Lieutenant Masaya Abe). <http://www5b.biglobe.ne.jp/~s244f/abe.htm> (May 7, 2007).

________. 2007b. Dai 29 shinbu tai. (29th Shinbu Squadron). <http://www5b.biglobe.ne.jp/~s244f/shinbutai_hensei-011.htm> (October 26, 2007).

________. 2007c. Dai 66 shinbu tai. (66th Shinbu Squadron). <http://www5b.biglobe.ne.jp/~s244f/shinbutai_hensei-041.htm> (October 26, 2007).

Satō, Sanae. 2003. Tokkō no machi: Chiran (Special attack corps town: Chiran). Tōkyō: Kōjinsha.

Tokkō: Saigo no shōgen seisaku iinkai (Special Attacks: Final Statements Production Committee). 2006. Tokkō: saigo no shōgen (Special attacks: Final statements). Tōkyō: Aspect.