Kyōdomari Shin'yō Special Attack Base Monument
Unzen City, Nagasaki Prefecture
The Japanese Navy built dozens of shin'yō explosive motorboat bases along the coast of mainland Japan in anticipation of an American invasion in 1945. Shin'yō (meaning "ocean shaker" in Japanese) boats were used for suicide attacks as a pilot tried to crash the motorboat, loaded in front with 250 kg of explosives, into an enemy ship.
The area of Kyoōdomari, along Tachibana Bay west of Shimabara Peninsula in Nagasaki Prefecture, was the site of one of these shin'yō motorboat bases. The Kyōdomari Shin'yō Special Attack Base Monument was erected in March 1992 at the former base site in Minamikushiyama Town, which became part of Unzen City in 2005. The plaque to the right of the monument gives the following history:
Description of Kyōdomari Shin'yō Special Attack Base

For about 70 days from March 18 to May 26, 1945, around 130 16th Buntai (Squad) members of Kofuji Air Group (members of 14th Ko Class of Yokaren, Navy's Preparatory Flight Training Program) lodged in private houses of local residents in Kyōdomari and Tanohira. They engaged in construction work of tunnels, which would house shin'yō boats in the rocky hills on both shores of Kyōdomari Harbor. During that time as squad members bonded together with residents and families of Minamikushiyama, the military and civilians jointly endeavored to accomplish their responsibilities and prepared to greet the special attack squadron. On July 25, 1945, the 65th Shin'yō Squadron Iwakiri Unit (20th Ōtsu Class of Yokaren) was formed. On August 15, 50 squadron members advanced to Kyōdomari Base in 50 shin'yō boats. However, just when it was finally decided to attack the American force in Tachibana Bay, the war came to an end. After the war's end, it was difficult to forget the friendships made in 1945. When the opportunity came, the former trainees visited Minamikushiyama. The strong bonds continue unchanged from long ago until the present.
The plaque on the monument base has a poem written by a former member of the 16th Buntai (Squad) of Kofuji Air Group:
Even if
In Tachibana's waters
Our bodies perish
When we become spirits
We'll protect our country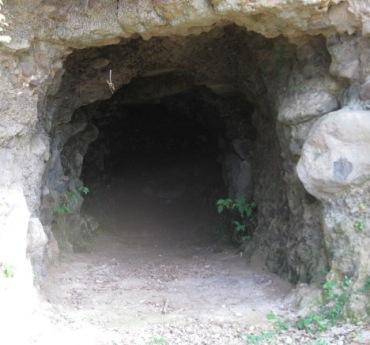 Shin'yō motorboat storage tunnel
behind Kyōdomari Shin'yō Monument