Miyagi Special Attack Corps Monument
Sendai City, Miyagi Prefecture
Miyagi Gokoku Jinja is a Shintō shrine that honors persons from Miyagi Prefecture who died in wars to protect the country of Japan. The Special Attack Corps Monument, located in front of Miyagi Gokoku Jinja's museum to honor spirits of the war dead, commemorates men from Miyagi Prefecture who died during World War II in special (suicide) attacks. The erection of the Special Attack Corps Monument in October 2007 was coordinated by the Tokkōtai Commemoration Peace Memorial Association and the Association to Pass On the Japanese Spirit (Nihonjin no kokoro o tsutaeru kai).
The monument has a bronze figure of the front half of a kamikaze pilot standing on a stone pedestal. There is a plaque in front with the following inscription:
Air Special Attack Corps

The Air Special Attack Corps was a unit that was formed to reverse the country's adverse war situation. Men in the Imperial Japanese Army and Navy, at a time of critical emergency in the latter period of the Greater East Asia War, without regard for their lives carried bombs on planes, made taiatari (body-crashing) attacks against enemy ships, and inflicted damaging blows.

Special attacks were first carried out as an organized battle tactic by the Navy in October 1944 in the Philippines as part of the Battle of Leyte Gulf. Great battle results were achieved by the Kamikaze Special Attack Corps during sorties on October 25.

Navy Ensign Kiyohisa Nakase, leader of the 1st Kamikaze (Shinpū) Special Attack Corps Wakazakura Squadron, died nobly on that date. He is honored here at this shrine.

Also, on April 3, 1945, Navy Lieutenant Tatsumi Kawai (son of Shigeki Kawai, former Chief Priest at Shihahiko Shrine and Shiogama Shrine), member of the Kamikaze Special Attack Corps 3rd Ginga Unit, took off from Miyazaki Base toward Okinawa in the south and died honorably in battle. In the Kamikaze Corps, this became a classic example of a special attack.

The Army's Special Attack Corps started in November 1944 in the Philippines with the Fugaku Squadron and others, and they achieved significant success in battle. Like the Navy, they made attacks on ships, and they had responsibility for defense of the homeland.

On May 11, 1945, Army Captain [1] Haruo Araki (from Miyagi Prefecture), 51st Shinbu Squadron Leader, made a sortie from Chiran Base toward Okinawa and died nobly in battle.

In the Battle of Okinawa, many youths died nobly in battle in the skies after they took off from special attack bases such as Kanoya, Kushira, and Kokubu for the Navy and Chiran, Bansei, and Miyakonojō for the Army.

The period of special attacks lasted about ten months. In total there were 4,379 men who died in battle as part of special attacks. Among these there were 2,535 men from the Navy and 1,844 men from the Army.

This figure is the same one offered to 52 gokoku jinja all over the country. It was made by the Tokkotai Commemoration Peace Memorial Association in order to honor the spirits of all the brave men who died in battle in order to defend their much-loved homeland, hometowns, and countrymen.

October 23, 2007
Miyagi Prefecture Gokoku Jinja
The plaque on front of the pedestal of the Special Attack Corps Monument reads "Ā tokkō" (Ah, Special Attacks) and "we certainly will never forget you."
Miyagi Gokoku Jinja's museum to honor spirits of the war dead, which charges 300 yen for admission, has a large room with many articles on display such as photographs, letters, models, and information placards related to Japan's wars with most connected to World War II. The exhibits on tokkōtai (Special Attack Corps) include the last letter of Nobuo Aihana to his father and stepmother, a large photograph of Haruo Araki talking to two other squadron commanders before his sortie from Chiran Army Air Base in a special attack on April 1945, and models or photographs of a Zero fighter, Navy shinyō and Army maru-re motorboats, kaiten human torpedo, and ohka glider bomb.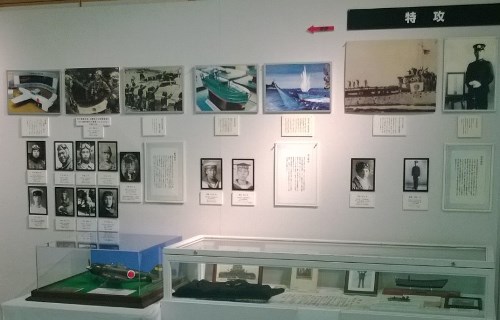 Miyagi Gokoku Jinja Museum's
exhibits on tokkō (special attacks)
The museum also includes a room with a display of Japanese warship models, including battleship Yamato and light cruiser Yahagi, which sank as part of special attack on the way to Okinawa on April 7, 1945.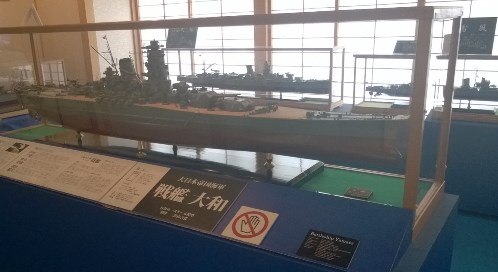 Model of battleship Yamato (front) and light cruiser Yahagi (rear)
at Miyagi Gokoku Jinja Museum
The following last letters were written by Special Attack Corps members from Miyagi Prefecture who died in special attacks:
Note
1. This was the rank when he received a promotion of two ranks after his death by special attack. He was a Second Lieutenant prior to his death.