Niigata Gokoku Jinja Yokaren Monument
Niigata City, Niigata Prefecture
Niigata Gokoku Jinja was established in 1868 as a Shintō shrine to remember persons from Niigata Prefecture who lost their lives in wars to protect Japan (gokoku means "defend country"). The long path from the torii entrance gate to the main shrine building has several monuments, including one erected in 1988 to honor Navy Yokaren (Preparatory Flight Training Program) graduates from Niigata Prefecture who gave their lives in battle.
Yokaren graduates who died in battle included many members of the tokkōtai (Special Attack Corps) who carried out suicide attacks against Allied ships near the end of World War II. The Yokaren Monument displays a bronze statue of two young Yokaren men, one in a flight suit (left) and another in a Navy uniform (right).
The monument base has a poem written by the Chief Priest of Niigata Gokoku Jinja:
Yokaren Monument

Seven Yokaren buttons
Cherry blossom on an anchor
Even today flying, flying
At Kasumigaura
Clouds of high hopes appear

We erect this monument with the hope for eternal peace and consolation of the spirits of the young cherry blossoms.

Niigata Prefecture Gokoku Jinja
Written by Chief Priest Takashi Higuchi
In the above poem, the first two lines refer to the Yokaren uniform with seven buttons that each had a cherry blossom on an anchor. The fourth line of the poem refers to the main Yokaren training base at Tsuchiura Air Base, located at the western edge of Lake Kasumigaura in Ibaraki Prefecture.
The following history of the Yokaren is recorded on the back of the monument base:
The Navy's system of Hikō Yoka Renshūsei (Preparatory Flight Trainees) had a short 15-year history from June 1930, when trainees in the 1st Class joined Yokosuka Naval Air Group, until the war's end in August 1945. Youths just in their teens, with aspirations to defend the skies, endured rigorous training and faced a national crisis.

Changes were seen in the system during that period, and a total of more than 140 thousand persons entered Yokaren training programs called Kō, Otsu, Hei, and Toku Otsu. In fact, more than 18 thousand promising young men died in battle in the sky and on the sea and land. Spirits of several hundred men from Niigata Prefecture are enshrined here at this gokoku jinja.

Although long overdue, we erect here this Yokaren Monument to comfort the spirits of classmates and graduates and to record the history of the splendid Yokaren.

Erected in November 1988
Niigata Prefecture Yokaren Monument Erection Committee
Chairman: Fumio Sekigawa
Sculptor: Mitsuo Shigemura, Ōmiya City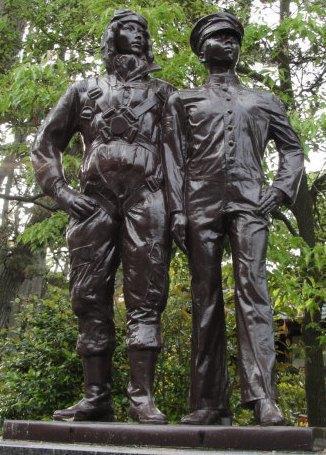 Bronze statue of two Yokaren men
(Niigata Gokoku Jinja Yokaren Monument)
Two large plaques on each side of the Niigata Yokaren Monument list organizations and individuals who made contributions for erection of the monument.
The following last letter was written by a Yokaren graduate from Niigata Prefecture: