Ohnishi Shrine
Bamban Town, Philippines
The Bamban Historical Society, led by Rhonie Dela Cruz, erected the Ohnishi Shrine in 2001 to remember Vice Admiral Takijiro Ohnishi, who formed the first kamikaze unit in the Philippines on October 19, 1944. By October 2009, the shrine area has become somewhat overgrown with vegetation.
The monument stands near the tunnel headquarters of the 1st Air Fleet led by Vice Admiral Ohnishi and the 2nd Air Fleet led by Vice Admiral Shigeru Fukudome. This tunnel can still be visited today.
The monument's complete inscription states:
Navy Vice Admiral
Takijiro Ohnishi
Peace Memorial
The monument area has several information plaques, both in English and Japanese. The memorial remembers not only Vice Admiral Ohnishi but also the men who served in the Japanese Navy's 1st and 2nd Air Fleets and the American sailors who died as a result of kamikaze attacks on their ships.
The English plaque with the history of Vice Admiral Ohnishi states:
ADMIRAL OHNISHI PEACE MEMORIAL
Vice-Admiral Takijiro Ohnishi (Imperial Japanese Navy)
The Father of Divine Wind (Kamikaze) Special Attack Force

Admiral Ohnishi was born and grew up in Ashiya, Hyogo prefecture. By 1943, he was Japan's leading officer in naval aviation. His major naval career achievements includes:

Commander, 2nd Combined Air Group – China Campaign (1937)
Chief of Staff, Naval Land Based Air Forces (11th Air Fleet) – Taiwan (December 1941)
Chief, Naval General Headquarters (Supply) – Japan (1943 to September 1944)
Commander, 1st Air Fleet – Philippines (October 17, 1944)
Chief of Staff, Combined Land Air Forces (1st and 2nd Air Fleet) – Philippines (October 26, 1944)
Vice Chief, Naval General Staff – Japan (September 1945)

Upon the activation of Sho-Go (Victory) operation in the Philippines, he founded the first Kamikaze Special Attack Corps on 19-October-1944. As the Commander of the First Air Fleet, his headquarters was established on this hill named Asahiyama from 20-November-1944 to 9-January-1945 [2]. Throughout the Kamikaze operations conducted by the Japanese Navy, a total of 84 various sea crafts were sunk and 283 damaged by special attack aircraft, submarines, and motor boats. Around 0230 hours on 16-August-1945 (a day after Japan's surrender), Admiral Ohnishi committed suicide in the tradition of a true samurai. From the proponent of special attack force, his goal was for the world peace. In his last note, he urged the young people of Japan to strive for peace throughout the world [3].

This peace memorial was built in remembrance and for repose of the soul of Admiral Ohnishi, the Kamikaze pilots, the American sailors and crews who died in the Kamikaze special attack operations and all the military personnel of the 1st and 2nd Air Fleet units who fought bravely and died in the Bamban-Stotsenburg [4] campaign.

Bamban Historical Society
25-October-2001
The English plaque on the 1st and 2nd Air Fleets reads as follows:
1st and 2nd AIR FLEET (IMPERIAL JAPANESE NAVY) MEMORIAL

In remembrance of the Japanese who served in the Imperial Japanese Navy's 1st Air Fleet and 2nd Air Fleet and attached units who participated in the decisive air battles, Sho-Go (Leyte Operations) and the Battle off Northeast of the Philippines during the Pacific War.

1st AIR FLEET
22nd Air Flotilla (Koku-sentai)
23rd Air Flotilla
61st Air Flotilla
26th Air Flotilla (Philippine Area)
Air Group 153 (Kokutai) Night Fighter/Reconnaissance - 102 & 901 Squadron (Hikotai)
Air Group 201 (Fighter) - 301, 305, 306, 311 Squadron
Air Group 761 (Bomber) - 105, 251, 401, 704 Squadron
1021 Air Transport Unit
332 Air Group (Kure Naval Station)

2nd AIR FLEET
21st Air Flotilla
25th Air Flotilla (Okinawa/Philippines)
Air Group 221 Arashi (Storm) - 308, 312, 313, 407 Squadron (Hikotai)
Air Group 341 Shishi (Lion) Fighter/Interceptor - 401, 402 Squadron
Air Group 141 - 804 Squadron
Air Group 762 - 405, 406, 708 Squadron

ATTACHED UNITS
Air Group 203 (12th Air Fleet) - 303, 304 Squadron
Air Group 753 (Ginga Bomber Units) - K403, K405, K401, K406, K501
Air Group 701
Air Group 634
Air Group 254
Air Group 256
3rd Air Fleet Units:
Air Group 252
Air Group 653 - 165, 166, 263 Squadron
Air Group 601

BAMBAN HISTORICAL SOCIETY
25-October-2001
The English plaque to remember American sailors killed in kamikaze attacks reads as follows:
AMERICAN SAILORS MEMORIAM

In honor and memory of the United States Navy sailors and crews who lost their lives and whose ships were sunk and damaged (87 various sea vessels including 22 aircraft carriers, 5 battleships, 3 heavy cruisers, 7 light cruisers and 23 destroyers) by the Imperial Japanese Navy special attack (Kamikaze) operations in the Philippines from 25-October-1944 to 31-January-1945.

United States Ships [5]

CVE St. Lo (Aircraft Carrier)
CVE Ommaney [6] (Aircraft Carrier)
DD Abner Reed [7] (Destroyer)
DD Mahon [8] (Destroyer)
DD Reid (Destroyer)
APD Ward
PT323 (Motor Torpedo Boat)
DMS Long (High Speed Mine Layer)
LST 472 (Landing Ship Transport)
LST 738
LST 460
LST 749
PC 129 [9] (Patrol Craft)
AUX Porcupine (Auxiliary Ship)
SC 744 (Submarine Chaser)

BAMBAN HISTORICAL SOCIETY
25-October-2001
The Bamban Historical Society also sponsors a small museum with displays of wartime photos.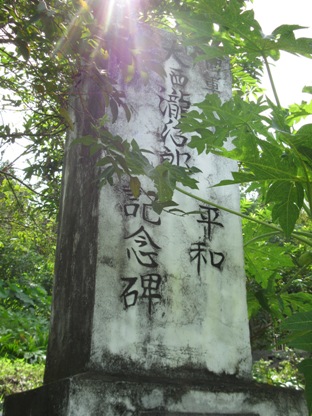 Takijiro Ohnishi Monument
Notes
1. The month of September 1945 is incorrect since Ohnishi died on August 16, 1945. The Japanese version of the plaque just states 1945 without giving a month.
2. Rhonie Dela Cruz states that Chikanori Moji, an aide to Vice Admiral Ohnishi, confirmed the information regarding use of the tunnel in Bamban.
3. The actual words in Ohnishi's last letter were the following. The words are addressed to the "young people of Japan" (Inoguchi 1958, 175):
You are the treasure of the nation. With all the fervor of spirit of the special attackers, strive for the welfare of Japan and for peace throughout the world.
4. Stotsenburg was a fort located in Angeles City.
5. Inoguchi (1958, 211-21) is the source of this list.
6. This should be Ommaney Bay rather than Ommaney.
7. This should be Abner Read rather than Abner Reed. Inoguchi (1958, 212) also gives the incorrect spelling of the name.
8. This should be Mahon rather than Mahan.
9. This should be PC 1129 rather than PC 129.
Source Cited
Inoguchi, Rikihei, and Tadashi Nakajima, with Roger Pineau. 1958. The Divine Wind: Japan's Kamikaze Force in World War II. Annapolis: Naval Institute Press.