Front side of monument
Ōita Kamikaze Special Attack Corps Takeoff Site Monument
Ōita City, Ōita Prefecture
This monument, erected in October 1976, stands at the site where Vice Admiral Matome Ugaki took off with a group of eleven planes on the last kamikaze attack of World War II. He and his men made sorties from Ōita Naval Air Base, the current location of Ōsu Athletic Park, after hearing the Emperor's radio announcement of Japan's surrender.
The back side of the monument begins with the following statement:
At 4:30 p.m. on August 15, 1945, the Pacific War's last kamikaze attack corps sortied from this site. The names of these men who died when they dove into American ships near Okinawa are listed at left.
The first name listed is Matome Ugaki, 55 years old, from Okayama Prefecture. The names of seventeen other men, ranging in age from 19 to 24, are also engraved on the monument.
Although eleven planes departed from Ōita, three did not make it to Okinawa due to mechanical problems, and one crew member died in a crash landing (Axell and Kase 2002, 177). Seventeen men who went on toward Okinawa perished, although no American ship reported any damage from a kamikaze attack that day.
One of the planes that went to Okinawa carried three men rather than the normal two, because the navigator of the plane that Ugaki planned to fly in pleaded to accompany him on the one-way mission. Ugaki finally consented, and the plane departed with the regular navigator squatting between Ugaki's legs.
Ōita Naval Air Group was formed in December 1938, and it disbanded in March 1944 when the unit at Ōita Air Base transferred to Tsukuba Air Base in Ibaraki Prefecture. Ōita continued to be used as an active naval air base until the end of the war in August 1945.
Source Cited
Axell, Albert, and Hideaki Kase. 2002. Kamikaze: Japan's Suicide Gods. London: Pearson Education.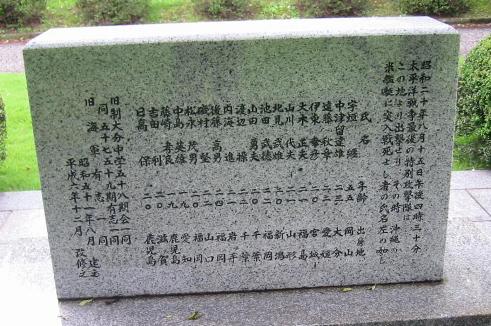 Back side of monument