Kaiten Monument
at annual memorial ceremony
(November 12, 2006)
Ōtsushima Kaiten Monument
Shūnan City, Yamaguchi Prefecture
The Japanese Navy opened its first kaiten (human torpedo) base on the island of Ōtsushima in the Inland Sea on September 1, 1944. Although kaiten launched from I-class submarines sank two American ships (auxiliary oiler Mississinewa and destroyer escort Underhill), the Japanese Navy lost 106 kaiten pilots and eight submarines carrying kaiten with over 800 crewmen.
In November 1945, the first kaiten monument was erected on Ōtsushima at the site of the former kaiten base. However, the monument was soon after destroyed with only the pedestal remaining [1], but in 1958 part of the monument was discovered buried in the ground. After analysis of five pieces from the monument, it was conjectured that someone had buried it underground to keep it from the eyes of occupying American forces [2].
In 1955, persons associated with kaiten had their first postwar reunion at Ōtsushima where a memorial ceremony took place. Afterward, funds were collected from around the country to erect a new Kaiten Monument at the same location as the original one. Construction of the monument was completed in November 1960, and the unveiling ceremony for the monument took place in March 1961 [3].
On the same hill where the Kaiten Monument stands, the Kaiten Memorial Museum opened in 1968 and now has over one thousand items on exhibit. A full-scale kaiten model is displayed outside the museum. An annual Kaiten Memorial Ceremony is held in front of the Kaiten Monument on the second Sunday of November, which is on or near the anniversary date when the first three submarines departed Ōtsushima carrying kaiten (November 8, 1944).
The Kaiten Monument has stone plaques on each side. The plaque on the right side has the following inscription:
The Greater East Asia War became more fierce as the years went on and eventually heralded scarcity of resources. When the outlook was gloomy, men at a tender age, already having a foreboding of imminent danger, offered themselves with patriotic devotion and with pure hearts filled with loyalty and filial piety to recover the country from its critical situation. A sure-death certain-victory battle tactic with an unheard-of weapon was devised, and the men calmly piloted this weapon and carried out attacks. Even though these kaiten heroes could not reverse the war situation as regrettably the time was already late, they took the enemy by surprise and struck terror in their hearts. These men admirably defended and maintained the life of the Empire in the midst of danger. These meritorious deeds speak of their greatness. Here we record the names of the devoted kaiten heroes and pass down their deeds to posterity.
The last part of the inscription on the right plaque lists 145 names of men who died during WWII, including 106 kaiten pilots and 39 kaiten maintenance men or other workers at four kaiten bases [4]. The name of Hiroshi Kuroki, the kaiten weapon's co-founder, is listed first, since he became the first kaiten pilot to die when he had a training accident on September 7, 1944.
The stone plaque to the left of the Kaiten Monument remembers the kaiten-carrying submarine crewmen who died in WWII and has the following inscription:
Kaiten operations, which chilled the hearts of men in the American Navy, involved carrying kaiten special attack weapons that meant sure death after hitting the target. Kaiten weapons were launched in attacks on deep enemy anchorages in the southern seas and on moving warships. There were eight kaiten-carrying submarines with 811 total crewmembers that were attacked by the enemy and did not return.

Enduring the terrible environment aboard ship, these brave men who died in battle with the kaiten heroes fought burning with patriotism to improve the war situation. Even now they are at the battlefields sunk deep on the ocean bottom together with their ships. Their sacrificial spirits, which fought to save the nation in its time of emergency, live on eternally. We now inscribe those deeds at this sacred place of kaiten, and we offer our sincere condolences.

Lost Submarines that Made Sorties Carrying Kaiten

Submarine I-37
Sortie location: Ōtsushima
Location where sunk: Palau
112 men under Captain Nobuo Kamimoto
Died in battle on November 8, 1944

Submarine I-48
Sortie location: Ōtsushima
Location where sunk: Ulithi
118 men under Captain Zenshin Toyama
Died in battle on January 9, 1945

Submarine I-368
Sortie location: Ōtsushima
Location where sunk: Io Jima
80 men under Captain Mitsuteru Irizawa
Died in battle on February 20, 1945

Submarine I-370
Sortie location: Hikari
Location where sunk: Io Jima
79 men under Captain Susumu Fujikawa
Died in battle on February 21, 1945

Submarine I-56
Sortie location: Ōtsushima
Location where sunk: Okinawa
116 men under Captain Keiji Shōda
Died in battle on March 31, 1945

Submarine I-44
Sortie location: Ōtsushima
Location where sunk: Okinawa
126 men under Captain Seiji Masuzawa
Died in battle on April 3, 1945

Submarine I-361
Sortie location: Hikari
Location where sunk: Okinawa
76 men under Captain Shōji Matsuura
Died in battle on May 23, 1945

Submarine I-165
Sortie location: Hikari
Location where sunk: Eastern Marianas
104 men under Captain Yasushi Ōno
Died in battle on June 15, 1945
In addition to Ōtsushima, each of the other three former kaiten bases also has either a monument (Hirao and Hikari) or shrine (Ōga).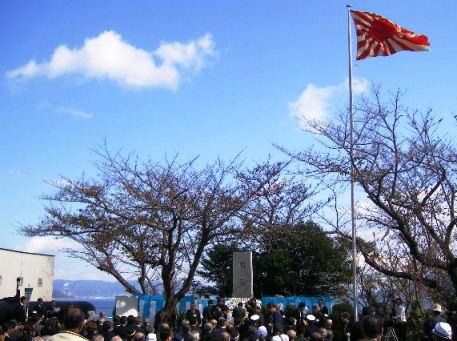 Annual Kaiten Memorial Ceremony
in front of Kaiten Monument
(kaiten replica at bottom left corner of photo)
(November 12, 2006)
Notes
1. Kaiten Kichi 1999, 31.
2. Kaiten Kenshōkai 1965, 68-9.
3. Kaiten Kichi 1999, 31.
4. Kaiten Kichi 1999, 75.
Sources Cited
Kaiten Kenshōkai (Kaiten Memorial Association). 1965. Kaiten. No place: Kaiten Kenshōkai.

Kaiten Kichi o Hozon Suru Kai (Kaiten Base Preservation Society). 1999. Kaiten Kinenkan gaiyō, shūzō mokuroku (Kaiten Memorial Museum summary and collection listing). Tokuyama (now Shūnan), Yamaguchi Prefecture: Kaiten Kichi o Hozon Suru Kai.