Special Attack Fleet Ryūkon Monument
Hofu City, Yamaguchi Prefecture
A hill in the Mitajiri area of Hōfu City has a monument next to a road closed to regular traffic. This monument erected in 1993 honors the men who died in the suicide mission of the task force led by battleship Yamato toward Okinawa in April 1945. Battleship Yamato left toward Okinawa from nearby Tokuyama Bay, which can be seen from the monument's location.
The word "Ryūkon" can be translated as "enduring spirits," and the phrase "Special Attack" refers to the suicidal nature of the fleet's mission. A copper plaque to the left of the main monument gives the following history.
Mother Sea's History

Mitajiri viewed below was an anchorage associated with the former Navy where the Combined Fleet at one time frequently traversed and met its end.

On April 6, 1945, near the end of World War II, a Surface Special Attack Force with ten ships led by battleship Yamato left to invade Okinawa. They weighed anchor on this Mother Sea to set out to attack the Allied fleet. On the next day on April 7, they fought against more than 500 enemy aircraft north of the islands of Amami and Tokunoshima. Under 2nd Fleet Commander Seiichi Itō, 3,728 officers and men died heroic deaths in battle.

Off this stretch of shore, 138 young men who died in battle in kaiten special attacks or during training used this Sacred Sea to devote themselves day and night to rigorous taiatari (body-crashing) training at bases at Ōtsushima, Hikari, and Hirao.

The hope of those men was to obtain eternal peace for their country and fellow countrymen in exchange for their own lives. In the end they were not able to reverse the war situation, but we must bear deeply in mind such noble actions and spirit of self-sacrifice that established the foundation for unprecedented peace and prosperity in today's Japan.

April 1993
A white sign in front of the monument gives the following description:
Offshore 14 kilometers from here is an observation point at Kanagamisaki on Ōtsushima Island, the location of the remains of a Special Attack Corps human torpedo kaiten launch base. What do the warriors remembered here at Ryūkon Monument now think of the kaiten base viewed from this hill by the Seto Inland Sea?

Donated by Mr. Watanabe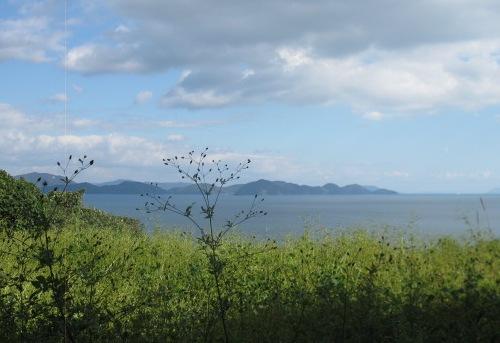 Tokuyama Bay, Mitajiri
View from Special Attack Fleet Ryūkon Monument