Saku Kaiten Monument
Saku City, Nagano Prefecture
Teishōji Temple in Saku City has a monument built in 1976 to honor kaiten pilots from Nagano Prefecture who died in World War II. Saku City was the hometown of Sekio Nishina, one of the co-creators of the kaiten special attack weapon. Nishina died in a kaiten attack at Ulithi Lagoon on November 20, 1944, and his kaiten almost surely was the one that hit and sank USS Mississinewa (AO-59).
The stone monument has the inscription of "Kaiten Monument." A model kaiten stands to the left (see photo at bottom of page), and a stone plaque with the following inscription stands to the right:
In 1944 when the Pacific War became intense after going on for several years and when the odds at last were against Japan in the war, Lieutenant Commander Hiroshi Kuroki [1] and Lieutenant Commander Sekio Nishina, burning with deep feelings of patriotism, were with the First Special Base Unit. They completed an unprecedented sure-death sure-kill underwater special attack weapon, a human torpedo. They gave it the name of kaiten, with the hope of reversing the country's declining fortunes, and selected a base on the island of Ōtsushima in Tokuyama Bay. They worked day and night in pilot training for the battle tactic of sure-kill of one warship by one person, and Lieutenant Commander Kuroki even gave his life in training. Kaiten pilots carried out taiatari (body-crashing) attacks against enemy ships from bases in Ōtsushima, Hikari, Hirao, and Ōga to the enemy forward base at Ulithi (under Lieutenant Commander Nishina who stood at the vanguard of the Kaiten Special Attack Corps Kikusui Unit), the Kossol Passage in the Palau Islands, Hollandia, Apra Harbor in Guam, Iwo Jima, the seas off Okinawa, and the central-western Pacific.

With odds against battle success through August 1945 when arms were laid down, over 150 kaiten crewmen died in battle or in performance of their duties [2], and over 810 crewmen gave their lives from seven submarines that did not return. With the desire to remember the brave spirits of those who died in battle and to tell future generations of the kaiten's great accomplishments, we in Saku, hometown of kaiten creator Lieutenant Commander Nishina, pray for eternal world peace. We pray for rest of the spirits of the crewmen from Nagano Prefecture who died in battle or in performance of their duties: Lieutenant Commander Sekio Nishina, Ensign Jujirō Kitamura, Lieutenant Kentarō Nakajima, and Lieutenant Junior Grade Kazunobu Miyazawa. Their comrades in arms erect here this Kaiten Monument.

June 6, 1976

Nagano Prefecture Kaiten Association
Notes
1. The ranks of the men mentioned on the plaque are those after death. Someone in the Japanese Navy generally was promoted two ranks if he lost his life in a special attack and promoted one rank if he lost his life in battle or training. For example, Kuroki was promoted one rank from Lieutenant to Lieutenant Commander after his death in a training accident, and Nishina was promoted two ranks from Lieutenant Junior Grade to Lieutenant Commander after his death in a kaiten special attack.
2. It is unclear why the monument states "over 150 kaiten crewmen died in battle or in performance of their duties." The Mediasion Co. (2006, 40, 71, 78) gives the following breakdown for 106 kaiten crewmen who died:
80 - Died after sortie from base in submarine
15 - Died while training
7 - Died when Transport Ship 18 lost on way to Okinawa
2 - Shot in air attacks on base
2 - Took own lives at base after war's end
There were also 35 kaiten maintenance men who lost their lives after sortie from base in a submarine. However, even combining this number with the 106 kaiten crewmen only gets to a total of 141 men, short of the "over 150" mentioned on the monument inscription.
Source Cited
The Mediasion Co. 2006. Ningen gyorai kaiten (Kaiten human torpedo). Hiroshima: The Mediasion Co.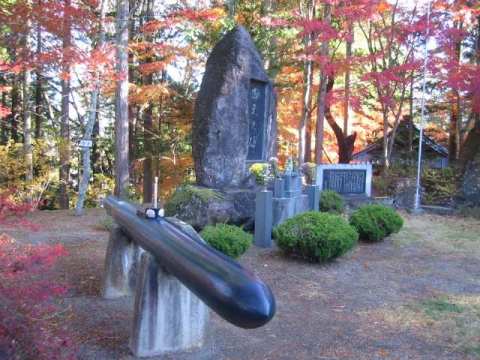 Saku Kaiten Monument
with model kaiten in foreground