Shimizu Naval Air Group Monument
Shizuoka City, Shizuoka Prefecture
Near the end of the Pacific War in June 1945, all Navy Yokaren (Preparatory Flight Training Program) trainees at Shimizu Air Group in Shizuoka Prefecture were assigned to training for kairyu midget submarines and shinyō explosive motorboats, both considered to be special (suicide) attack weapons. When Shimizu Air Group disbanded on June 30, 1945, Yokaren trainees were reassigned to the 15th and 16th Totsugeki Units at Shimoda and Enoura (now part of Numazu City) respectively in Shizuoka Prefecture where they ended the war in August 1945.
Shimizu Air Group was formed on September 1, 1944, when 320 trainees of the 14th Ko Class Yokaren transferred from Tsuchiura Air Group. In December 1944, a group of 15th Ko Class Yokaren trainees transferred from Nara Air Group. The 16th Ko Class of Yokaren trainees joined Shimizu Air Group on April 1, 1945.
A statue of a Yokaren airman was erected in 1988 at the former site of Shimizu Air Base on Miho Peninsula, which juts out into Suruga Bay. Miho Peninsula is part of former Shimizu City, which merged with Shizuoka City in 2003. The front of the monument area has a small sign:
Monument Information - Kōhi Yokaren Statue

Kōhi Yokaren is short for Kō Hikō Yoka Renshūsei (Kō Preparatory Flight Training Program Trainees) who entered Naval air groups during the Pacific War. They were selected from applicants who were 3rd year junior high school students in the old educational system

On September 1, 1944, Shimizu Naval Air Group was formed here in the area of Miho. More than one thousand and several hundred trainees of the 14th, 15th, and 16th Ko Classes of the Yokaren aspired to become airmen. This is the place where they engaged day and night in rigorous training.

The trainees were young men, halfway through their studies, who hastened to join the Navy from all over the country and dedicated themselves to face the national crisis. They had not yet even matured to possess wise and experienced judgment and were still in their youth developing physically and intellectually. They cultivated their skills and spirit knowing they would not return alive reflected by words such as "the purpose of a young cherry blossom's life is to die a noble death with courage."

Although young, we dedicated our lives to our country without any doubts. Shimizu Naval Air Group was here when we, filled with patriotic devotion, could gaze upon sacred Mount Fuji as we experienced joys and sorrows in the times of our youth. We are the remaining Ko Yokaren trainees. We erected this monument to tell future generations of the tragedy of war and to pray for the preciousness of peace.

February 11, 2006
The bronze plaque directly in front of the statue has the following words:
In the latter part of the Pacific War, Shimizu Naval Air Group was here in the area of Miho. It became a place where Navy Ko Preparatory Flight Training Program trainees, who gathered to take off to the skies, engaged day and night in rigorous training.

With nothing left of past times, we now erect this monument here praying for eternal peace so that the tragedy of war will not happen again.

August 1988
14th, 15th, and 16th Classes of Navy Kō Preparatory Flight Training Program Trainees
Attached to Shimizu Naval Air Group
Shimizu Naval Air Group Clear Sky Association and Other Volunteers
The left side of the statue's base has a plaque with over 600 names of persons who made contributions for the erection of the monument.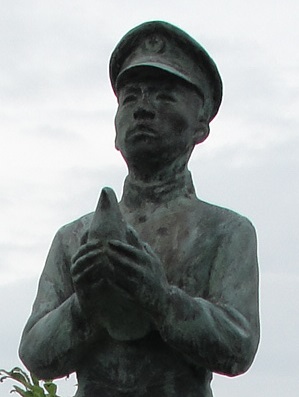 Close-up of Yokaren Trainee Statue