Shimoda Shin'yō and Kairyū Monument
Shimoda City, Shizuoka Prefecture
At the southern tip of Izu Peninsula in the town of Shimoda late in the Pacific War, the Japanese Navy established a base with two types of special (suicide) attack weapons: shin'yō explosive motorboats loaded with 250 kg of explosives in the bow and kairyū two-man midget submarines with two torpedoes and 600 kg of explosives. The war ended before any of these weapons were used.
After training at Kawatana Torpedo Boat Training School in Nagasaki Prefecture, the motorboat pilots of the 57th Shin'yō Special Attack Squadron, formed on June 25, 1945, were assigned to Shimoda in Shizuoka Prefecture. The squadron had 50 one-man Model 1 shin'yō motorboats that were hidden in six tunnels in Shimoda's Wakanoura area (near current location of Shimoda Floating Aquarium). The 57th Shin'yō Squadron had 8 officers, 53 boat pilots, 18 headquarters personnel, 37 maintenance workers, and 59 base workers for a total of 175 members.
The squadron members went by train from Kawatana Training School to Itō Town on the eastern side of the Izu Peninsula and then by truck to Shimoda. When they were in Ito, some of the squadron members went to photography studio to get a commemorative photograph taken (see below for this photograph). Their short time in Shimoda until the end of the war in August 1945 was busy as they continued to train each day but also was peaceful as they experienced no attacks. Ten years later the squadron members met for a reunion.
Along the 0.7 km Townsend Harris Walking Path, also known as the Fukuura Walking Path, can be found the Shimoda Shin'yō and Kairyū Monument. In the cliffs behind the monument, a tunnel to store shin'yō motorboats or kairyū miniature submarines can be seen but cannot be easily reached due to the heavy undergrowth between the monument and the tunnel. The monument has the inscription of Yūkyū no Heiwa (Eternal Peace) on the top front. The inscription in the middle of the monument's front face provides a history of its erection:
Near the end of the Pacific War in March 1945, the Fujisawa Naval Air Unit was dispatched here to construct a special attack base. Over 200 of the Navy's Special Youth Workers (14 years of age at that time) were lodged in homes of everyone in Kakisaki. It was rigorous work, but during wartime it can be said that everyone had to sacrifice in their own lives. We, who were separated from our hometowns, were warmly received and encouraged.

Afterward, with strong desires of seeing each other again, enjoying together our peace and safety, and never having war occur again, we erect here this monument with the engraved words of "eternal peace" with the kindness of Shimoda City and cooperation of the local people as proof that we spent a short time as youths in this place where we will never forget our second hometown and our experiences.

October 2001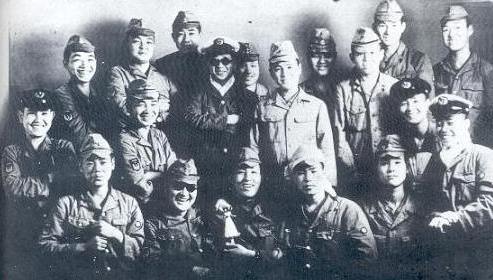 Photograph of 57th Shin'yō Squadron members
taken in July 1945 at Ito Town, Shizuoka Prefecture
The walkway along Shimoda Bay has on display 16 Shimoda historical stories and drawings created by students. Two 6th grade students at Hamazaki Elementary School, near the Shimoda Shin'yō and Kairyū Monument, created the following story:
Fukuura's Special Attack Boat Tunnels

From here if you look closely at the other side of the bay at Fukuura, large tunnels can be seen. In the latter part of World War II, these were dug out in order to hide special attack boats so that the Japanese Navy could protect the mainland. It is said that they were dug to store special attack "shin'yō" motorboats, commonly referred to as "green frogs," and special attack midget "kairyū" submarines. These were "kamikaze" special attack boats loaded with explosives in the bow to make crash attacks against the enemy. In order to dig these tunnels, many youths from all over the country were mobilized and undertook this demanding work. However, what would be kept in these tunnels was kept secret from even the Navy's over 200 Special Youth Workers (14 years old at time) who were mobilized to dig them. There are similar tunnels in the Shimoda area at Koina in Minami Izu Town, Kakisaki Fukuura and Wakanoura in Shimoda, and at Inatori in Higashi Izu Town. Now there is a monument that has been erected in front of the tunnels at Fukuura.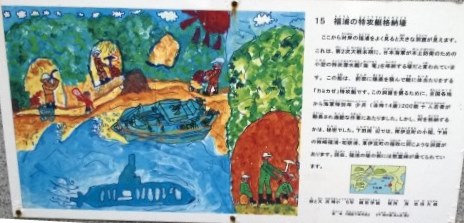 ---
The historical photographs and information on this web page about the 57th Shin'yō Special Attack Squadron are from pages 120-1 (written by Katsujirō Katō, former 57th Shin'yō Squadron shin'yō boat pilot) of the following book:
Shin'yō Association (Shin'yōkai), ed. 1990. Ningen heiki: Shin'yō tokubetsu kōgekitai (Human weapon: Shin'yō Special Attack Corps). Shirō Arai, general editor. Two volumes. Tōkyō: Kokushokankōkai.