Uehara Monument
Ikeda Town, Nagano Prefecture
Army Second Lieutenant Ryōji Uehara, member of the 56th Shinbu Special Attack Squadron, died in a special (suicide) attack when he took off from Chiran Air Base in a Type 3 Hien Fighter (Allied code name of Tony) on May 11, 1945. On the eve before his sortie from Chiran, he wrote seven pages entitled Shokan (My Thoughts), which is one of the most famous and influential last writings of any Japanese Special Attack Corps (tokubetsu kōgekitai) member who died during World War II. His Shokan was included in the bestseller Kike Wadatsumi no Koe (Listen to the Voices from the Sea), first published in 1949 with several subsequent editions. The book also was made into a successful movie in 1950, and there was a 1995 remake of the film at the fifty-year anniversary of the end of World War II.
A monument to Ryōji Uehara and his famous Shokan (My Thoughts) was erected in 2006 in his hometown in Nagano Prefecture. The monument has three separate plaques. The middle plaque has three excerpts from his Shokan that was published in Kike Wadatsumi no Koe (Listen to the Voices from the Sea):
Kike Wadatsumi no Koe (Listen to the Voices from the Sea)

I think liberty's victory is evident.

Tomorrow one liberalist will depart from this world.

However, I only wish that the Japanese people will make my beloved Japan great.

Ryōji Uehara
The above excerpts are a literal translation of the three excerpts. A less literal translation of the same three excerpts by Midori Yamanouchi and Joseph Quinn in Listen to the Voices from the Sea (Kike Wadatsumi no Koe): Writings of the Fallen Japanese Students (2000) are below:
I believe that the ultimate triumph of liberty is altogether obvious.

Tomorrow one believer in liberty and liberalism will leave this world behind.

But we only wish, ask, and hope for one thing: that all the Japanese people might combine to make our beloved country the greatest nation possible.
The three excerpts engraved on the monument are each part of longer sentences.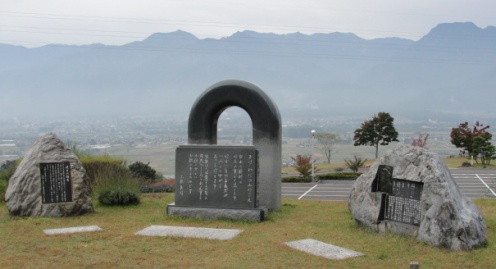 Three plaques of Ryōji Uehara Monument
The right plaque gives key dates in Ryōji Uehara's history as translated below:
Short Biography of Ryōji Uehara

September 27, 1923 - Born in Uyama, Ikeda Town, Kita Azumi District (former Nanaki Village) as third son of medical doctor Toratarō Uehara, grew up in Hotaka Ariake [1]
March 1, 1940 - Graduated from Matsumoto Junior High School
October 4, 1943 - Advanced from preparatory course to regular course at Keiō Gijuku University Economics Department
December 1, 1943 - Joined 150th Infantry Regiment (Matsumoto) due to elimination of student draft deferment
February 10, 1944 - Entered Kumagaya Army Flight School as Special Cadet Pilot (Tokubetsu Sōjū Minarai Shikan or shortened to Tokusō)
March 6, 1945 - Received order for special attack
May 10, 1945 - Left "My Thoughts" (Shokan) with press corps member on night before his sortie
May 11, 1945 - Took off from Chiran as an Army Special Attack Corps member, plunged into sea northwest of Okinawa Island at age of 22 years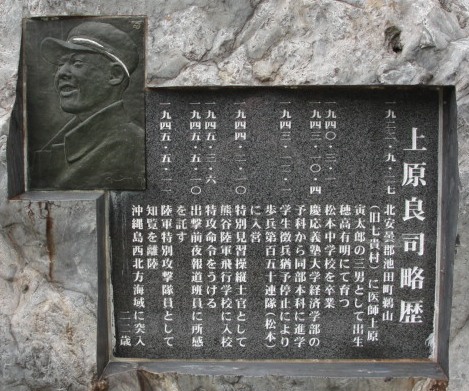 Plaque with short biography of Ryōji Uehara
The left plaque has the following explanation about the monument:
Purpose of Monument Erection

In World War II more than 60 years before, many Japanese people were pulled into the war and went in silence to fight, believing in their country, hometowns, and families, with the hope for the coming of a peaceful age with liberty.

Here are engraved passages from "My Thoughts" written and left behind by Ryōji Uehara on the eve of his attack. These thoughts are what need to be said to express the thoughts of those many war dead. We erect this monument in his birthplace Ikeda Town to communicate that message to the next generation.

September 27, 2006
Erected by Committee to Construct Ryōji Uehara Monument in His Birthplace Ikeda Town
The monument is located in Craft Park right next to an 18-hole putter golf course. Putter golf is played on the natural ground with a mallet (somewhat like one used for croquet), not a regular golf putter, and this course has holes from 13 to 37 meters long.
The visitor center has a free color brochure about the monument including Uehara's entire Shokan (My Thoughts), historical photographs, and a summary of his life. The center also has several paintings of Uehara such as the one below.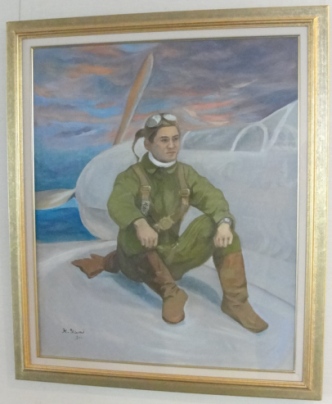 Painting of Ryōji Uehara in visitor center
(based on historical photograph)
Note
1. Hotaka Ariake is now a part of Azumino City, which borders Ikeda Town.