Wada Monument
Kaminoseki Town, Yamaguchi Prefecture
Minoru Wada, a former law student at Tōkyō Imperial University, became a kaiten human torpedo pilot and died in a training accident. On July 25, 1945, he left Hikari Kaiten Base in Yamaguchi Prefecture for a training run in a kaiten and did not return alive.
In 2011, a monument was erected where his kaiten washed ashore in September 1945. A sign in front of the monument summarizes information regarding its erection:
Details About Erection of Kaiten Monument

In July 1945 right before the end of the Pacific War, Minoru Wada, who was a pilot of the kaiten special (suicide) attack weapon (from Tōkyō Imperial University, 23 years old at time), departed from Hikari Base and went missing. Due to Makurazaki Typhoon in September of the same year, his kaiten drifted ashore onto Takase Reef off Shiraida.

He left many valuable writings such as this passage that he wrote before the student mobilization, "I hope that what will be recited before my coffin is not an elegy about my youth but rather a song in praise of my youth."

From these facts an excellent documentary television program was produced, and in 2006 the novel Deguchi no Nai Umi (Sea Without Exit) by Hideo Yokoyama was made into a movie (directed by Kiyoshi Sasabe, screenplay written by Yōji Yamada, starring Ebizō Ichikawa).

After Kaminoseki resident Hiroyuki Harada in 1980 showed the place where the kaiten drifted ashore to Wakana Nishihara (Chiba Prefecture resident), youngest sister of Minoru Wada, they have had a friendship for thirty years. Harada long held secretly in his heart the desire to construct a monument. He realized his dream to erect a monument with cooperation of Kaminoseki Town and Shiraida District by launching a proposal committee in 2010 with volunteers who supported it with sincere hearts.

With this monument we hope that future generations will reflect back on what happened in the war and recognize the tragedy of war and preciousness of peace.

August 28, 2011

Erected by Hiroyuki Harada
Supported by Masaru Ishida, Masayoshi Tsuji, Yoshiko Takeuchi, Hirato Nanpa (from Shiraida), and Akito Nanpa (from Shiraida)
Cooperation from Kaminoseki Town and Shiraida District
Wakana Nishihara, Wada's youngest sister, attended the monument's unveiling ceremony. The quotation on the information sign comes from Wada's diary entry addressed to Wakana dated October 3, 1943 [1]:
Yesterday the details about military service were announced.

Wakana, now I will dedicate to my country the time before midday of my youth. The flower that I desired ultimately did not open on the ground. Surely I can bloom and be scattered in the skies as a single more transparent and more beautiful large flower based on the cries from my core.

I hope that what will be recited before my coffin is not an elegy about my youth but rather a song in praise of my youth.

Now I am calm. From the time that I anticipated the announcement, I have felt very relaxed and have had a blank feeling.
The monument has an abstract shape with the meaning not readily discernible. A separate engraved plaque to the right of the monument explains the meaning of its shape.
Kaiten Special Attack Corps Member Minoru Wada Monument - Aims of Monument Erection

The entire shape expresses "love" with two persons holding hands and reluctant to part. The sides convey the sea, and on the base also are chiseled waves. The idea of the top part was to give the feeling of going toward the sky. In order that he may rest in peace, a round exit has been made so that the Suōnada Sea can be seen from there.

With this monument we hope to make known the war's history along with the story of Minoru Wada, the kaiten crewmember who drifted ashore at this location in 1945, and to make this a place where we pray that peaceful times continue.

August 28, 2011

Erected by Hiroyuki Harada
Designed by Akito Nanpa
Stone processed by Shin'ichi Kashiwada
Managed by Hirato Nanpa
Cooperation from Shiraida District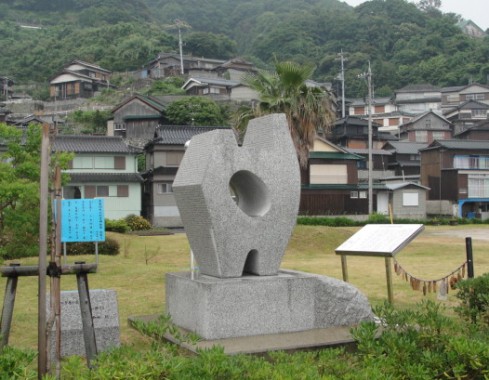 View of Wada Monument when facing houses
in Shiraida District of Kaminoseki Town
Minoru Wada's life history is summarized below [2]:
January 13, 1922 - Born on the island of Shisakajima, Ehime Prefecture

August 1942 - Graduated from 1st High School in Tōkyō

October 1942 - Started studies at Tōkyō Imperial University Law Department

December 1943 - Joined Navy's Ōtake Kaiheidan (Sailor Corps)

January 1944 - Transferred to Takeyama Kaiheidan

February 1944 - Become Naval Reserve Student

July 1944 - Entered Navy's Navigation School

October 1944 - Went to Kawatana Torpedo Boat Training School (Nagasaki Prefecture)

November 1944 - Went to Kaiten Special Attack Corps Hikari Base (Yamaguchi Prefecture)

December 1944 - Promoted to Ensign

May 1945 - Made sortie on submarine I-363 in Todoroki Special Attack Unit

June 1945 - Returned to Hikari Base without opportunity to be launched in kaiten

July 1945 - Died when lost during training in kaiten

September 1945 - Found dead when kaiten drifted ashore in Shiraida District of Kaminoseki Town
Excerpts of Minoru Wada's diary, which includes many entries after he became a member of the Kaiten Special Attack Corps, are published in English translations in Listen to the Voices from the Sea: Writings of the Fallen Japanese Students (Kike Wadatsumi no Koe) (2000) compiled by Nihon Senbotsu Gakusei Kinen-Kai (Japan Memorial Society for the Students Killed in the War—Wadatsumi Society) and In the Faraway Mountains and Rivers (Harukanaru Sanga ni): More Voices From A Lost Generation of Japanese Students (2005) compiled by Todai Gakusei Jichi-kai Senbotsu Gakusei Shuki Hensan Iinkai (Committee for Compiling the Writings of the University of Tokyo Students Killed in the War, the University of Tokyo Student Council).
Notes
1. Isono 1985, 75.
2. Isono 1985, 42-3, 66, 100, 114, 120-1, 130, 155, 167, 195, 207-8, 230, 234, 245.
Source Cited
Isono, Yasuko. 1985. Ai to shi 768 jikan: Ningen gyorai kaiten tokubetsu kōgeki taiin no memo (Love and death 768 hours: Notes by kaiten human torpedo Special Attack Corps member). Tōkyō: Seishun Shuppansha.