Yatabe Naval Air Group Monument
Tsukuba City, Ibaraki Prefecture
The Kamikaze Special Attack Corps Shōwa [1] Unit was formed on March 5, 1945 [2], from pilots of the Yatabe Naval Air Group in Ibaraki Prefecture. They carried out many special (suicide) attacks on the American fleet around Okinawa during April and May 1945. The kamikaze pilots flew Zero fighters that each carried a bomb. They proceeded south from Yatabe Air Base to Kanoya Air Base in Kagoshima Prefecture from where they made sorties to try to crash into American ships.
The unveiling ceremony for the Yatabe Naval Air Group Monument took place on May 19, 2013, with about 100 persons in attendance [3]. The monument, which stands about two meters in height, has a Zero fighter in stone on the top of it. The monument is located in a corner of the land now occupied by the Tsukuba Gakuen Hospital, which is on the former grounds of Yatabe Air Base.
The black plaque in front of the monument provides a brief history of the Yatabe Naval Air Group and the background for the monument's location:
Yatabe Naval Air Group was established in 1932 in this place as an auxiliary airfield for the Kasumigaura Naval Air Group (Yokaren [4]). Its purpose was education of airmen with training planes. However, it became independent in 1939 as an operational unit for air defense of the Tōkyō capital area mainly with Zero and Shiden fighters. Afterward in 1944 it became a fighter pilot training group and engaged in special attack (tokkō) operations around Okinawa.

After the war one of the buildings (barracks) in a section where the air group was located during the war was used as a patient building by the Tsukuba Gakuen Hospital. In 1999, the building was torn down and the space remains as is until the present. This monument was erected here with the hope for eternal world peace.

March 2013
Tsukuba Roku Jinkai Foundation
The seven Shōwa Squadrons from Yatabe Air Group lost 35 men in total in special attacks from Kanoya Air Base. The table below shows details by squadron [5]:
Shōwa
Squadron
Number
Number of Men
Who Did
Not Return
Sortie Date
1
10
April 14, 1945
2
4
April 16, 1945
3
3
April 16, 1945
4
2
April 16, 1945
5
8
April 29 1945
6
2
May 11, 1945
7
6
May 11, 1945
Total
35
The Zero fighters flown by pilots in the last two Shōwa squadrons each carried a 500-kg bomb, whereas the Zero pilots of the first five Shōwa squadrons each had a 250-kg bomb.

Zero fighter on top of monument
The 7th Shōwa Squadron members included Ensign Kiyoshi Ogawa and Lieutenant Junior Grade Seizō Yasunori, who crippled the aircraft carrier Bunker Hill and killed 393 men and wounded 264 others on May 11, 1945, when their Zero fighters crashed into the ship. Maxwell Taylor Kennedy's 2008 book, Danger's Hour: The Story of the USS Bunker Hill and the Kamikaze Pilot Who Crippled Her, tells the story of these two kamikaze pilots and the devastation caused by their crashes into Bunker Hill.
The Yatabe Naval Air Group Pilot Statue and Guard Gate are located at Entsūji Temple in Tōkamachi City, Niigata Prefecture.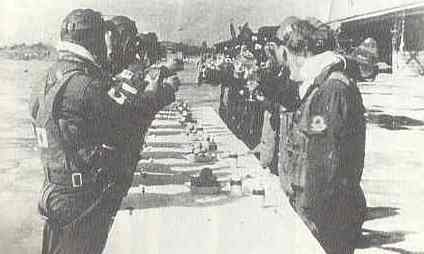 After formation of special attack squadron at Yatabe
Air Group on April 25, 1945, squadron members
surround a table placed on apron in front of hangars
in order to exchange farewell cups of water [6]
The following last letters and diary entries were written by Kamikaze Special Attack Corps members from the Yatabe Naval Air Group who died in special attacks:
Notes
1. Shōwa is the name of the Japanese period of rule by Emperor Hirohito from 1926 to 1989. The name can mean either "enlightened peace" or "radiant Japan."
2. Kennedy 2008, 188.
3. Ibaraki Shimbun 2013.
4. Yokaren was the Japanese Naval Preparatory Flight Training Program that started in 1930 and continued until 1945.
5. Osuo 2005, 203-4.
6. Osuo 2005, 118.
Sources Cited
Ibaraki Shimbun. 2013. Sensō no kioku kōsei ni: Tsukuba no Yatabe kaigun kōkūtai atochi, kankeishara kinenhi jomaku (War memories to posterity: Former site of Tsukuba's Yatabe Naval Air Group, participants unveil monument). May 20. <http://ibarakinews.jp/news/news.php?f_jun=13689590371307> (October 5, 2013).

Kennedy, Maxwell Taylor. 2008. Danger's Hour: The Story of the USS Bunker Hill and the Kamikaze Pilot Who Crippled Her. New York: Simon & Schuster.

Osuo, Kazuhiko. 2005. Tokubetsu kōgekitai no kiroku (kaigun hen) (Record of special attack corps (Navy)). Tōkyō: Kōjinsha.