Yokoyama Monument
Hitachinaka City, Ibaraki Prefecture
On August 13, 1945, Second Lieutenant Zenji Yokoyama took off from Kuroiso Airfield in Tochigi Prefecture as pilot of a Ki-45 Army Type 2 Toryū Fighter (Allied nickname of Nick) and died in a special (suicide) attack at the age of 22. After his death in a special attack, he received a promotion to Captain.
A monument with a bas-relief figure of Second Lieutenant Zenji Yokoyama was erected in 1995 at Kezōin Temple's large cemetery in Hitachinaka City at the Yokoyama family grave site. The monument has the following inscription on a plaque to the right of his figure:
Warrior With Loyalty and Supreme Filial Piety
Army Captain Zenji Yokoyama

In June 1923, you were born in Shichikenchō in Mito City. In your youth you were a student who studied at Meiji Gakuin University, but you received an order in December 1943 as part of the Student Mobilization when the Pacific War situation became severe. In high spirits you put away your pen and burned with a fervent desire for our homeland. You volunteered to be a Special Cadet Officer Pilot to participate in decisive air battles, and you bravely took off to the blue skies as you held your pilot control stick.

However, day by day the war situation became more unfavorable. In August 1945 when the decisive battle for the homeland was imminent, the American fleet was patrolling offshore of the Kantō Area, and Mito and Hitachi also were exposed to wartime destruction. You who deeply loved your country and loved your hometown, as a member of the Special Attack Corps 201st Kamiwashi [1] Squadron, flew your Toryū Fighter (Ki-45, Allied code name of Nick) at dusk on August 13 and carried out a hissatsu no taiatari (certain-death body-crashing) attack against the enemy in the eastern part of Kashima Sea and achieved a great battle result by hitting and sinking a cruiser. As a result, the enemy abandoned its attack on Mito and withdrew to the east. This is recorded in the war's history.

We want that the people of this area to remember forever the great achievement of you who gave your life and protected your home. Fifty years have passed since the war ended. This monument here is dedicated with sincerity to support and honor that great achievement. May your spirit protect this country forever.

August 13, 1995
Epitaph by Special Cadet Officer Pilots Yōkaichi Association
Erected by Mitsutaka Yokoyama
Last Letter of Second Lieutenant Zenji Yokoyama to His Parents
Note
1. Kamiwashi means divine eagle.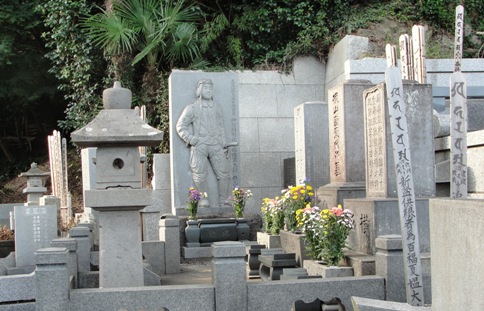 Yokoyama Family grave site with figure ofSecond
Lieutenant Zenji Yokoyama at Kezōin Temple Cemetery