First Lt. Hajime Fujii [1]
Censored Suicide
Written by Bill Gordon for May 2006 reunion of U.S.S. Drexler Survivors Reunion Association
Japan's Ministry of Home Affairs squashed publication of the tragic story of First Lieutenant Hajime Fujii, an instructor at Kumagaya Army Aviation School. In December 1944, Fujii's wife Fukuko committed suicide along with their two children, Kazuko (age 3) and Chieko (age 1), so that her husband could freely go on a special attack (suicide) mission. Due to government censorship, the story remained unknown to the Japanese public for many years after war's end.
This article draws information from several Japanese books to put together the history of Hajime Fujii and his family [2]. The sources contain some conflicting details, which are explained in the article's Notes section. The primary sources are Sange no kokoro to chinkon no makoto (Spirits of heroic dead and devotion to repose of souls) (1995, 123-5) edited by Yasukuni Jinja and Tokkō no machi: Chiran (Special attack corps town: Chiran) (2003, 171-84) by Sanae Satō.
Hajime Fujii, born on August 30, 1915, grew up in Ibaraki Prefecture as the eldest son of a farming family with seven children [3]. His parents wanted him to take over the family farm, but he volunteered for the Army. He joined as an infantryman in a machine gun squadron and displayed exceptional ability. He was sent to the front in China, where Japan had been at war since 1931. While in China, a mortar shell wounded him in the left hand. During his recovery there, he first met Fukuko.
Fukuko grew up in a merchant's family in Takasaki City in Gunma Prefecture. The family had three girls, and she enjoyed playing the piano and singing. She was working as a field nurse in China when she met Fujii, and they soon decided to get married. They had a love marriage rather than an arranged marriage typical at that time in Japan.
Due to Fujii's exceptional skills, he was selected to enter the Army Air Corps Academy. Sources do not indicate his area of specialization, but one source states he did not volunteer as a pilot since he could not tightly grip a plane's control stick due to the mortar shell wound to his left hand suffered in China [5]. After graduation in the spring of 1943, he went to Kumagaya Army Aviation School as a company commander in charge of students' character building and mental instruction. He told his students, "If needed, crash your aircraft into an enemy camp or into an enemy ship." As Fujii explained to his students the concepts of loyalty and patriotism, he repeatedly said, "I will not let only you die. I as your company commander also will surely go."
Fukuko with oldest
daughter Kazuko [4]
Fujii, with a motto that "words and deeds should be consistent," was strict with himself and volunteered for the special attack force (tokkōtai in Japanese). Perhaps as an educator he had a guilty conscience since he had his students go on kamikaze attacks but he stayed safely behind. He volunteered even though it was not expected for someone in his position to be selected for the special attack force since he had a wife and two young children. Army leaders rejected Fujii's two written petitions [6] to join the special attack force, probably because he held an important post as commander at Kumagaya Aviation School and he had a family.
Fukuko initially opposed her husband's joining the special attack force, but in time she came to understand her husband's firm determination to join his students to attack the enemy. On December 14, 1944, she left the house with her two young daughters, went to Arakawa River near Kumagaya Aviation School, and jumped into the frigid water with her daughters.
The next morning on December 15, the three dead bodies were discovered. The two young girls wore their finest kimonos, with one-year-old Chieko carried on her 24-year-old mother's back and three-year-old [7] Kazuko's hand tied with a rope to her mother's hand.
Fujii was contacted at Kumagaya Aviation School [8]. He hurried to the spot in a police car with Warrant Officer Shimada, who could find no words of consolation since the tragedy was so great. Fujii said with a moaning voice, "Perhaps today I will shed tears. Please forgive me for only today. Please understand." In order to hide his tears, he crouched down before the three lifeless bodies and gently brushed sand off their white skin. "I am always telling my students to commit themselves totally to be ready to die, but I myself cannot devote myself this far."
Fujii later found Fukuko's final letter [9], which included the following words: "Since you probably would be worried about us and not be able to freely carry out your duties because we are here, we go ahead before you and will wait for you. Please fight without reserve."
During the evening after the funeral of Fujii's wife and two daughters, he wrote the following letter to Kazuko, his oldest daughter:
A cold, blustery December day

Your life disappeared as dew on Arakawa River's bank. It is painfully sad that together with your mother you sacrificed yourself ahead of your father because of his fervent desire to lay down his life for his country. However, I hope that you, who as a young girl vanished together with your mother, will be gladly smiling.

Father also will soon be able to follow after you. At that time I'll gladly hold you close to me as you sleep. If Chieko cries, please take good care of her. Well then, goodbye for a short time.

Daddy will perform a great feat on the battlefield and bring it as a present for you. Both you and Chieko, please wait for me until then.
He wrote on the cover of the letter, "December 15, 1944, 1 a.m., Kazuko Fujii, item left behind." The time of 1 a.m. apparently refers to the estimated time of her death. Fujii's younger sister preserved this letter, which is shown below.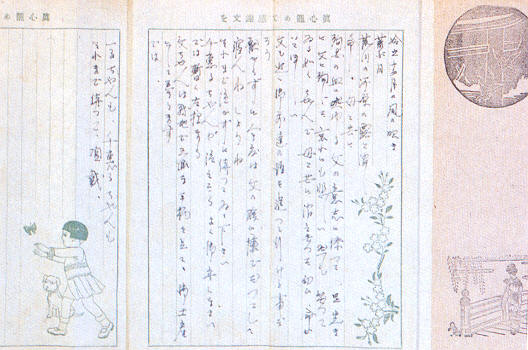 Fujii's letter to his daughter Kazuko [10]
Although the Army and government banned any publication of details concerning the deaths of Fujii's wife and her two children, the officers and students at Kumagaya Aviation School heard rumors and pieced together much of what had happened. After the death of Fujii's wife and daughters, he wrote a petition in his own blood asking for the third time to join the special attack force so that his wife's death would not be useless [11]. This time the Army leaders considered the unique circumstances and appointed him as a special attack force member. When he left Kumagaya Aviation School, the students and staff officers held a farewell party and gave him a sword purchased with money from their savings. Fujii was very glad. He pulled out the sword and raised it high over his head shouting, "With this I'll chop those guys down until not one of them remains!"
First Lieutenant
Hajime Fujii [12]
On February 8, 1945, the 45th Shinbu Squadron was formed to carry out kamikaze attacks, and Fujii was appointed as its commander. The squadron of twelve men included nine Ki-45 Type 2 Toryu Fighters (Allied code name of "Nicks"), with three aircraft manned by both a pilot and a radio operator/gunner. The squadron was named Kaishin, which means "cheerful spirit" in Japanese.
The squadron trained together at several air bases, including Hokota Air Base in Ibaraki Prefecture and Matsudo Air Base in Chiba Prefecture. Fujii wrote the following letter to the mother of a family who cared for him while at Matsudo Air Base [13]:
May 21, 1945

Dear Aiko Hirano,

I want to thank you very much for the delicious meal you served the other day. Thank you also for the long trip you took to see me off when I left.

Please say hello to everyone in your family. The flowers given to me by your daughters now decorate my room in faraway OOO [14].

Well then, I surely will do my duty with all my heart.
On May 27, 1945, the 45th Shinbu Squadron flew to Chiran Air Base in Kagoshima Prefecture for the scheduled sortie to Okinawa the next morning. Before his sortie, Fujii wrote to Fukuko's father, "I look forward to being able to see Fukuko, Kazuko, and Chieko."
The squadron's nine aircraft, commanded by Fujii as the radio operator/gunner in the lead aircraft, made a sortie from Chiran at about 5 a.m. on May 28, 1945 [15]. On the way to Okinawa, one aircraft crashed into the sea, and inhabitants of a small island rescued the pilot. The squadron's remaining eight aircraft reached Picket Station 15, about 45 miles northwest of Nago Bay on the western side of Okinawa. Two destroyers, Drexler and Lowry, and American Combat Air Patrol (CAP) fighters shot down most of the squadron's aircraft. However, two aircraft crashed into Drexler, causing the destroyer to sink in less than a minute after the second plane hit. Nearby landing craft support vessels rescued 199 survivors, but 158 of Drexler's officers and crew died in the attack by Fujii's squadron.
The family grave of Fujii, Fukuko, and their two daughters stands on top of a small hill in Mitsukaidō City, Fujii's hometown in Ibaraki Prefecture. Each year a group of Fujii's former students at Kumagaya Aviation School visit the family grave to pay their respects. Fujii was very popular with the students. His instruction was strict, but since he was kind-hearted, everyone admired, respected, and trusted him. When former students visit his grave, each year they sing the song "Shōwa Momotarō (Peach Boy) [16]," whose lyrics were composed by Fujii in 1944. The first two verses go as follows:
1

Propeller glittering on his chest
Shōwa Momotaro taking off to the sky

An eaglet with splendid wings
Doing barrel rolls, reverse turns, loop-the-loops

Showing talents of Japan's young men
We youth pilots

2

Loyalty and filial piety nurtured
With a feeling of gentle love

Kudan Hill [17] where will bloom
Ah, we will make that mother

The best mother of Japan
Determined youth pilots
Fujii was in the 21st Class of the Army's Second Lieutenant Cadets. He received a posthumous two-rank promotion to Major after his death in a special attack. [18]
---
Notes
1. Source of photo: Asahi Shimbun Seibu Honsha 1990, 45.
2. Principal sources for this article: Asahi Shimbun Seibu Honsha 1990, 43-5; Kōsaka 2003, 17-25; Osuo 2005, 139-42; Satō 2003, 171-84; Yasukuni Jinja 1995, 123-5.
3. Asahi Shimbun Seibu Honsha (1990, 44) states that Fujii grew up in a family with six children. Satō (2003, 171) indicates seven children in his parents' family.
4. Source of photo and caption: Yasukuni Jinja 1995, 124.
5. Satō 1997, 171.
6. Asahi Shimbun Seibu Honsha (1990, 43) and Kōsaka (2003, 19) state that Fujii submitted two or three written petitions for the special attack force that the Army rejected. Satō (2003, 179) states that the Army rejected two of Fujii's written petitions.
7. Kōsaka (2003, 19) indicates that Kazuko was four years old when she died. Asahi Shimbun Seibu Honsha (1990, 43) and Yasukuni Jinja (1995, 123) state she was three years old.
8. Kōsaka (2003, 19-20) states that Fujii came home on December 14, 1944, as he normally did and found Fukuko's last letter to him on top of the desk. He was then notified at home by police the next morning that the bodies of his wife and two daughters had been found.
Satō (2003, 174-5) states that Fujii was away for one week, staying at Kumagaya Aviation School, when his wife committed suicide. The police notified him at the school, and he went by police car to the place where the bodies had been found.
9. Kōsaka (2003, 19-20) states that Fujii found Fukuko's last letter before he was notified by police that her body had been located. Satō (2003, 175-6) implies that he found Fukuko's last letter after he went with police to view the dead bodies.
10. Source of image: Yasukuni Jinja 1995, first page of photos in front of book.
11. Kōsaka (2003, 20), Satō (2003, 179-80), and Yasukuni Jinja (1995, 124) indicate that Fujii's petition in his own blood was written after Fukuko's suicide. However, Asahi Shimbun Seibu Honsha ( 1990, 43) indicates that his petition and its acceptance by the Army occurred before Fukuko's death.
12. Source of photo: Yasukuni Jinja 1995, 123.
13. Chiran Kōjo Nadeshiko Kai 1996, 70-1.
14. Army officers censored letters to ensure no military secrets were revealed. The location where Fujii wrote this letter was marked out by censors and is indicated by "OOO."
15. The information in this paragraph comes from my article entitled "Who Sank the Destroyer Drexler?" (http://www.kamikazeimages.net/stories/drexler/index.htm).
16. Shōwa refers to the period that Emperor Hirohito reigned in Japan (1926-1989). The word Shōwa means "enlightened peace." Momotaro, which is often translated as "Peach Boy" in English, is a legendary Japanese hero who together with his animal friends defeated ogres living on an island who were ravaging the land and killing the people.
17. Kudan Hill is location in Tōkyō of Yasukuni Jinja, Japan's national shrine to honor the spirits of soldiers killed in battle.
18. Chiran Tokkō Irei Kenshō Kai 2005, 162.
Sources Cited
Asahi Shimbun Seibu Honsha. 1990. Sora no kanata ni (To distant skies). Fukuoka: Ashishobō.

Chiran Kōjo Nadeshiko Kai (Chiran Girls High School Nadeshiko Association), ed. 1996. Gunjō: Chiran tokkō kichi yori (Deep blue: From Chiran special attack air base). Originally published in 1979. Kagoshima City: Takishobō.

Chiran Tokkō Irei Kenshō Kai (Chiran Special Attack Memorial Society), ed. 2005. Konpaku no kiroku: Kyū rikugun tokubetsu kōgekitai chiran kichi (Record of departed spirits: Former Army Special Attack Corps Chiran Base). Revised edition, originally published in 2004. Chiran Town, Kagoshima Prefecture: Chiran Tokkō Irei Kenshō Kai.

Kōsaka, Jirō. 2003. Tokkō kaerazaru wakumonotachi e no rekuiemu (Requiem for young men of special attack corps who did not return). Tōkyō: PHP Kenkyūsho.

Osuo, Kazuhiko. 2005. Tokubetsu kōgekitai no kiroku (rikugun hen) (Record of special attack corps (Army)). Tōkyō: Kōjinsha.

Satō, Sanae. 2003. Tokkō no machi: Chiran (Special attack corps town: Chiran). Tōkyō: Kōjinsha.

Yasukuni Jinja, ed. 1995. Sange no kokoro to chinkon no makoto (Spirits of heroic dead and devotion to repose of souls). Tōkyō: Tentensha.