Akiyoshi Hirashima
Without Telegraph: No Way to Communicate Battle Results (Denshinki nashi: Senka tsutaeru sube motazu)
Researched and written by Shūji Fukano and Fusako Kadota
Pages 189-91 of Tokkō kono chi yori: Kagoshima shutsugeki no kiroku (Special attacks from this land: Record of Kagoshima sorties)
Minaminippon Shinbunsha, 2016, 438 pages
"No contact due to no telegraph. Result not known."
For about one month from May 24, 1945, during the final stage of the Battle of Okinawa, the Tokushima Shiragiku Unit continued special (suicide) attack sorties in five waves from Kushira Air Base. Such a message as in the first paragraph appears frequently in the Tokushima Naval Air Group battle reports that communicate results. This indicates that these Shiragiku onboard operational training aircraft used for special attacks did not have a telegraph.
Based on numbers in battle reports, there were 35 out of 61 aircraft without a telegraph. Wataru Miyazaki (90 years old, Nagata Ward, Kōbe City), former Tokushima Shiragiku Unit, testifies to this, "Since the Shiragiku was an aircraft made with the objective of training observers, originally all planes had a telegraph installed. For some reason someone went to the trouble to remove it."
Usually special attack aircraft crewmen would communicate by telegraph when they were diving toward an attack target, and the military would record an assessment of the result and the position. For half of the Shiragiku crewmen, their means of communicating results, obtained by exchanging their own lives, had been taken away.
Removal of telegraphs brought about further tragedy. Flight Petty Officer 1st Class Kōen Kita, Miyazaki's Yokaren (Preparatory Flight Training Program) classmate who made a sortie from Kushira Air Base with the 3rd Squadron on May 28, 1945, had a plane without a telegraph and could not receive a wireless message from base telling them to turn back since the operation had been cancelled due to worsening weather.
Miyazaki laments, "Although aircraft with a telegraph properly turned back, Kita kept flying as before since he did not know anything. It would have been nice if he had not died."
Air Fleet Headquarters for the 5th Fleet, which directed Okinawa aerial special attack operations, relied on results assessments of the Shiragiku Unit, but there were intercepted wireless messages that the American fleet had been hit in special attacks. There remain intercepted results such as the following in the 3rd Squadron battle report: "Ship (type unknown) directly hit at 0135 (1:35 a.m. on 29th). Requested rescue. In process of being towed. (omitted) Confirmed that there is considerable damage." "Furthermore, additional two ships (type unknown)."
There is recorded in American military records that one transport ship was damaged in a kamikaze attack on this day.
Flight Petty Officer 1st Class Sakae Hirashima, older brother of farmer Akiyoshi Hirashima (84 years old, Otobōchō, Miyakonojō City), died in battle in the sortie of the Tokushima Shiragiku Unit 1st Squadron on May 24, 1945. The aircraft of Flight Petty Officer 1st Class Sakae Hirashima also had its telegraph removed.
After the war, Akiyoshi heard from his older brother's Yokaren classmates that when his Shiragiku departed from Kushira Base, he shouted three times from his observer seat, "farewell, farewell, farewell," and he sent a flashing signal with his plane's blinker lights to his close comrades.
He thinks, "Before he flew for about five hours to Okinawa in a condition where his mouth and ears had been taken away, did my older brother want to express any feelings?" Also, he feels the inhumanity of Shiragiku special attacks that he cannot forgive.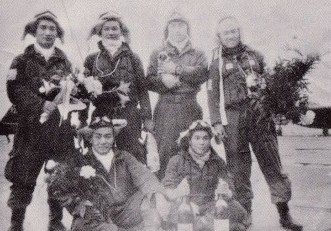 Tokushima Shiragiku Unit in photo taken at Tokushima Air Base
when went forward to Kushira Air Base in Kagoshima Prefecture.
Flight Petty Officer 1st Class Sakae Hirashima is holding a puppy
(2nd person from right on back row).
(provided by Akiyoshi Hirashima)
---
Translated by Bill Gordon
October 2022
HOME > Stories > Without Telegraph: No Way to Communicate Battle Results