Sadayoshi Kamioka
Sorties Cancelled Twice: Enjoyment of Long Life Due To Small Difference (Shutsugeki chūshi nido: Wazuka na sa de inochi nagaraeru)
Researched and written by Shūji Fukano and Fusako Kadota
Pages 180-2 of Tokkō kono chi yori: Kagoshima shutsugeki no kiroku (Special attacks from this land: Record of Kagoshima sorties)
Minaminippon Shinbunsha, 2016, 438 pages
The Shiragiku (meaning "white chrysanthemum"), made into a special (suicide) attack aircraft from an onboard operational training aircraft, needed nearly five hours to fly from a Kyūshū air base to Okinawa since it could fly only at about 150 km/hr (93 miles/hr) with two 250-kg bombs under its wings.
Since its movement was slow, during the day it would make a good target for enemy fighters. So it was necessary for Shiragiku special attacks to be made in nighttime flights by single planes under the light of the moon.
Sadayoshi Kamioka (89 years old, Nakayamachō, Iyo City, Aichi Prefecture), who in March 1945 had completed the flight training program at Kōchi Air Group where he was trained as an observer responsible for aircraft navigation, was selected as a member of the Kamikaze Special Attack Corps Kikusui Unit Shiragiku Squadron.
Kamioka reflects back, "I felt proud and fulfilled as an observer in the making who would have responsibility for accurately guiding my aircraft on a long-distance night flight. I continually made efforts to improve my navigation accuracy even a little."
However, there was not an opportunity for Kamioka to display the results of his efforts. The two chances that he had to make sorties from Kanoya Air Base were both cancelled just before takeoff.
The first time was May 25. On that day at 2 a.m., 20 Shiragiku aircraft were ordered to take off so they could make crash-dives at Okinawa between 6 and 8 a.m. When we were making departure preparations at Kanoya Air Base, the following directions came, "Remove the bombs since the enemy task force is approaching. Crewmen, stand by." After about an hour we were ordered again to make sorties, but reattachment of the bombs took time, and nearly all of the aircraft including Kamioka's could not take off by the designated 5 a.m. time.
Afterward, Kamioka returned to Kōchi for some time. He advanced again to Kanoya on June 17, and his second sortie came on the 25th after the end of organized resistance in the Battle of Okinawa. According to Kamioka, more than ten planes, one every ten minutes, took off starting at 7:20 p.m.
"Our turn to take off was to be 5th or 6th. When we were waiting to leave for the runway, temporary repairs had been completed for a Shiragiku that previously had turned back due to engine problems, and this aircraft cut in ahead in line and was taking off."
I had assumed that we would continue afterward, but a soldier dashed out to the runway and told us, "We will end here today."
The crewmen of the aircraft that had cut in front of us were Flight Petty Officer 1st Class Shigeru Haruki and Flight Petty Officer 2nd Class Takeshi Iwashita. These two from both Kōchi and Tokushima Air Groups were the last men to crash dive and die in battle in a Shiragiku special attack.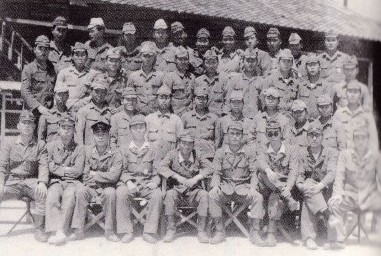 Members of Kikusui Unit Shiragiku Squadron.
Among these men, 19 died in battle. Sadayoshi
Kamioka is 5th person from left on 2nd row.
(provided by Sadayoshi Kamioka)
---
Translated by Bill Gordon
September 2022
HOME > Stories > Sorties Cancelled Twice: Enjoyment of Long Life Due To Small Difference