Masato Tajiri
Observer Training Aircraft: Mobilization of Plane Not Fit for Battle (Teisatsuin yōseiki: Sentō ni mukanai kitai dōin)
Researched and written by Shūji Fukano and Fusako Kadota
Pages 177-9 of Tokkō kono chi yori: Kagoshima shutsugeki no kiroku (Special attacks from this land: Record of Kagoshima sorties)
Minaminippon Shinbunsha, 2016, 438 pages
There was a Navy aircraft with a cute name called Shiragiku (White Chrysanthemum). It was an "onboard operational training aircraft" used to train pilots and observer crewmen with two men per plane.
An observer performed varied work other than piloting such as navigation, communications, and observation. The Shiragiku was constructed so that trainees could learn these effectively and had fixed landing gear since there was an emphasis on stable flights, takeoffs, and landings.
On the other hand, its top speed was little more than 200 km/hr, which was not even half of that of American fighters. Even acrobatic flight was impossible. The name expressed its body shape, but it can be said that the aircraft was completely unsuitable for aerial fights.
However, when air battles at Okinawa began in March 1945, considering severe losses of frontline aircraft, the Navy adopted a policy of using even Shiragiku trainers, carrying 500 kg of bombs, for special (suicide) attacks. The four air groups at Kōchi, Tokushima, Suzuka (Mie Prefecture), and Ōi (Shizuoka Prefecture) that had these aircraft were ordered to form special attack units.
The Kōchi Air Group Kikusui Unit Shiragiku Squadron and Tokushima Air Group Shiragiku Squadron, under command of the 5th Air Fleet, continued to make sorties toward the sea around Okinawa from Kanoya Air Base and Kushira Air Base respectively for about one month starting on May 24. Kōchi Air Group lost 52 men in battle, and Tokushima Air Group lost 56 men in battle.
"From today our air group will be the Kamikaze Special Attack Corps Tokushima Shiragiku Squadron." When we received the order to form a special attack unit from Tokushima Air Group Commander Tokujirō Kawamoto in the early part of April 1945, Masato Tajiri (92 years old, Jōrokuchō, Tokushima City) was struck with astonishment, "Did he say that we will make special attacks at Okinawa with this type of aircraft?"
Tajiri's hometown is what is now Yuda, Higashiichikichō, Hioki City in Kagoshima Prefecture. When he was a 3rd-year student at Ōsaka University of Foreign Languages, he entered the Navy as a volunteer for the 13th Class of Flight Reserve Students (Hikō Yobi Gakusei) and became an ensign. At the end of March 1945, he had just been transferred from the 256th Air Group in Shanghai, China, to Tokushima.
Tajiri, who had repeatedly trained on carrier-based Zero fighters at Shanghai, says, "Even Zero fighters, which had overwhelmingly better capabilities than Shiragiku trainers, were waging an uphill battle against American aircraft. All pilots who had flight experience on other aircraft had to think that reaching Okinawa in a Shiragiku would be tough."
However, nobody said anything about that concern. "We would do our utmost with the aircraft that we were given." That was "accepted practice" in the military.
The military upper ranks also recognized the air group members' concerns. Vice Admiral Matome Ugaki, 5th Air Fleet Commander, wrote his candid thoughts in his diary Sensōroku (戦藻録) on May 25, the day following the sendoff of the first Shiragiku squadron from Tokushima into battle, "With such a number (of Shiragiku aircraft), it is difficult to place any hopes on this."
Furthermore, Ugaki recorded in his diary that the Fifth Fleet Warless Room had intercepted a joking American military message that destroyers were pursuing Shiragiku aircraft being used as warplanes flying at a low speed of about 150 km/hr (93 miles/hr). He writes, "Some of the staff laughed."
The ones who forced on their men such a reckless strategy were laughing at the ones who responded to their concerns. Tajiri is furious, "The top ranks were lacking in human compassion."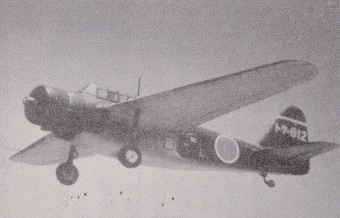 Shiragiku onboard operational training aircraft
made for training observers. Although stable,
it was useless due to its low speed.
(provided by Masato Tajiri)
---
Translated by Bill Gordon
September 2022
HOME > Stories > Observer Training Aircraft: Mobilization of Plane Not Fit for Battle