Shunsuke Tomiyasu
The family of Shunsuke Tomiyasu, born in 1922 in Nagasaki Prefecture, moved to Tōkyō when he was six years old. As a young boy he was skilled at all sports, and he was a member of the judo team as a student at Waseda University in Tōkyō. He also enjoyed music, and he organized a harmonica band that performed concerts. His eyes were very large, and he had the nickname of "Eyeballs" in elementary school.
In September 1942, Tomiyasu graduated with a degree in political science and economics from Waseda University, and he started work at the South Manchurian Railroad Company.
On September 18, 1943, he entered the Navy in the 13th Class of Reserve Students. After basic training, he was assigned to the Tsukuba Naval Air Group in Ibaraki Prefecture. On April 22, 1945, Lieutenant Junior Grade Tomiyasu went to Kanoya Air Base in southern Kyushu to wait for the date that his kamikaze squadron would make a sortie.
Tomiyasu wrote the following final letter to his family:
Dear Father, Mother, and Sister,

I was suddenly ordered to make a sortie to a certain area, and I must depart now. Since from the beginning I gave my life for our country, I do not expect to return alive. I surely am determined to achieve excellent battle results.

Today the fate and existence of our country are at hand. We leave as defenders of our country. You may miss me when I am not here, but please live with great enthusiasm and cheerfulness. Worries will cause everyone to be discouraged.

When I entered the Navy, I naturally was prepared for death, so I think everyone also should not feel lonely. I plan to send a letter to Hideo, but please give him greetings also from our home.

Since Lieutenant Junior Grade Kondo plans to go visit you, please meet with him. I will do my very best, so please rest assured about that.

Shunsuke
At 5:30 in the morning of May 14, 1945, Lieutenant Junior Grade Tomiyasu made a sortie from Kanoya Air Base as leader of the Kamikaze Special Attack Corps 6th Tsukuba Squadron, which consisted of 14 Zero fighters each carrying a 500-kg bomb. He evaded heavy antiaircraft fire and crashed into the forward elevator of the aircraft carrier Enterprise (CV-6), the US Navy's most decorated ship in World War II with 20 battle stars. Damage control put out the fires in 30 minutes, but the damage caused by Tomiyasu's plane and its bomb put Enterprise out of the rest of the war as she had to return to the States for repairs. The kamikaze attack killed 13 and wounded 68. The explosion also blew eight crewmen over the side of the carrier, but the destroyer Waldron (DD-699) quickly picked them up.
After the burial at sea for the Enterprise crewmen killed in the attack, there was also a burial at sea for Tomiyasu off the ship's stern. His rank of Lieutenant Junior Grade was discovered from the insignia on his flight suit, and there were also name cards in one of his pockets. The name of these cards was translated incorrectly as Tomi Zai, so this was the name used by Americans for almost 50 years to refer to the kamikaze pilot who hit Enterprise. The following poem by Arlond "Jack" Banks, who served aboard Enterprise from 1943 to 1946, describes the attack that knocked the carrier out of the war [1]:
The Last Attack

'Twas Fourteen May, the year '45
Ragged few of her crew remain alive
Witness to that deadly cruise
Off Japanese islands - Okinawa and Kyushu
A fateful day for Tomi Zai,
Kamikaze pilot with death wish to die.
Granted his wish by "Son of Heaven"
Plunging to Enterprise - was morning after 7.
Steadfast its course quick and true,
Straight as an arrow his Zeke flew.
Through walls of fire impossible to survive,
That suicide plane kept its fatal dive.
Striking our Queen on her number one,
Lit off like a rocket, to the sky it spun.
Big E wounded, shook, rattled and rolled,
To rid the evil taking its toll -
Crushing our ship, killing our mates,
That last attack sealed our fate.
'Twas our ticket home, Stateside alive,
Aboard our Queen Good Enterprise.
Kan Sugahara, a graduate in the 77th class at the Japanese Naval Academy at Etajima, was instrumental in the determination of the correct identity of the kamikaze pilot who hit the carrier Enterprise. He examined Japanese records of Navy Lieutenant Junior Grade kamikaze pilots who died on May 14, 1945, and concluded that Tomiyasu had to be the same person named Tomi Zai by the Americans based on the similarity of the kanji (Chinese characters) in the names and based on Tomiyasu's sortie time from Kanoya Air Base. Sugahara also coordinated the return by the USS Enterprise CV-6 Association of a small piece of Tomiyasu's Zero fighter to the Kanoya Air Base Museum for display.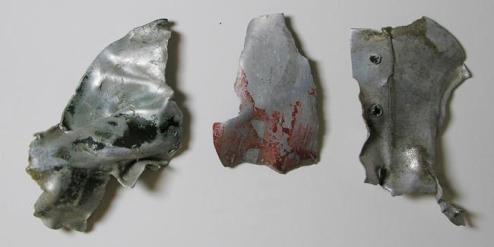 Pieces of Tomiyasu's Zero A6M Fighter retrieved by former
Enterprise crewman when cleaning up wreckage
(not piece displayed at Kanoya Air Base Museum)
The photo of Shunsuke Tomiyasu, his last letter, and information about his life come from the Kasama Museum of History and Folklore (Kasama City, Ibaraki Prefecture), which has an exhibit room dedicated to the history of the Tsukuba Naval Air Group. The description of Tomiyasu's crash into Enterprise comes from Stafford (1962, 496-9). The photo of the pieces from Tomiyasu's Zero comes from someone who wishes to remain anonymous.
Note
1. Poems of the Big E <http://www.cv6.org/company/accounts/abanks/> (December 1, 2007).
Sources Cited
Katabami, Masaaki. 2014. Mō hitotsu no "Eien no Zero": Tsukuba Kaigun Kōkūtai (Another "Eternal Zero": Tsukuba Naval Air Group). Tōkyō: Village Books.

Osuo, Kazuhiko. 2005. Tokubetsu kōgekitai no kiroku (kaigun hen) (Record of special attack corps (Navy)). Tōkyō: Kōjinsha.

Stafford, Edward P. 1962. The Big E: The Story of the USS Enterprise. New York: Dell.