Last Letter of Flight Petty Officer 2nd Class Kaneyuki Fukuda to His Mother
At 1514 on April 28, 1945, Flight Petty Officer 2nd Class Kaneyuki [1] Fukuda took off from Kokubu No. 2 Air Base and died in a special (suicide) attack near Okinawa at the age of 18. He was a member of the Kamikaze Special Attack Corps 2nd Seitō Squadron from Hyakurihara Naval Air Group. He flew a Type 99 Carrier Bomber (Allied code name of Val). He was born and grew up in Mikuni Village (now part of Ogōri City) in Fukuoka Prefecture. He was a member of the 12th Kō Class of the Navy's Yokaren (Preparatory Flight Training Program).
He wrote the following final letter to his mother. The end of the letter has a tanka poem (31-syllable poem with lines of 5-7-5-7-7 syllables).
Dear Mother,

Forgive me for not being in touch with you for so long. I hope that everyone is doing fine. I have joined the longed-for Special Attack Corps and will be able to fall as a cherry blossom. I will not forget your kindness up to today even though I die.

My last act of filial piety to you will be to hit the target in an attack. Surely I will carry out a taiatari (body-crashing) attack against an enemy warship.

Mother, please be well. Please take good care of my younger brothers and sisters [2]. Please give my thanks also to everyone in the village.

Well, I apologize for going before you. Let's meet in the gardens at Yasukuni [3].

Young cherry blossoms
Now at peak season
In full bloom
Together go to fall
In Ryūkyū [4] skies

From Kaneyuki
He also wrote the following poem to the residents of his home village:
To Everyone in Mikuni Village,

Now I take leave of you with emptiness in my heart, looking forward to meeting together again

I am only waiting to see you in the gardens of Yasukuni, to fall for my country

The war situation truly a crisis, autumn of life or death for our country, corpses coloring the clouds

Someone who wants to die in no other place than in the skies

Looking back at our enduring three thousand year history, with duty only for this great cause

Drifting with the waves I think of my country, needing not dare argue for my life

With a spirit to find and destroy the enemy, believing no enemy carrier is unsinkable

At the end deeply appreciative of your kindness during my life, wishing you great happiness

Kaneyuki Fukuda
Kaneyuki Fukuda's mother, Teruko, wrote this letter to the mother of Norio Itō, who also made a sortie with the Kamikaze Corps 2nd Seitō Squadron.
Dear Tomo Itō,

Every day it has been hot here. Thank you very much for your letters. As the air raids intensify each day, I imagine that there you must be having a difficult time. Luckily up to now we here have not had any air raids nor even the slightest damage.

Even though I received your letter the other day, I have been busy with one thing and another. I truly apologize for not sending a reply sooner. Please do not think badly of me.

Thank you very much for today's dear letter. Just like you I have been anxiously waiting for the coming announcement. Even though I have looked at the newspapers many times, the children's names have not appeared. In our home we are already saddened. Actually, when I went to visit Kagoshima I brought a letter from someone in Kurume. When I went to Kurume to inquire right after the latest announcement, they were very discouraged even though there was no announcement about their son. Surely the parents' hearts thinking about their child remain the same.

On April 24, I managed to arrive at the base in Kagoshima, which was experiencing heavy air attacks. I visited with my son who I had not seen for a long time, but at that time I did not see anyone else other than a young man from Yawata when the two came to a visiting area. I just gave a letter to pass to your son, and I did not see your son Norio.

The base at Kokubu in Kagoshima Prefecture is on top of a really high hill. We talked for about two hours, but we soon had to go down the mountain to catch a train. My son told me that when they were going to leave their original unit, everyone would treat them specially by adorning them with cherry blossoms.

However, afterward there was no news, but about the middle of May a person from Kagoshima told me that he had departed on April 28. After about 20 days passed, I also heard in a letter from the person on the right that a young man who had departed together with my son developed engine trouble along the way and had to come back. Those two people clearly told me, "The deaths of Mr. Fukuda and the others were at 7 p.m. on the 28th." They gave this news to me.

When my son was still at the base, the person on the right is the one who went to comfort the Kamikaze pilots on departure. Based on this, my son must have departed Kagoshima on April 28. Afterwards, I heard that not one plane returned. Although I have given up hope of him still being alive, my heart will not be calmed until I see the announcement.

I also was just thinking I would try asking you for news. I really do not have any idea what happened. I do not even know the names of those of his unit. Even when I went to visit, it was just a short visit with no detailed talk.

Really I should have sent you a prompt response, but please forgive me. Please do not think badly of me for not sending anything until now. This is just a quick response.

Kaneyuki's Mother, Teruko
---
Letters and poems translated by Bill Gordon
March 2004, January 2018
The letters, poems, and biographical information on this page come from Kanoya Kōkū Kichi Shiryōkan Renraku Kyōgikai (2003, 55) and from "Saigo no oya kōkō" (Last act of filial piety) <http://www.warbirds.jp/senri/08tubasa/08fukuda/index.html> (January 20, 2018).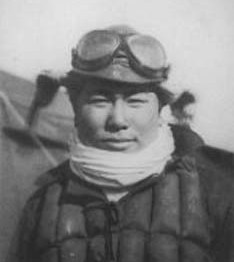 Flight Petty Officer 2nd Class
Kaneyuki Fukuda
Notes
1. Despite Kanoya Kōkū Kichi Shiryōkan Renraku Kyōgikai (2003, 55) indicating Fukuda's given name as Hiroyuki, Nagasue Senri writes that Fukuda's mother pronounced his name as Kaneyuki when she attended memorial services <https://blogs.yahoo.co.jp/senri0220/48495200.html> (February 5, 2018).
2. The word in Japanese (teimai) means that he had at least one younger brother and at least one younger sister, but he does not indicate in his letter the number of each.
3. Yasukuni Shrine in Tōkyō is the place of enshrinement for spirits of Japan's war dead.
4. The Ryūkyū Islands include Okinawa.
Source Cited
Kanoya Kōkū Kichi Shiryōkan Renraku Kyōgikai (Kanoya Air Base Museum Coordinating Committee). 2003. Kokoro no sakebi (Cries of the heart). Kanoya, Kagoshima Prefecture: Kanoya Kōkū Kichi Shiryōkan Renraku Kyōgikai.