Last Letter of Ensign Masaji Fukushima to His Parents
At 1610 on April 6, 1945, Ensign Masaji Fukushima took off from Kanoya Air Base as pilot in a Zero fighter carrying a 250-kg bomb and died in a special (suicide) attack off Okinawa at the age of 23 [1]. He was a member of the Kamikaze Special Attack Corps 1st Tsukuba Squadron. After his death in a special attack, he received a promotion to Lieutenant. He was from Tōkyō Prefecture, attended Morioka Higher Technical School (now Iwate University), and was a member of the 13th Class of the Navy's Flight Reserve Students (Hikō Yobi Gakusei).
He wrote the following last letter to his parents:
Today finally I will make a sortie.

Please forgive me for dying before you without being able to show any filial piety to you.

In high spirits and full of energy, I will make a taiatari (body-crashing) attack into an enemy aircraft carrier. Please rest assured that I certainly will fall splendidly in line with your expectations.

Even with the current lack of filial piety of persons in the family, during the war before victory we must be prepared to sacrifice in everything.

I hope that this does not cause despair for you. I request that later I will be reborn.

Like clear autumn water and like a mirror, now I head towards the battlefield with feelings of a clean slate. The place where we are heading certainly will bring news of enemy destruction.

Father and Mother, I deeply thank you for your care during my long life of 25 years.

In my room the following words are hanging on the wall:

We are soldiers of His Majesty the Emperor under protection of the gods.
The kamikaze (divine wind) of the divine country will arise from the Tsukuba parade ground.
Each man with a five-foot body will make a taiatari (body-crashing) attack into an aircraft carrier.
Devoted to my mother, I will fall with my body as a shield for the Emperor.
In my mother's dreams I will return from time to time.
---
Letter translated by Bill Gordon
June 2018
The letter comes from Katabami (2014, 82). The biographical information in the first paragraph comes from Katabami (2014, 82) and Osuo (2005, 197-8). The photo below is from Katabami (2014, 83).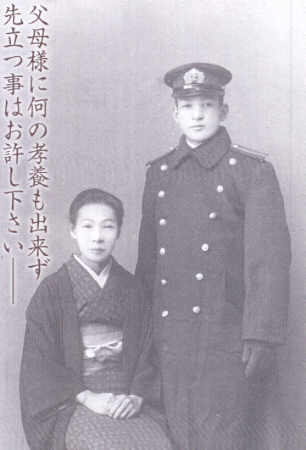 Ensign Masaji Fukushima and Mother
Note
1. The age at death is not given in any of the sources. Tokkōtai Senbotsusha (1990, 173) indicates his birth year as 1921, so he would have been either 23 or 24 years old at his death.
Sources Cited
Katabami, Masaaki. 2014. Mō hitotsu no "Eien no Zero": Tsukuba Kaigun Kōkūtai (Another "Eternal Zero": Tsukuba Naval Air Group). Tōkyō: Village Books.

Osuo, Kazuhiko. 2005. Tokubetsu kōgekitai no kiroku (kaigun hen) (Record of special attack corps (Navy)). Tōkyō: Kōjinsha.

Tokkōtai Senbotsusha Irei Heiwa Kinen Kyōkai (Tokkōtai Commemoration Peace Memorial Association). 1990. Tokubetsu Kōgekitai (Special Attack Corps). Tōkyō: Tokkōtai Senbotsusha Irei Heiwa Kinen Kyōkai.