Last Letter of Second Lieutenant Hiroshi Hayashi to His Father
On April 6, 1945, Second Lieutenant Hiroshi Hayashi took off from Miyakonojō West Airfield and died in a special (suicide) attack west of Okinawa at the age of 20. He was the 1st Special Shinbu Squadron Leader. He piloted an Army Hayate Type 4 Fighter (Allied code name of Frank). After his death in a special attack, he received a promotion to Captain. He was from Ishikawa Prefecture and graduated from the Imperial Japanese Army Air Academy in the 57th Class.
He wrote the following final letter on a postcard addressed to his father. It had a postmark dated April 8.
I am cheerful that the time has come.

As OO [1] Squadron Leader, I will make a sortie together with my men and will instantly sink a ship. It certainly will meet your expectations.

Well then, I will go. Farewell.
---
Letter translated by Bill Gordon
July 2018
The letter comes from Terai (1977, 3-4). The biographical information in the first paragraph comes from Chiran Tokkō Irei Kenshō Kai (2005, 179) and Osuo (2005, 207).
Note
1. OO indicates information that was a military secret and could not be included in the letter.
Sources Cited
Chiran Tokkō Irei Kenshō Kai (Chiran Special Attack Memorial Society), ed. 2005. Konpaku no kiroku: Kyū rikugun tokubetsu kōgekitai chiran kichi (Record of departed spirits: Former Army Special Attack Corps Chiran Base). Revised edition, originally published in 2004. Chiran Town, Kagoshima Prefecture: Chiran Tokkō Irei Kenshō Kai.

Osuo, Kazuhiko. 2005. Tokubetsu kōgekitai no kiroku (rikugun hen) (Record of special attack corps (Army)). Tōkyō: Kōjinsha.

Terai, Shun'ichi, ed. 1977. Kōkū Kichi Miyakonojō Hayate Tokkō Shinbutai (Miyakonojō Air Base Hayate Special Attack Shinbu Unit). Tōkyō: Genshobō.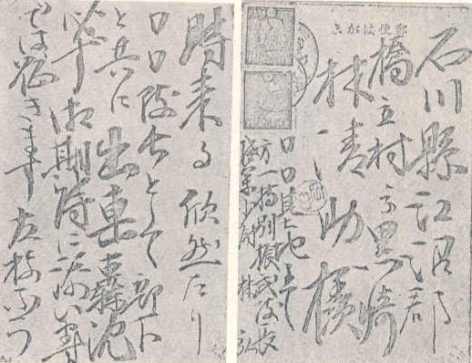 Final letter written on postcard by
Second Lieutenant Hiroshi Hayashi