Last Letter of Corporal Kan'ichi Horimoto to His Parents
On May 4, 1945 [1], Corporal Kan'ichi Horimoto took off from Miyakonojō East Airfield as a member of the 60th Shinbu Special Attack Squadron and died in a special (suicide) attack west of Okinawa at the age of 18. He piloted an Army Hayate Type 4 Fighter (Allied code name of Frank). After his death in a special attack, he received a promotion to Second Lieutenant. He was from Ehime Prefecture and was a member of the 15th Class of the Army Youth Pilot (Rikugun Shōhi) training program.
He wrote the following final letter with a death poem in tanka form (31-syllable poem with a syllable pattern of 5-7-5-7-7) at the end:
Dear Parents,

I trust that all of you have been doing fine.

I am doing very well and am waiting for an imminent departure order. Now it is 4:50 (May 4), and exactly one hour remains. The airfield is still dim. The maintenance crewmen are checking carefully everywhere on the engines and fuselages so that there are no troubles. The time that finally had to come will be in just one hour. My promise is only to sink at once a ship.

The tense faces are smiling. You would not think this would be the attitude of men who are facing death. Committed in this way I will do my utmost.

I will die between 8 and 9. A short time before I sent some personal items to Mitsu Station, so please get them there.

It is difficult for me to consider my repeated regrettable lack of filial piety, but I am determined to blossom as a flower at the end. Now I received from my unit a letter from Masatada Morimoto in Higashi.

Toshie took the examination for school, but it is regrettable that she did not pass. I think that she must not be discouraged and must exert more effort.

Three hours of life remain. I will not cease praying for the family's success.

In whatever, the spirit of "damn it," that is "persistence," is needed. Of course this is the same as action with "truth." If one thinks of not dishonoring the gods of heaven and earth, it is best to not make companions no matter what other people may say. The ancients also taught us, "Do not make people your companions, make heaven your companion."

I was not able to write to Older Brother in Kure, but I think that perhaps he is working strongly. However, remaining in my innermost thoughts is Older Brother when he originally was a weak person. Are Tomio and Asako studying very hard?

Nowadays I have been admonished enough to exert myself. I feel that I would like to show you this grand departure for the front, but it is nothing more than my own desire. Now for you to take the trouble to come from a faraway place would become a part of my lack of filial piety.

I have no regrets now. I will not stop firmly believing that I certainly will go and carry out splendidly an act that will not be shameful to others.

It is already time. They just have begun to start up.

Farewell.

From Kan'ichi

Selected to fly in skies of Okinawa Island
A young eagle will fall smiling
The above letter was handed over to maintenance worker Saburō Ōtani, who added the following words:
To Kan'ichi's Father

It has become the season of abundant green. I trust that you have been in good health.

Kan'ichi departed bravely as a Special Attack Corps member. I am the person who maintained Kan'ichi's aircraft each day.

The enclosed correspondence is the last letter that Kan'ichi requested me to send to you. Day and night we experienced together with Kan'ichi the joys and sorrows of life and death. Kan'ichi wanted you to see his splendid departure for the front.

This has become too long and has messy writing, but I wanted to inform you.

Saburō Ōtani
West Section 18976 Butai
Yamanokuchi Village, Kitamorokata-gun, Miyazaki Prefecture
---
Letter translated by Bill Gordon
July 2018
The letter comes from Terai (1977, 58-60). The biographical information in the first paragraph comes from Chiran Tokkō Irei Kenshō Kai (2005, 206) and Osuo (2005, 199). The photo below is from Osuo (2005, 109).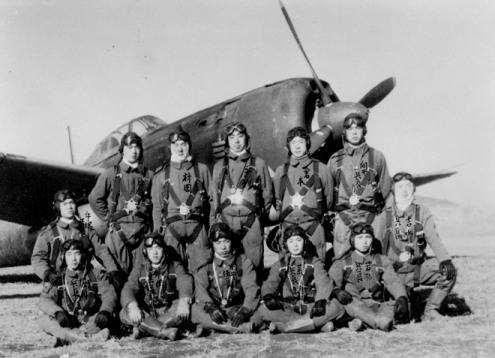 Members of 60th Shinbu Special Attack Squadron.
Kan'ichi Horimoto is sitting in the front row at far left.
Note
1. Chiran Tokkō Irei Kenshō Kai (2005, 206) and Osuo (2005, 199) indicate that the sortie date for Corporal Kan'ichi Horimoto was May 11, 1945. However, this date is incorrect, since following is an English translation by the U.S. Office of Naval Intelligence of a letter found on the body of the Japanese pilot who crashed into destroyer Ingraham (DD-694) on May 4, 1945, and killed 15 crewmen (Charney No date, 129). Kan'ichi Horimoto as the addressee of this letter from a high school girl indicates that he must have been the pilot who crashed into Ingraham on May 4, 1945. Osuo (2005, 199) indicates that seven other 60th Shinbu Squadron lost their lives in special attacks on May 4, 1945, so Horimoto must have departed Miyakonojō East Airfield with them on that date.
Public Girls Higher School
Sakuramachi Tokyo

Dec. 5, 1944

To a brave warrior of the Divine Eagles, Kan'ichi Horimoto

Daily the war has been becoming more and more violent. As for the Special Attack Corps, what can we say to a god of the divine eagles as he goes to the place of decisive battle? We cannot find words to express our gratitude. I beg of you that you destroy the hated Americans with no concern and fears for the future because, imbued with the never-ceasing attacking spirit of the Kamikaze Special Attack Corps, we will steadfastly increase our production until the Japanese empire is crowned with the garland of victory.

Kato Shikoro
3rd Class 1st Year
There is no Japanese given name of Shikoro, so it appears that the translation of the Japanese character or characters for this girl's name is incorrect.
Sources Cited
Charney, John G. No date. USS Ingraham DD694: 1944-1945. Privately published.

Chiran Tokkō Irei Kenshō Kai (Chiran Special Attack Memorial Society), ed. 2005. Konpaku no kiroku: Kyū rikugun tokubetsu kōgekitai chiran kichi (Record of departed spirits: Former Army Special Attack Corps Chiran Base). Revised edition, originally published in 2004. Chiran Town, Kagoshima Prefecture: Chiran Tokkō Irei Kenshō Kai.

Osuo, Kazuhiko. 2005. Tokubetsu kōgekitai no kiroku (rikugun hen) (Record of special attack corps (Army)). Tōkyō: Kōjinsha.

Terai, Shun'ichi, ed. 1977. Kōkū Kichi Miyakonojō Hayate Tokkō Shinbutai (Miyakonojō Air Base Hayate Special Attack Shinbu Unit). Tōkyō: Genshobō.