Last Letter of Second Lieutenant Bun'ichi Ishikiriyama to His Parents
On April 12, 1945, Second Lieutenant Bun'ichi Ishikiriyama took off from Chiran Air Base and died in a special (suicide) attack west of Okinawa at the age of 25. He was the 103rd Shinbu Special Attack Squadron Leader. He piloted a Type 99 Assault Plane (Allied code name of Sonia). After his death in a special attack, he received a promotion to Captain. He was from Shizuoka Prefecture and was in the 24th Class of the Army's Second Lieutenant Cadets.
He wrote the following final letter:
Dear Father and Mother,

Finally it has been decided that I will go on a mission tomorrow on the 12th at 15:00. I will go in high spirits.

I will become a human bullet with sincerity to repay your kindness shown until today. Tonight together with my young men who report to me, without worrying about anything I will sleep for the last time.

These are the last words that I offer to you.

Farewell.
---
Letter translated by Bill Gordon
July 2018
The letter comes from Chiran Tokkō Irei Kenshō Kai (2005, 108). The biographical information in the first paragraph comes from Chiran Tokkō Irei Kenshō Kai (2005, 108, 184) and Osuo (2005, 203). The image of the actual letter below comes from Kawatoko (2008, 19).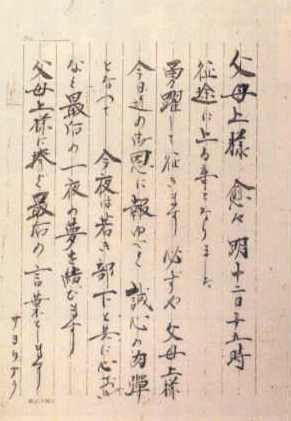 Second Lieutenant Bun'ichi Ishikiriyama's
Last Letter to Parents
Sources Cited
Chiran Tokkō Irei Kenshō Kai (Chiran Special Attack Memorial Society), ed. 2005. Konpaku no kiroku: Kyū rikugun tokubetsu kōgekitai chiran kichi (Record of departed spirits: Former Army Special Attack Corps Chiran Base). Revised edition, originally published in 2004. Chiran Town, Kagoshima Prefecture: Chiran Tokkō Irei Kenshō Kai.

Kawatoko, Takeshi. 2008. The Mind of the Kamikaze. Minamikyūshū City, Kagoshima Prefecture: The Peace Museum for Kamikaze Pilots.

Osuo, Kazuhiko. 2005. Tokubetsu kōgekitai no kiroku (rikugun hen) (Record of special attack corps (Army)). Tōkyō: Kōjinsha.