Deep Blue: From Chiran
Special Attack Air Base (1996)
Last Letter of Second Lieutenant Nobuo Itō to His Younger Sister
On April 3, 1945, Second Lieutenant Nobuo Itō took off from Chiran Air Base and died in a special (suicide) attack west of Tokunoshima at the age of 23. He was a member of the 22nd Shinbu Special Attack Squadron and piloted an Army Hayabusa Type 1 Fighter (Allied code name of Oscar). After his death in a special attack, he received a promotion to Captain. He was from Tōkyō Prefecture, attended Meiji University in Tōkyō, and was a member of the 1st Class of the Army Special Cadet Officer Pilot Training (Tokubetsu Sōjū Minarai Shikan) Program.
He wrote the following final letter dated March 17, 1945, to his younger sister:
Dear Emiko,

Since based on what Father told me you are doing daily public duty in high spirits, I am so extremely happy that it seems like greed. I have a feeling of regret that I was not able to see you. However, in this time of one hundred million special attacks [1], citizens one by one have work that is their duty. Your work also is a duty for the country. I thought that it should not be permitted for you to neglect the duty for your personal matters. I think that for you this feeling has not come.

Even in normal times the story of elementary school teacher Matsumoto's giving up his own life in order to rescue one child is extremely famous. Still more, in this situation where you have given your great treasure, your duty to offer up yourself is extreme. However, now it is a difficult thing that you are the Itō Family heir. Certainly you must continue and run Father's business. Those two things are not compatible at the same time. Possibly you maybe will do it, but I do not prefer this. Anyway if you do the latter, please do not apologize for that transition opportunity, and do not ever forget your mental preparation according to Father's teachings. I am not accustomed to writing this in an ordinary letter, so maybe what I have written is difficult to understand, but please try to consider it carefully.

The other day I viewed a movie about the Army Special Attack Corps, and I saw the faces of former training officers and comrades who appeared on the screen. When I saw before my eyes their final sorties, I remembered like now when at the time they left homeland bases they joined hands at departure and said "I hope we will succeed together" and "Next time we meet will be in the forest at Yasukuni [2]." When I heard about their battle results, with impatience it made me keenly aware of the importance of my responsibility.

With the recent state of affairs, we also do not know when we will make a sortie where we will not return. As my life's inspiration there is nothing that surpasses bearing the important responsibility of protecting the Empire until the end. Not repaying even a ten-thousandth of the kindness shown by Father during my lifetime, I instead only caused him worries. I think that my being able to do the greatest public service as a young Japanese man will make Father happy. Emiko, please show filial piety for the part that I was not able to perform. After I returned from Tōkyō, it could not be helped that I was thinking only about this. While desiring a mental state at death where I can say that I did everything that should have been done, I want to feel assured that I can rely on you for this filial piety that cannot be recovered.

I also wanted to talk about various things with Older Sister Miyoko, but now I cannot think of anything. Please give her my warmest regards.

With my hasty messy writing maybe somehow you did not understand well, but please interpret what I wrote.

Finally, take constant good care of yourself so that you may do your best until the end. Realizing that it will be a portion for two persons, I ask you once again that you show filial piety to Father.

From Older Brother
---
Letter translated by Bill Gordon
June 2018
The letter comes from Chiran Kōjo Nadeshiko Kai (1996, 43-5). The biographical information in the first paragraph comes from Chiran Kōjo Nadeshiko Kai (1996, 43), Chiran Tokkō Irei Kenshō Kai (2005, 170), and Osuo (2005, 195). The photograph at bottom comes from Osuo (2005, 57).
Notes
1. The "one hundred million" refers to the entire population of Japan. Near the war's end, government propaganda stressed that all citizens needed to be prepared to give their lives in a special (suicide) 'attack.
2. Yasukuni Shrine in Tōkyō is the place of enshrinement for spirits of Japan's war dead.
Sources Cited
Chiran Kōjo Nadeshiko Kai (Chiran Girls High School Nadeshiko Association), ed. 1996. Gunjō: Chiran tokkō kichi yori (Deep blue: From Chiran special attack air base). Originally published in 1979. Kagoshima City: Takishobō.

Chiran Tokkō Irei Kenshō Kai (Chiran Special Attack Memorial Society), ed. 2005. Konpaku no kiroku: Kyū rikugun tokubetsu kōgekitai chiran kichi (Record of departed spirits: Former Army Special Attack Corps Chiran Base). Revised edition, originally published in 2004. Chiran Town, Kagoshima Prefecture: Chiran Tokkō Irei Kenshō Kai.

Osuo, Kazuhiko. 2005. Tokubetsu kōgekitai no kiroku (rikugun hen) (Record of special attack corps (Army)). Tōkyō: Kōjinsha.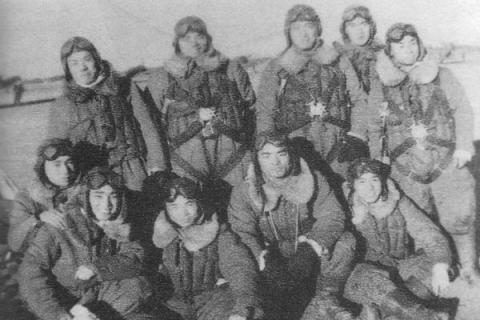 22nd Shinbu Special Attack Squadron.
Second Lieutenant Nobuo Itō sitting on far right in front row.