Last Letter of Flight Petty Officer 2nd Class Norio Itō to His Parents
At 1543 on April 28, 1945, Flight Petty Officer 2nd Class Norio Itō took off from Kokubu No. 2 Air Base as gunner/radio operator in a Type 99 Carrier Dive Bomber (Allied code name of Val) carrying a 250-kg bomb and died in a special (suicide) attack southeast of Kyūshū at the age of 17. He was a member of the Kamikaze Special Attack Corps 2nd Seitō Squadron from Hyakurihara Naval Air Group. He was from Ōita Prefecture and was a member of the 12th Kō Class of the Navy's Yokaren (Preparatory Flight Training Program).
He wrote the following final letter to his parents. The letter includes two death poems.
What is dying after 17 springs and autumns have passed? When young I wished for something when looking up at the new moon rising in the deep indigo sky. As for the history of the eternal 3,000-year-old Empire, today what shall I say? Ah, the time finally has come. The time has come to repay the Empire by exerting myself to the utmost. Migita already has died in battle. Majima also has fallen in Okinawa. Today when I want to follow after these comrades, I should be glad that I have become a member of the Special Attack Corps. There is nothing that surpasses this as the long-cherished desire of a military man. I arose today on the road to that repayment of the kindness shown to me, and I desire that the day will come soon.

Giving my life to protect 3,000-year history
Reflecting, my life is fragile
Now bravely I depart to go to Ryūkyū Islands [1]
To fall in skies missing my friends

Do not wait at the cemetery to bury any of my bones. Even though my body becomes as a wisp of smoke at the top of Mount Hokubō, my spirit always will defend the county. If I can ask the Emperor of heaven and earth, please protect my plane. From long ago it is said, "With determined purpose there is the sign of an arrow standing up in a rock [2]." Why is there a ship that cannot be sunk with a single blow? Delight, bravery, this one blow.

Under cherry blossoms
Now a young cherry blossom
Goes in high spirits

Long live His Majesty the Emperor. Long live the Imperial Navy.

Finally, I apologize that I could not repay even one ten-thousandth of the Emperor's kindness. Also, from the bottom of my heart I appreciate you my parents, my military instructors, and my teachers who brought me up until today.

Hyakurihara Air Group Special Attack Unit
Navy Flight Petty Officer 2nd Class Norio Itō
---
Letter and poems translated by Bill Gordon
July 2018
The letter and poems come from Iwamoto and Mukaida (1992, 127-8). The biographical information in the first paragraph comes from Iwamoto and Mukaida (1992, 127) and Osuo (2005, 223). The two images below of the photo and the transcription of Itō's letter come from Senri Nagasue's page entitled "My life was only 17 years" (http://www.warbirds.jp/senri/19english/izoku/07/index.html) <July 15, 2018>.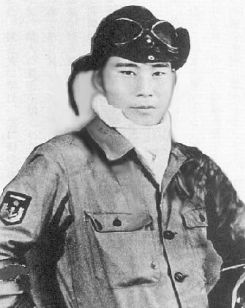 Norio Itō
Notes
1. The Ryūkyū Islands include Okinawa and several smaller islands that stretch southwest from Kyūshū to Taiwan.
2. "An arrow standing up in a rock" means that one certainly can do anything by working frantically with determined purpose.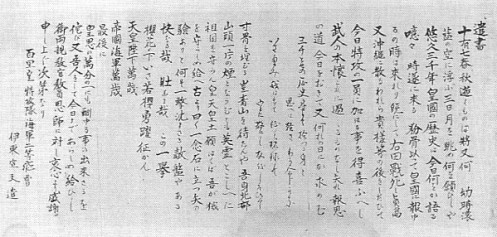 Norio Itō's last letter as rewritten by mother
Sources Cited
Iwamoto, Kiyoshi, and Tsutomu Mukaida, eds. 1992. Chinkon -- shirakumo ni norete kimi kaerimase: Tokkō kichi daini kokubu no ki (Repose of souls -- riding on the white clouds, come back to us: Record of Special Attack Corps Kokubu No. 2 Air Base). Mizobe Town, Kagoshima Prefecture: Jūsanzukabaru tokkōhi hozon iinkai (Committee to Preserve the Jūsanzukabaru Special Attack Corps Monument).

Osuo, Kazuhiko. 2005. Tokubetsu kōgekitai no kiroku (kaigun hen) (Record of special attack corps (Navy)). Tōkyō: Kōjinsha.